pregnancy survival guide: 10 things I couldn't live without
It's hard to believe that my baby girl is already nine weeks old today! Being pregnant feels like a lifetime ago, really. When I announced my pregnancy, I promised not to turn this into an all-things-baby blog and, aside from a few nursery progress posts, I've really tried to stick to that. But today I thought I'd share a few of the things that were part of my routine while I was pregnant, all of which I certainly couldn't have made it through without:
Stretch marks are, unfortunately, genetic, so if your mom got them during pregnancy, chances are good that you could get them, too. My mom never did and, lucky for me, I didn't either, but as my bump started to grow, my skin itched so bad it burned! If you give in to the urge to scratch, you can cause stretch marks. This oil was the ONLY thing that soothed my skin; I covered my chest and bump after every shower and whenever the urge to itch got really bad and I've used it after giving birth, too. It's AMAZING!!!
I got plenty of advice from everyone about everything under the sun during my pregnancy, but the one thing no one ever warned me about was the lack of circulation in my legs and how painful that would be. These athletic recovery sleeves worked wonders…and were sometimes the only thing getting me past 3 pm on most work days.
It wasn't until I hit the second trimester that I started feeling like absolute crap. The best way I could describe it would be a bloating, constipated feeling (even though I was neither) and these all-natural, organic, gluten-free chewable wafers were the only thing that helped bring relief-they really are amazing! I've been told they also help with indigestion and heartburn, too, even though I never experienced that.
My best friend gave me a tube of Lucky Legs very early on in my pregnancy and it quickly became my salvation in a bottle at the end of long work days! Rapid relief for tired, heavy legs, it makes your skin feel amazing! I would lather it on before bed or laying down to watch TV at night and it made my skin tingle. Also great for hubbies to rub onto your poor feet at the end of the day, too!
There are so many benefits to starting your day with a cup of hot water and lemon every morning – it boosts your immune system, flushes out unwanted toxins and hydrates and oxygenates your body, to name a few, but for me, drinking a cup first thing every morning helped with nausea, feeling of fullness and getting everything moving that day.
Pregnancy hormones can wreck havoc on your skin – you either have that "glow" or you don't. I tried to stick to using face washes and lotions that were completely organic and natural and I happened to love this face scrub powder by One Love Organics; I added a little bit to my Cetaphil cleanser every morning and my skin was radiant!
I lived in maxi skirts, maternity tanks and a vintage denim jacket – rain or shine, even when the temps dipped! The skirts were so comfy, and actually hid the fact that I wore a recovery stocking on my left leg so well. It's all about being comfortable!
I picked up a pot of this watercolor cheek gel on a stop in Sephora at the suggestion of one of the sales girls and I can't tell you how much I love this. Not only is it all natural, but it gives your cheeks a fresh-off-the-beach flush! I got a million compliments on my "pregnancy glow", but it really was right out of a pot!
What are some of the things that helped you through your pregnancy? I'd love to know!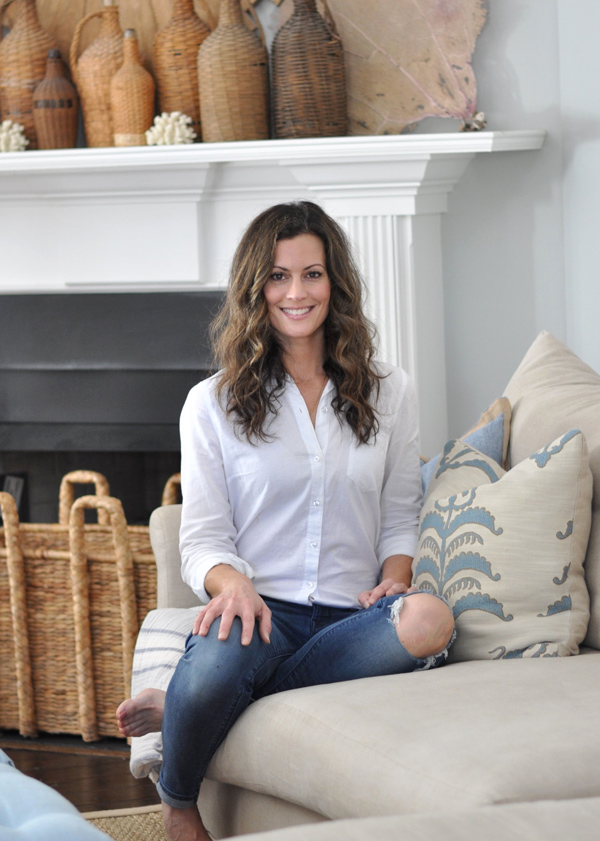 Hello and welcome to Bungalow Blue Interiors!
I'm Kelly, interior designer, stylist, hostess with the mostest and editor of my blog, where I share pics of my work, my own home, décor projects, entertaining hacks, where to find the best decorating deals and all the beautiful things that are currently inspiring me!