Lately, we've been celebrating the end of another week with a simple cheese plate and a cocktail on the porch while the kids play outside. The weeks just seem to fly by at warp speed, so, come pickup time on Friday afternoons, I'm ready to down shift and enjoy every moment of having my littles with me for the weekend and I can't think of a better way to do that than with a small plate of cheese and meats! For me, making something yummy and beautiful for the ones I love is enormously gratifying; I know this resonates with most of you, as well, as lately we've all been doing our best to find beauty in the smallest of mundane, every day things.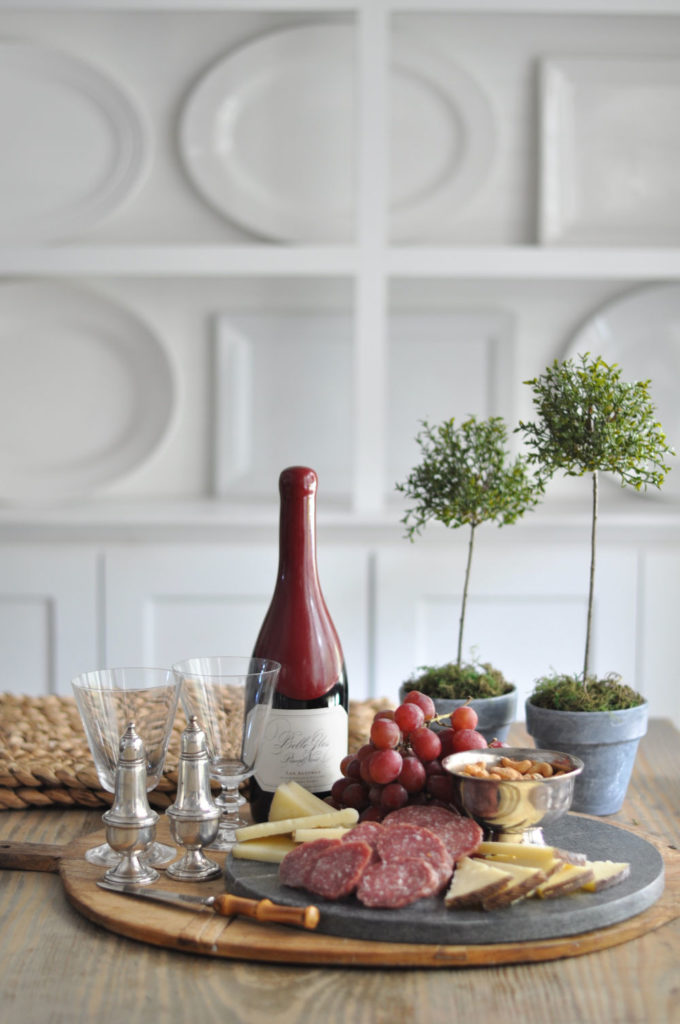 This time of year is all about layering and I feel the same goes for my entertaining / serving style; wood, marble, silver, rattan, bamboo, ironstone, unlacquered brass and wicker are simple, natural elements that make such a beautiful, dramatic statement (even if it's just for me and my husband!) Obviously, I styled the setup below so that I could snap a few pics, but yes, I really do try to make it look pretty, no matter who is eating it and the same goes for my table settings. I've shared tips before on everything you need to create your own charcuterie board (you can read it here and here), but here are a few tried and true tips for smaller plates for one or two: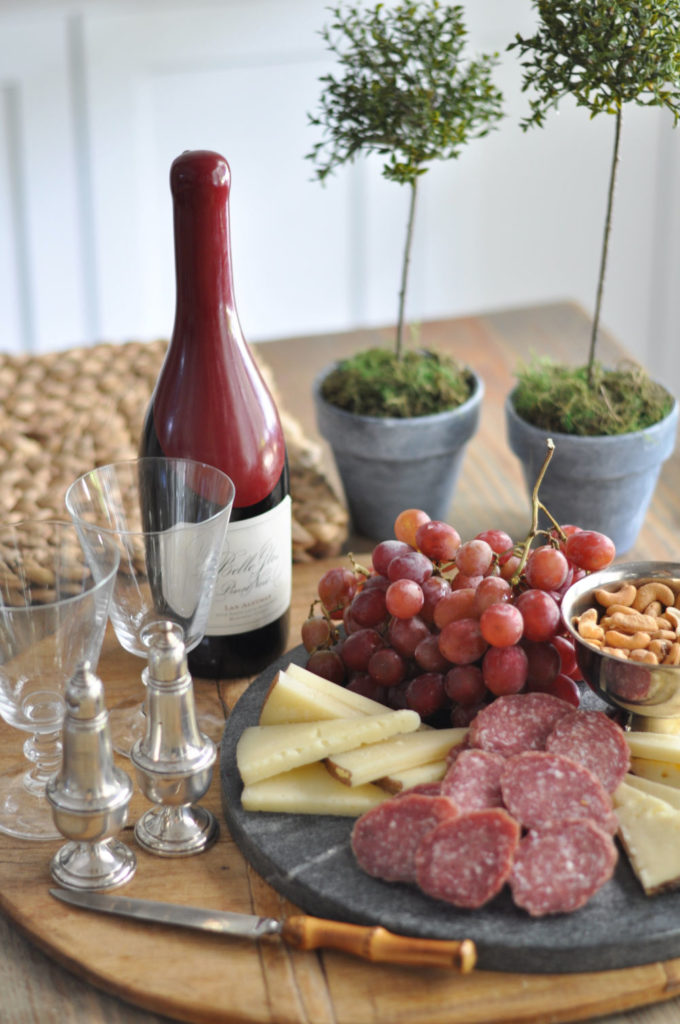 KEEP BASICS ON HAND I always keep a stash of cheeses, fruits, veggies, nuts, dried meats and a bunch of crackers on hand because it seems like my littles are never NOT hungry, but it also makes it easy to throw together a quick cheese plate for me and the hubby. Here are a few items I buy regularly from the grocery store for a cheese plate:
CHEESES I like a soft cheese and at least one hard cheese (Brie and Sharp cheddar are always in my fridge). The brie is so easy – literally, cut the top off and throw it on the plate – and the harder cheeses can either be sliced to pair with crackers or cut into cubes.
MEATS I like a hard salami to pair with English cucumbers and sometimes have prosciutto on hand to wrap around thin bread sticks or, if I'm really feeling fancy and have the time, I'll make little skewers with a piece of mozzarella, prosciutto and cantaloup!
FRUITS Grapes, apples, clementines, berries…you can't go wrong with whatever you have on hand or whatever is currently in season!
VEGGIES English cucumbers are my favorite because they're more firm than regular cukes and don't have nearly as many seeds. I will also throw some grape or cherry tomatoes, mini peppers or baby carrots on the plate, depending on what is in my fridge!
NUTS I don't always add some to my board, but I do think they add a nice, salty crunch and, because my littles love them, I usually have roasted cashews and shelled pistachios on hand. Super unfussy, but they make my plates seem so much fancier!
CRACKERS We usually have a few different types of crackers on hand because the littles like when I make them mini cheese plates and for them, crackers are their favorite part!
LAYER A SMALL MARBLE SLAB OR SLATE. I've been collecting antique bread boards for a while now and as much as I love them for serving, I rarely ever put meat and cheese directly on top of them because there's just no way to clean the oil from them. Instead, I like to put the food on a small marble or slate board and then layer it on top of one of my bread boards. The extra room on the sides I use for candles, wine glasses or a bottle of wine. Most times, I'm running short on time while the littles try to beat me outside, so I'll use a regular sized dinner plate to throw everything on there in a pinch!
USE CHIC APPETIZER PLATES Usually, the hubby and I will eat right off of a dinner plate, but I do love to use these simple app plates! They work with so many different design styles and are great for the littles, too!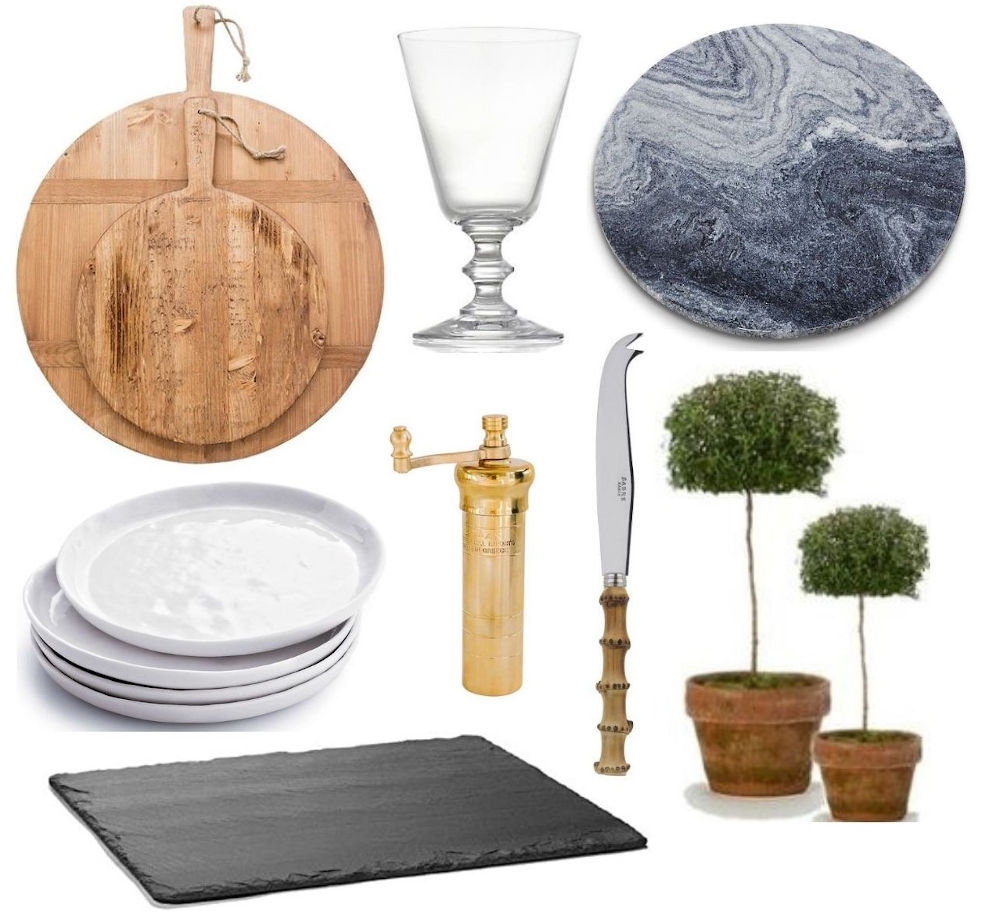 Wood bread board / French wine glass / Black marble slab / White appetizer plates / Brass pepper mill / Bamboo cheese knife / Topiary / Black slate cheese board
Have a wonderful weekend!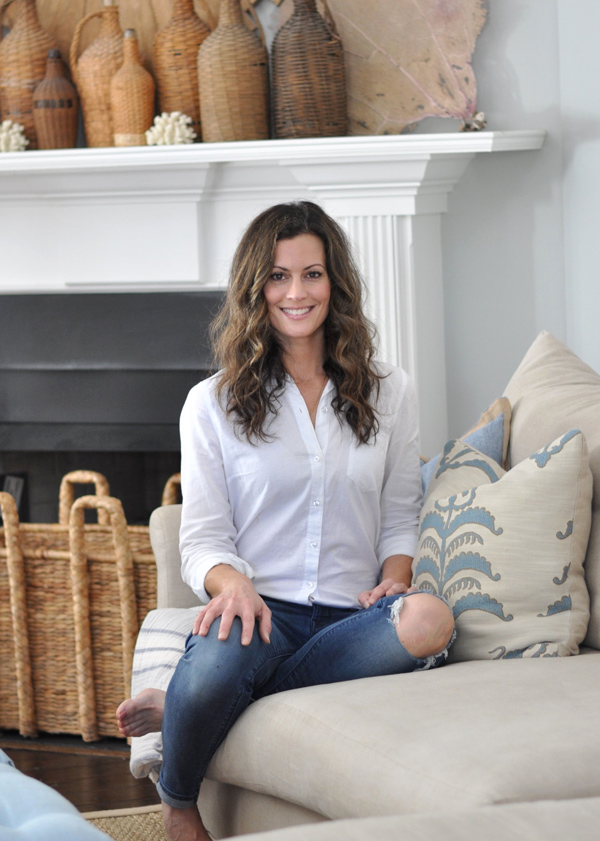 Hello and welcome to Bungalow Blue Interiors!
I'm Kelly, interior designer, stylist, hostess with the mostest and editor of my blog, where I share pics of my work, my own home, décor projects, entertaining hacks, where to find the best decorating deals and all the beautiful things that are currently inspiring me!