I write a lot about how natural materials add a lot of warmth, but texture is a component that can also completely transform your entire space. The beautiful images I posted the other day are a great example of this. Handscraped hardwood floors, planked walls, nubby linen and natural or woven area rugs all add interest, texture and warmth to each of those spaces without adding color. Without these elements, neutral rooms would just look…bland. It's easy and relatively inexpensive to add texture through natural materials and accessories. I thought I'd use my living room to show you how!
Bamboo Roman blinds are my favorite, go-to option for windows and they are super budget-friendly. We installed them throughout our entire house and while they do a great job of blocking the strong southern sun, they also provide contrast against my white trim and curtain panels and warm up the gray/blue paint on my walls:
Woven baskets are another staple in my home. I always find a great selection at Home Goods, TJMaxx and Target and use them to corral magazines, dog toys and even hold my plants:
Throw rugs instantly define a space and one of my all-time favorites is seagrass. It's not exactly the softest underfoot, but it's one of the toughest, most durable options out there. You can always layer decorative throw rugs on top and then change them out with the season:
My floors are dark and all the trim and built-ins are stark white; the seagrass definitely adds warmth and a bit of color:
Accessories are another great way to add texture in small doses. The rope detailing on this Japanese fishing buoy lamp is subtle, yet adds another layer of interest to the glass base:
Woven demijohn bottles and crusty old glass bottles create yet another layer of interest when paired together:
Seagrass tops on my barstools add some color and warmth to the white bases, as well as my beadboard island:
Coral, seashells and sea fans are options, as well – their nubby texture is perfect for adding a little bit of depth:
What are your favorite ways to warm up your space?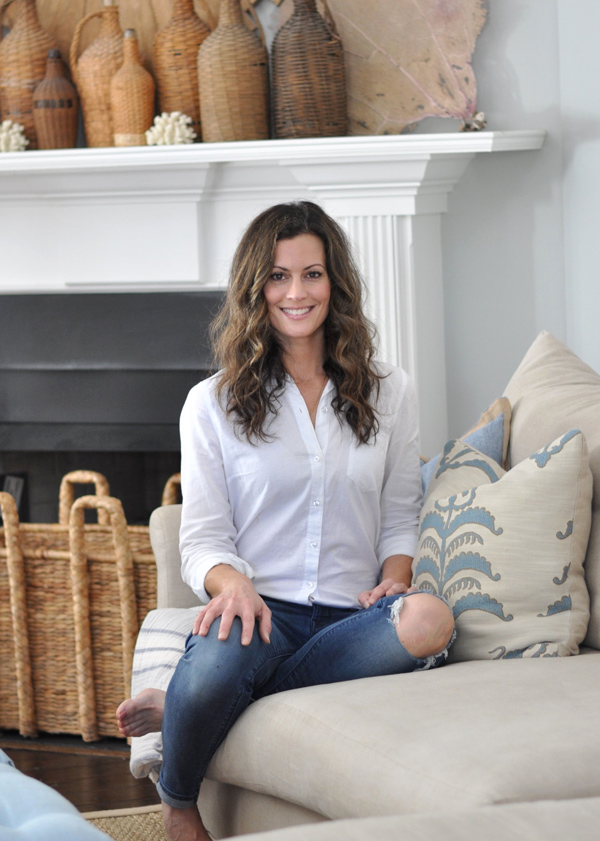 Hello and welcome to Bungalow Blue Interiors!
I'm Kelly, interior designer, stylist, hostess with the mostest and editor of my blog, where I share pics of my work, my own home, décor projects, entertaining hacks, where to find the best decorating deals and all the beautiful things that are currently inspiring me!