Etsy has come a long way from what initially was like searching for a needle in a haystack (for me, at least) and is now one of my go-to stops for one-of-a-kind and antique finds! One of the hardest parts of going under lockdown last spring was watching so many small businesses struggle to stay afloat and so, I started making Etsy a first-stop for sourcing for e-clients and even for myself. There really is a treasure trove of goodies just waiting to be discovered, if you use the right keywords in your search. I've found some of my favorite decorative accessories from some amazing sellers on Etsy, including antique bread boards, beautiful linen tea towels and antique bamboo handled steak knives!
One of the best tips I can give is when you find something you like, ALWAYS be sure to read the comments left on the seller! The piece can be absolutely perfect, but if the comments are not positive or the customer service rates low stars, it can completely ruin it. Here are a few examples of some beauties I've found lately: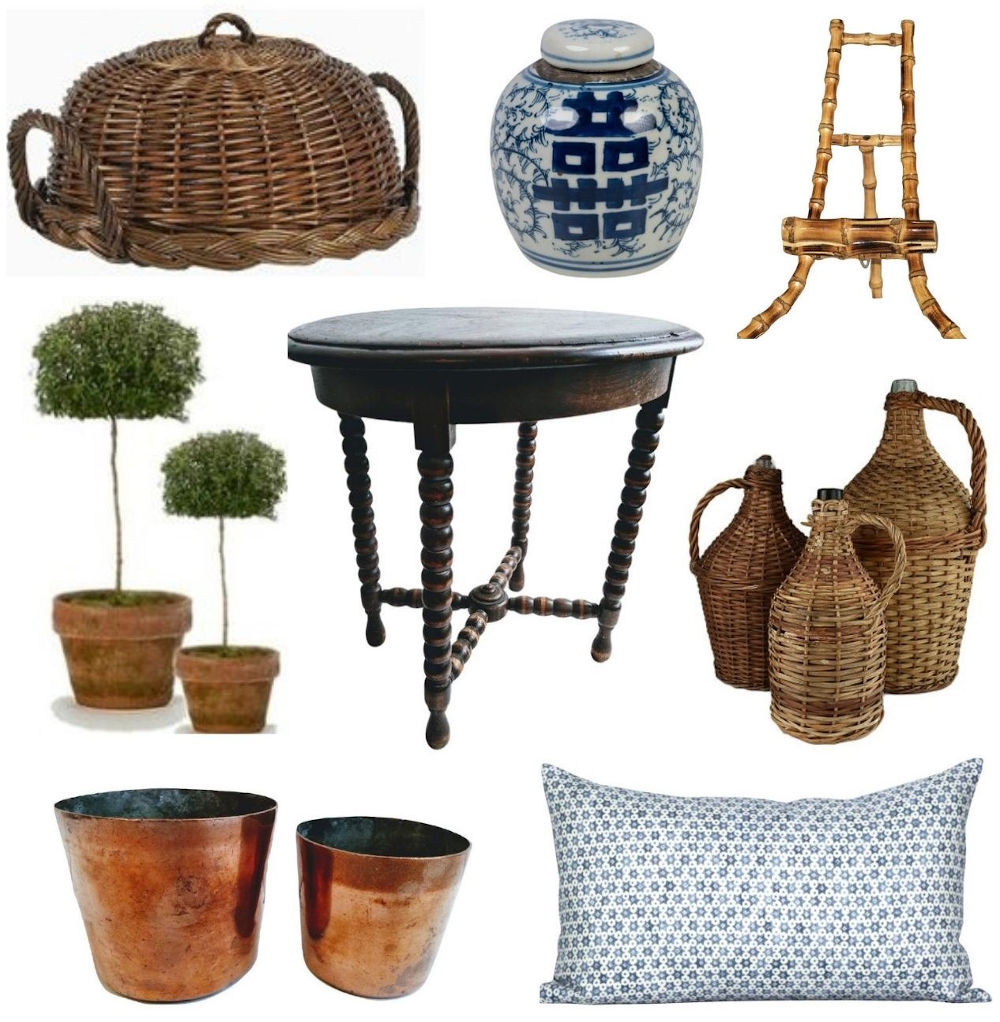 Wicker tray and matching cloche / Blue and white Double Happiness Pot / Bamboo root art easel / Topiary / Barley twist leg side table / Wicker demijohn / Copper pot / Blue and white lumbar pillow cover
Wicker tray and matching cloche – I am always getting comments about mine (I use it to hide construction paper, coloring books and crayons on our dinner table); mine came from an antique store a few years back , but this one and this one on Etsy are similar in look and are great prices! I also love this rattan cloche that is sold separately from a tray, so it can be placed over a plate of cookies or to hide bread on a countertop!
Blue and white ginger jar – one can never have too many! Love the size and pattern on this one.
Bamboo root art easel – such a beautiful way to display art and add texture, color and interest to a vignette at the same time! The price is amazing and it would make for a beautiful gift idea, too!
Topiary – my love for these runs deep, as you well know if you've been following along here for a while. If only I could keep them alive long enough, lol. This single is a great price and I also love this set and this one, if you have the green thumb to keep them happy and healthy!
Barley twist side table – I'm finding more and more antique pieces of furniture lately that are beautiful, well priced and in great shape. This table is such a pretty accent piece and the seller comes with raving reviews!
Wicker demijohns – I've gotten a few of mine from Etsy; it's one of my favorite places to find them at affordable prices and you just can't beat the texture and character they bring to a space! (As my mantle can attest)
Copper mold pots – EvedeFrance is one of my absolute favorite vendors on Etsy; her variety of antique finds is incredible and her customer service is outstanding. These copper mold pots would look amazing with a myrtle topiary or a handful of wooden spoons or cutlery inside!
Blue and white pillow cover – Obsessed with this pattern!
What are you loving lately from Etsy? Any fab sellers on your radar? Please share in comments below!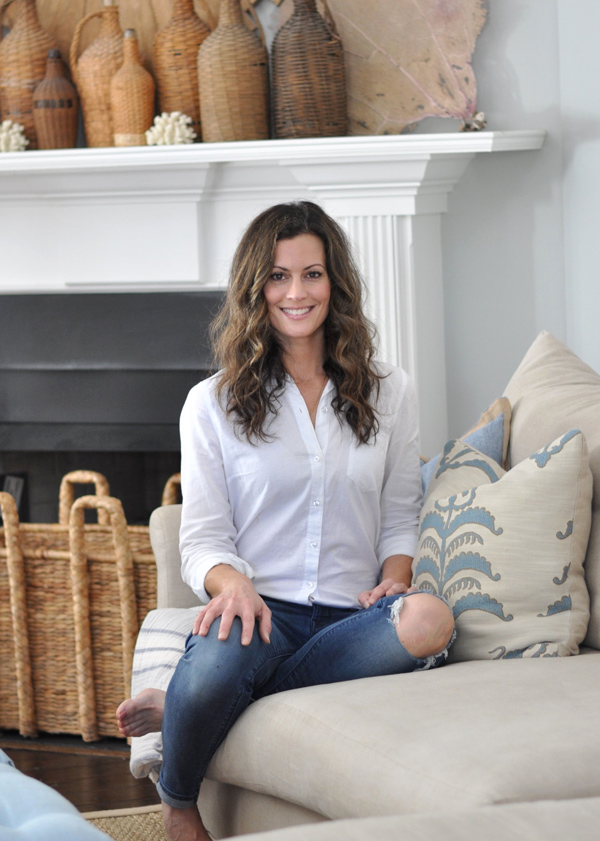 Hello and welcome to Bungalow Blue Interiors!
I'm Kelly, interior designer, stylist, hostess with the mostest and editor of my blog, where I share pics of my work, my own home, décor projects, entertaining hacks, where to find the best decorating deals and all the beautiful things that are currently inspiring me!