FOUR NON-FLORAL, EVERY DAY CENTERPIECE IDEAS FOR THE TABLE
Setting a beautiful table is a simple luxury that brings me so much joy and that I look forward to every day-especially now that my little miss is so into helping – but this time of year when it's slim pickings in the floral section of almost every grocery store (yes, even you, Trader Joe's), I find myself having to get creative for the center of the table.
For the most part, we will just put a few glass hurricanes or my grandmother's silver candlesticks down the center or off to the one side (there has to be at least one for each minion to make a wish and blow out a candle, of course) and call it a day. But it's so nice to have something that can stay on the table after I've cleared off the dishes, that's easy to move when we need to do homework or crafts, so here are a few non-floral alternatives that I've used in the past and happen to love!
TOPIARY GROUPING You can't beat a pop of greenery on the table and the best part about these is that they're fakes! No one has ever been able to tell unless they touch them, mostly because I put them in a bigger pot than what they came in, but also because they're some of the best dupes I've seen! If you have a green thumb and can keep the real deal alive longer than my personal five minute best, this single, live myrtle topiary and this set of four are great options!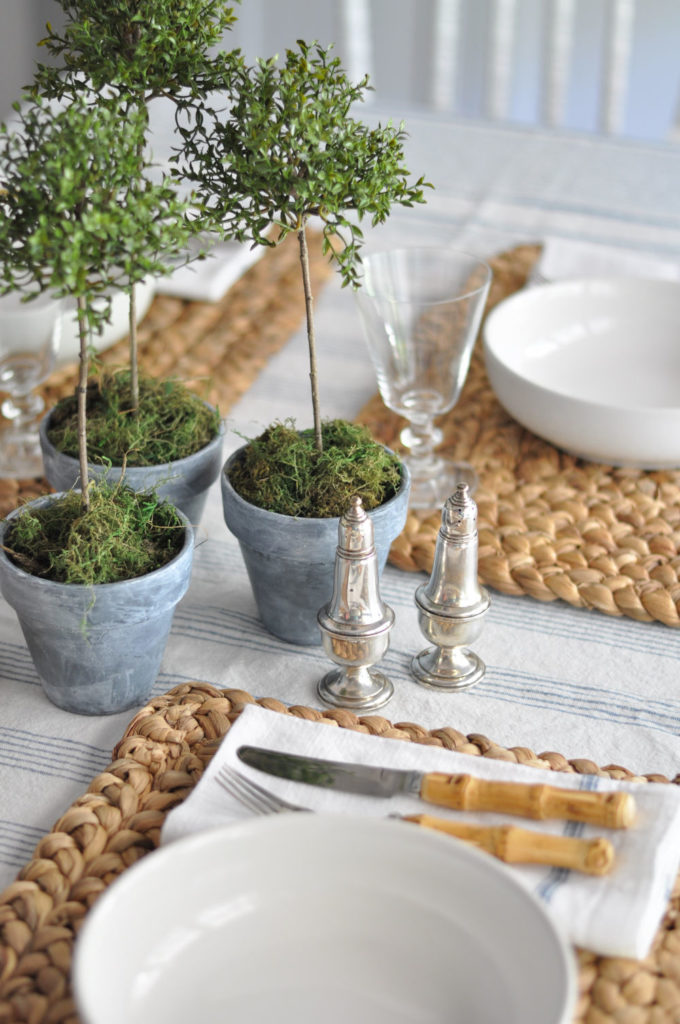 Topiary / Similar bamboo flatware / White bowls / Similar tablecloth / French wine glass / Water hyacinth placemats
GLASS HURRICANES When it comes to creating ambience at the dinner table, you just can't beat candle light. I like to put a grouping of three different sized glass hurricanes off to the one end of the table so that the littles can still see across and also so we can pass food easily. These from Target are my absolute favorites, as much for the price as for the fact that they look a lot more expensive than they are and they also look amazing with bunches of fluffy hydrangeas during the spring and summer!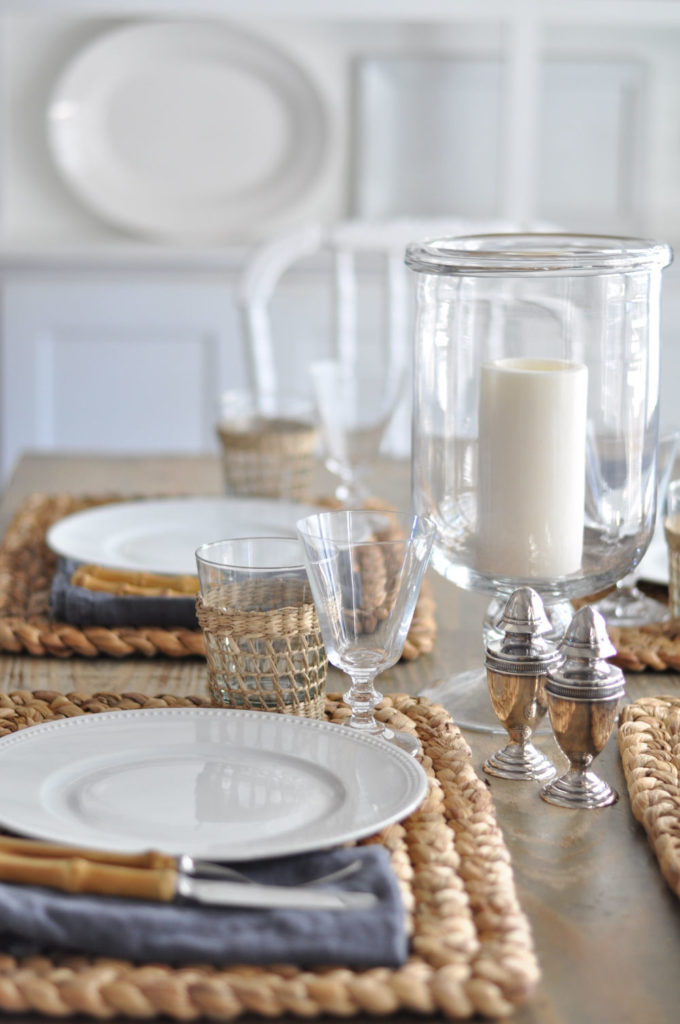 Hurricane / French wine glass / Similar salt and pepper shakers
DEMIJOHNS I do like to add some texture to any space in my house and my dinner table is no exception. A grouping of demijohns adds texture and interest and looks beautiful when paired with silver salt and pepper shakers and the above-mentioned topiary on top of one of my favorite water hyacinth placemats!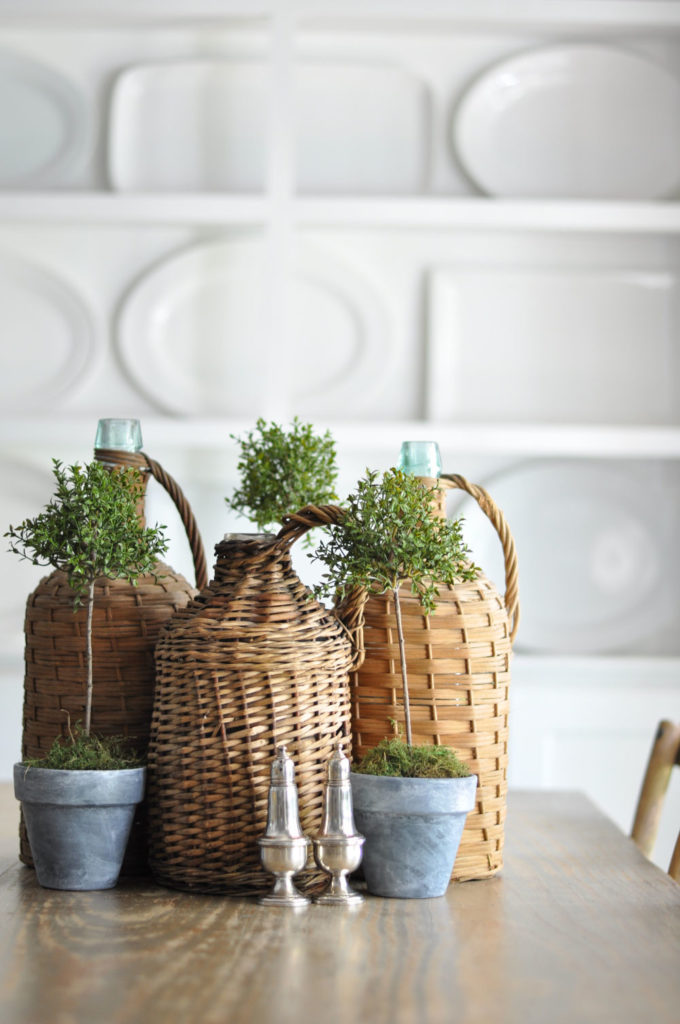 Similar demijohn / Similar silver salt and pepper shaker
BOWL OF CITRUS We devour clementines year round, so I always have them on hand and years ago, I started keeping them in an oversized clam shell on the middle of my table. It's always a great conversation starter and makes for easy access when looking for a snack! Plus, it's super easy to pick up and move when it's time to set the table for dinner.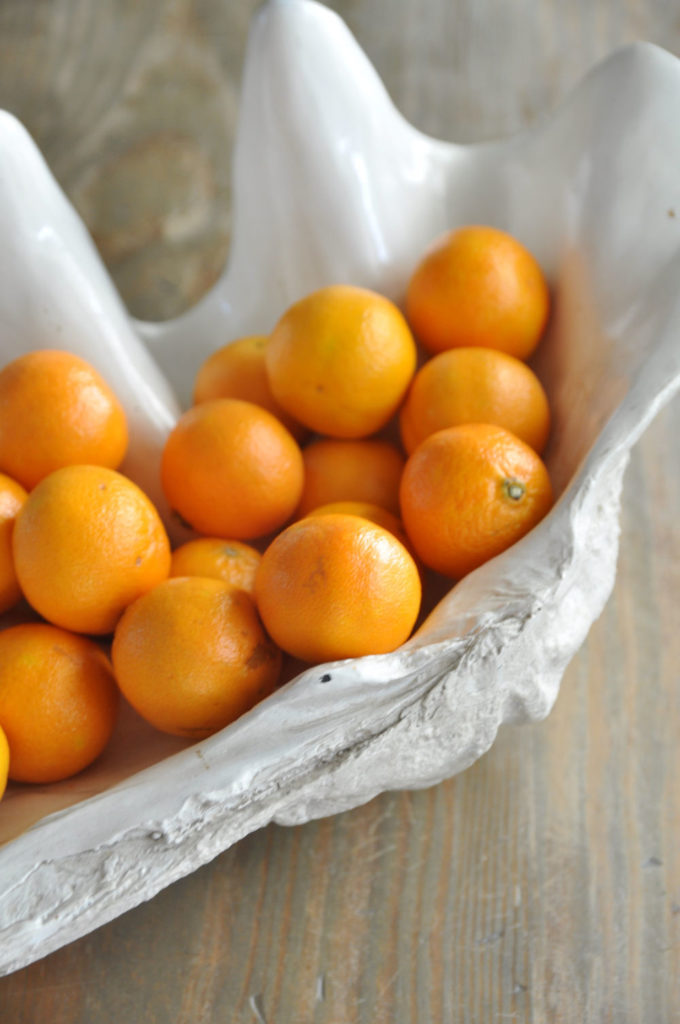 Similar clam shell here and here.
Happy Monday!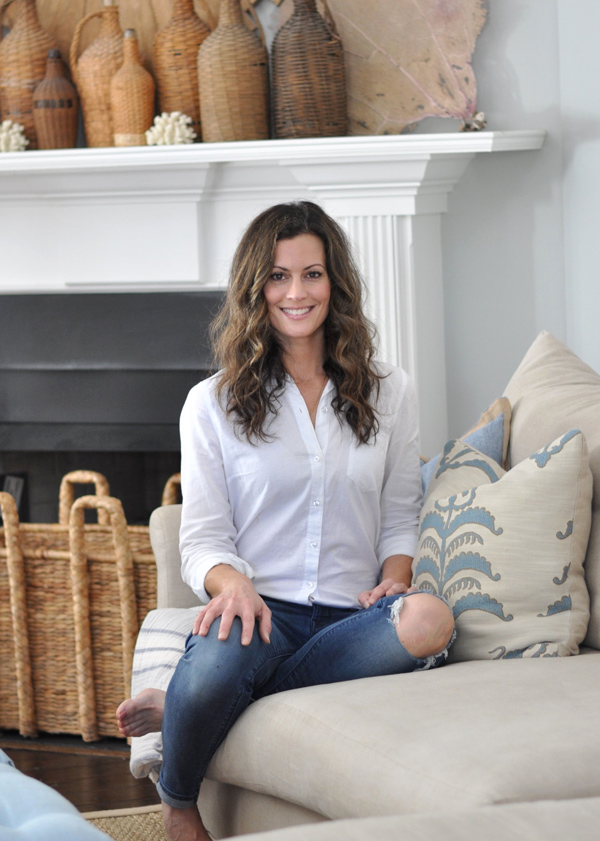 Hello and welcome to Bungalow Blue Interiors!
I'm Kelly, interior designer, stylist, hostess with the mostest and editor of my blog, where I share pics of my work, my own home, décor projects, entertaining hacks, where to find the best decorating deals and all the beautiful things that are currently inspiring me!