diy: how to make new wood look old and weathered
In yesterday's post, I showed you how I made my own custom picture frames for nautical charts and today I thought I'd show how I created the weathered stain – it's super easy and very inexpensive! I wanted to create a finish similar to the mirror and candlesticks on my fireplace, since the frames will be hanging on the adjacent wall:
Back in the day, furniture makers used nails that had been soaked in vinegar to make their pieces. The vinegar created a pickled finish that caused the furniture to weather beautifully with age. I knew there had to be another way to achieve a similar look without having to wait forever and then I read about how to make your own stain using distilled white vinegar and steel wool:
I placed a pad of steel wool in a glass jar (I definitely recommend using glass and NOT a plastic container) and then covered it with vinegar.
Close the lid tightly (this stuff smells like a dead animal, no joke) and wait 24 hours. I wouldn't recommend letting it sit too much longer than that because the steel wool will rust and give the stain a reddish tint (trust me, I found this out the hard way!)
This stain makes raw wood look gray and weathered, but I wanted it to look a little warmer, so, first I brushed on a coat of wood conditioner to seal the wood. Here is my frame before staining:
When you're ready to paint, remove the steel wool and stir the mixture really well. Use light brush strokes so there are no drips when you paint. It won't look like much when you're painting, but once it dries, it will have a lovely, weathered finish! You can see the right side of this frame already starting to turn after one coat:
Three coats of stain later, here are my frames:
I am so happy with how well they turned out! My charts really pop now and the finish is so beautiful.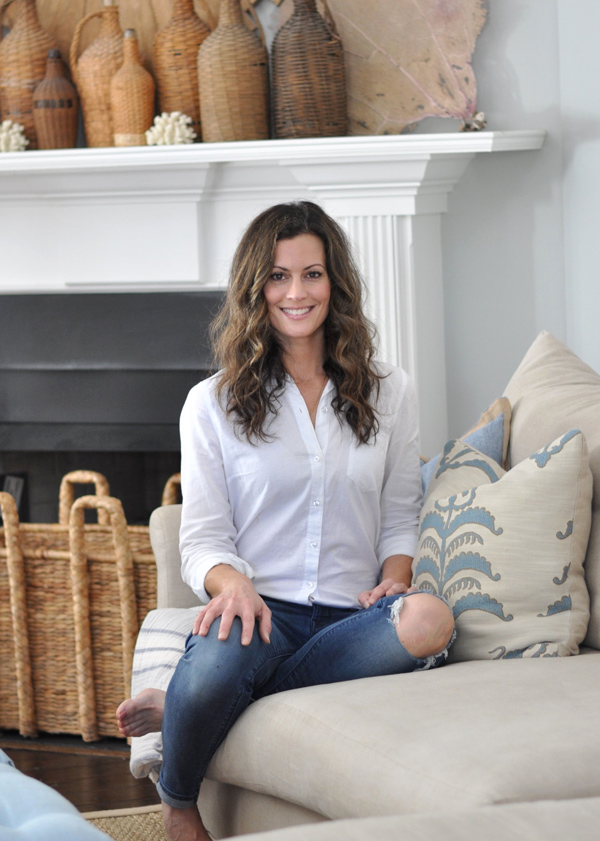 Hello and welcome to Bungalow Blue Interiors!
I'm Kelly, interior designer, stylist, hostess with the mostest and editor of my blog, where I share pics of my work, my own home, décor projects, entertaining hacks, where to find the best decorating deals and all the beautiful things that are currently inspiring me!