diy: make your own picture frame
I've posted before on oversize art and the impact it has in a space, so I decided to take my advice when it came to my own home! We have a huge vaulted ceiling in our living room and I needed something big to fill all that wall space over our couch. My hubby and I met in Lisbon, Portugal and took our first vacation, a cruise in the Western Caribbean, and since I've always been a huge fan of decorating with items that hold personal meaning, I bought two HUGE (36×49 inch) nautical charts of each location:
Only problem was that it would cost around $600 to frame each one, so I took another route: I had each one mounted on foam core board and then the hubby and I made our own frames out of stock molding from Lowe's. It's so much easier than you may think!
Let me first say that this would be much quicker if you have a mitre saw, but a mitre box is just as good and much less expensive. I picked this one up for $15:
I bought enough 3 inch molding to cover each frame, as well as 1/2 inch trim pieces to make a box to hold each map:
First I measured one inch outside of the actual map to create a border. I made small pencil marks every four inches or so around the entire chart:
I added two inches to the total width and the total height to allow for a one-inch border around the chart. This is where the frame will sit on the chart once I'm done and these will be the measurements by which you will follow when cutting the molding for your frame.
For the first cut, I placed the molding inside the box, lined the saw at the 45 degree ridge and cut:
It's helpful to have another set of hands to hold the molding while using your saw. After you've made your first cut, measure from the inside corner down to where you will make your next cut:
Mark with a pencil and make your second cut:
After each cut, I wrapped a piece of 150-grit sand paper around a sanding block to get rid of any jagged edges:
This is what the corners should look like:
Once you've cut the top, bottom and side pieces, glue each corner together and hold with corner clamps. Let the glue dry for 30 minutes.
Next, I hammered 1 1/2 inch finishing nails into the corners for added support. I put two in each corner, perpendicular to each other:
Almost done! Next, I built an inner frame to hold and secure the map using the 1/2 inch trim pieces. I measured from the one inch mark on the map to the edge of the actual chart and put 1 inch finishing nails every four inches:
Once the frame was built and the map was slid in, 1 1/4 inch screws were drilled into the frame – one on each side, leaving about 1/4 inch out. The screw went through the trim piece and into the frame:
Then, I wrapped steel picture wire around the frame so I could hang it easily on the wall:
And here are both of the frames – they look even better than I expected! I made my own stain to make them look weathered, similar to the mirror and candlesticks over the fireplace – I'll post details on that one next:
Happy Hump Day!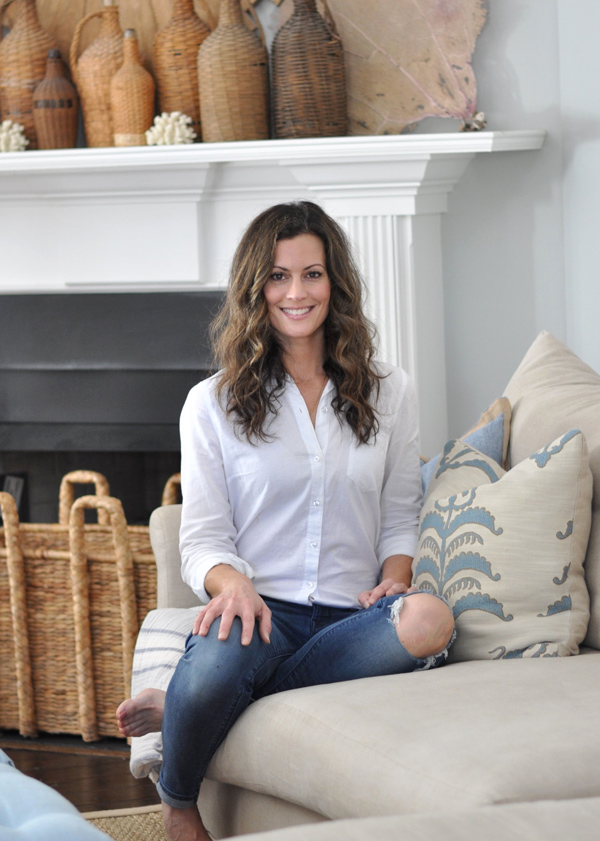 Hello and welcome to Bungalow Blue Interiors!
I'm Kelly, interior designer, stylist, hostess with the mostest and editor of my blog, where I share pics of my work, my own home, décor projects, entertaining hacks, where to find the best decorating deals and all the beautiful things that are currently inspiring me!