A NEW (OLD) PIECE FOR OUR ENTRY
For someone who has spent the last decade working in an industry that is constantly evolving, I regularly find myself chanting over and over that "change is good" when it comes to my own home. While I love my house, the floor plan simply does not lend itself to rearranging furniture whenever the mood strikes, so I've gotten comfortable with pieces being in the same spot for the eleven, almost twelve, years that we've been here! Sometimes, it's a blessing in disguise because it keeps me from constantly moving things around, but on those days that I am just craving something fresh, new and different, it ends up being a real downer.
I've been wanting to change up the situation in our entry for a little while now. I love the slipcovered table (it was the first piece I had made for the house when we built!), but I was feeling a change and just couldn't decide what I wanted to do. And then last week, I stumbled upon a Thomasville buffet that was in excellent shape at the White Elephant sale at our church and snatched it up before anyone else could say, "SOLD!"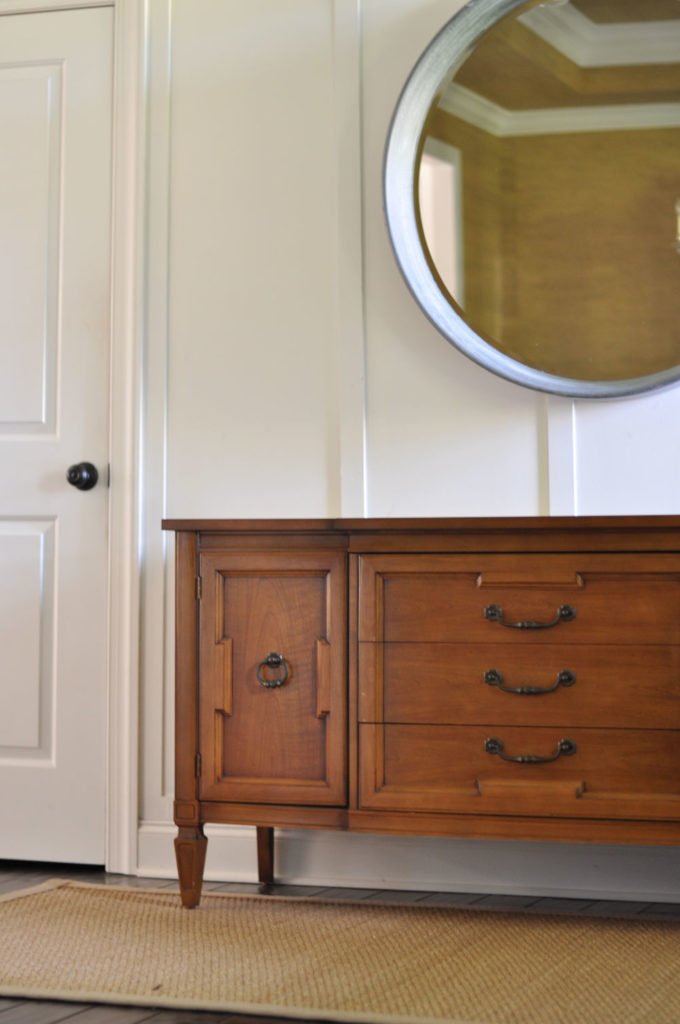 Aside from being in excellent condition, it had great storage space, which is the number one element a piece must have in order to come home with me; it couldn't be more perfect for storing small toys that don't really fit in baskets like jigsaw puzzles, bins of legos and our ever growing collection of board games. I had initially planned on painting it Tricorn Black, just like the similar Thomasville dresser we repainted a while back for our bedroom (read about it here), but once we got this inside, I loved how warm the wood color looked with the seagrass rug, the deep gray/blue door color and the "zinc" mirror, that I'm leaning toward leaving it exactly as it is for now.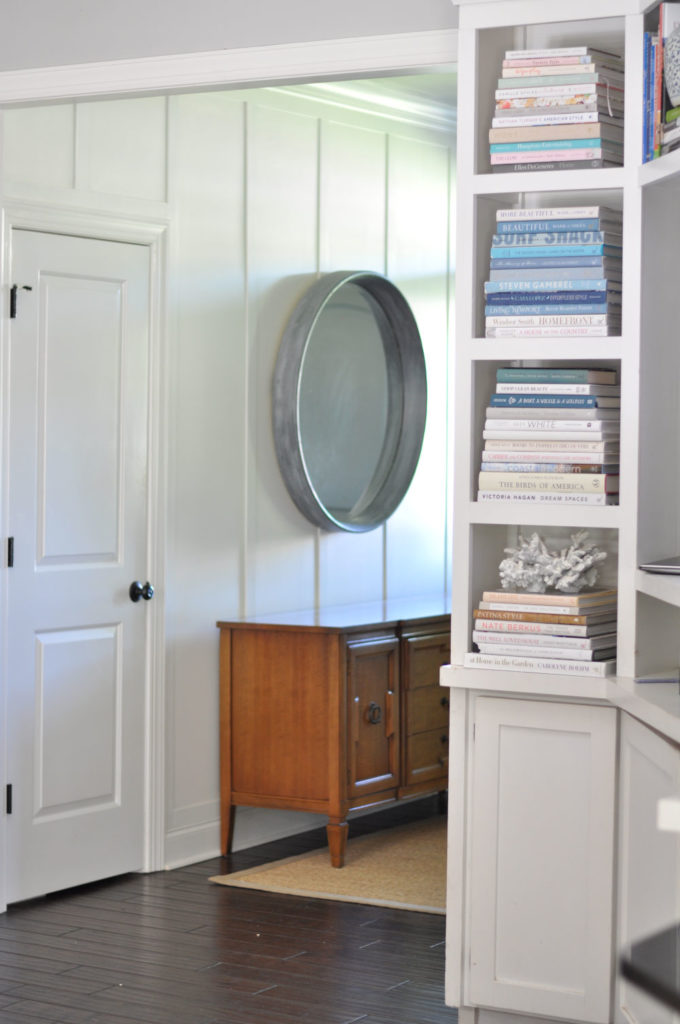 I absolutely love how it looks so much that I find myself going out of my way to walk by it constantly! Still working on what kind of lighting I want on it and styling, etc., but I knew if I waited until I had it completely "done", it would be forever until I shared it, so here it is, in all its unadorned glory: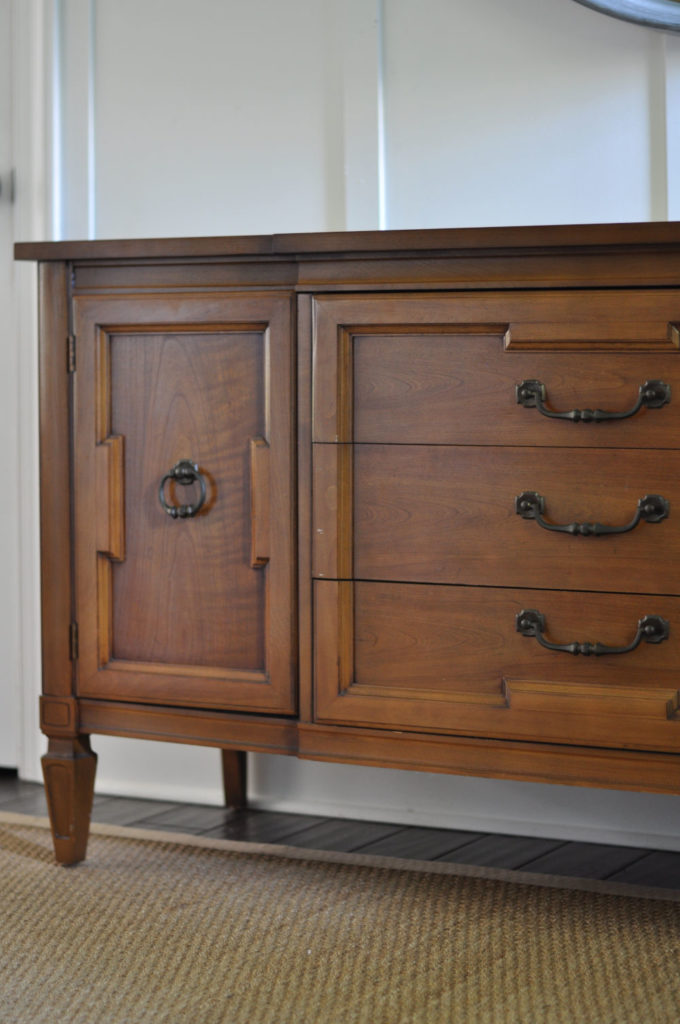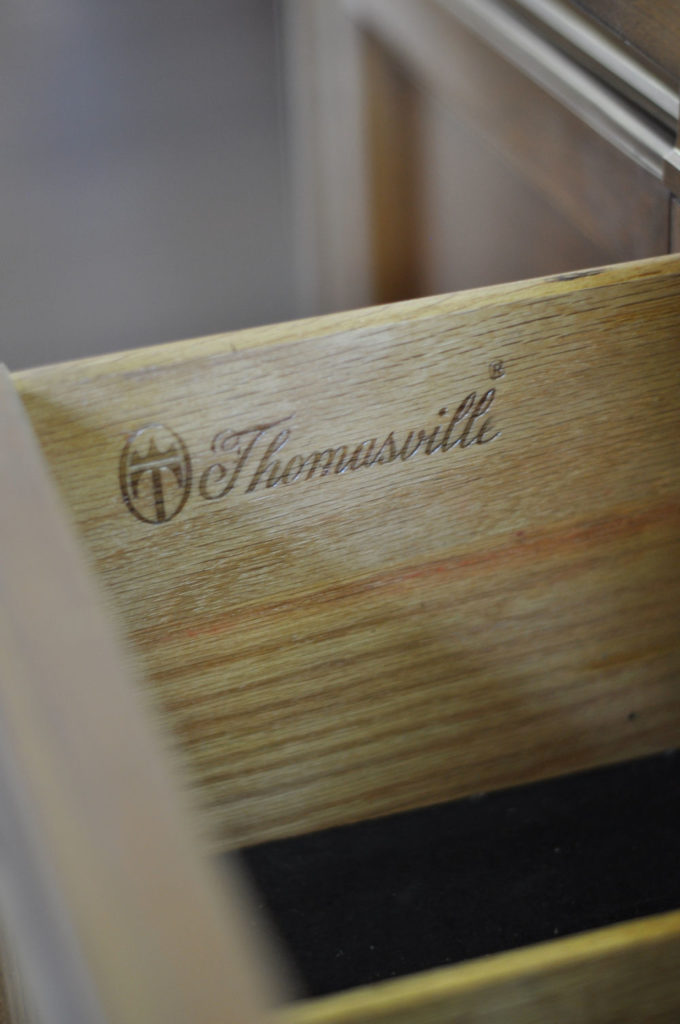 I can't wait to deck this out with fresh evergreens for Christmas! Stay tuned for some entryways that are inspiring me with my own, as well as completed pics of this space a little more done!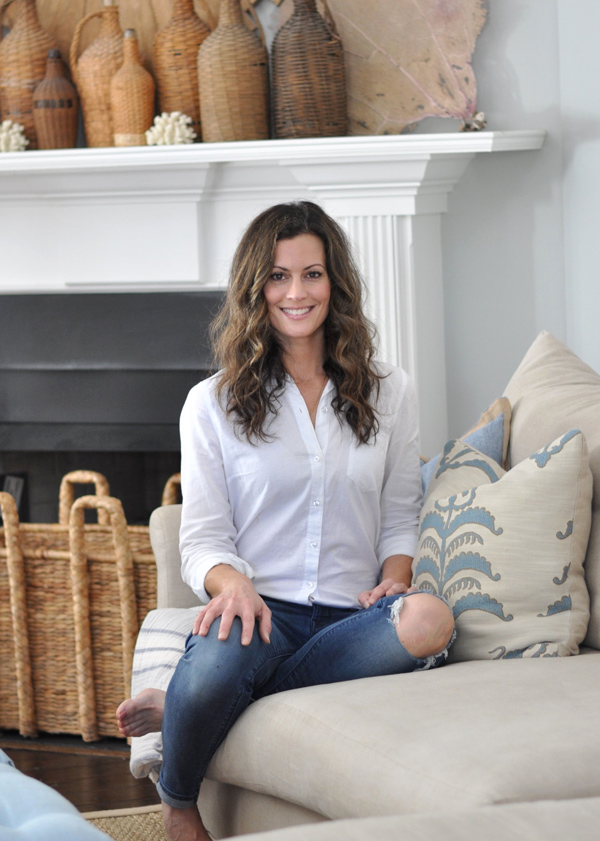 Hello and welcome to Bungalow Blue Interiors!
I'm Kelly, interior designer, stylist, hostess with the mostest and editor of my blog, where I share pics of my work, my own home, décor projects, entertaining hacks, where to find the best decorating deals and all the beautiful things that are currently inspiring me!