pregnancy must-haves the second time around
This Saturday I will officially be seven months along in this pregnancy! In some ways, it feels like I've been prego FOREVER and in others, it seems like time is flying by at the speed of light. I can feel panic slowly starting to creep in as I still have yet to make a decision for what I'm going to do in his nursery. (Not to mention the fact that said "nursery" is still currently a guest bedroom jam-packed with furniture and an overflowing closet full of crap that I need to sort through!) And I wonder why I can't sleep at night!?
I had it made this point in my pregnancy with Lydia because the weather was cooler, whereas it's about to hit triple digits this weekend and I already want to stick a fork in my eye. While there isn't much I can do about the weather, there are a few staples I've come to rely on this time around that help me feel and look a little more pulled together than I really am, so I thought I'd share some of my favorites! Even if you're not prego, all of these beauty picks are AMAZING!
Bareskin Complete Coverage Serum Concealer – this stuff is amazing at covering dark under eye circles, evening out skin tone and making you look like you got a full night's rest, even if you didn't. I slather it under my eyes, around my nose and dab it on my chin and I feel like I look so much more fresh-faced!
Rosebud Salve – The pale pink tint adds just a dab of sheer color – I'm OBSESSED.
RMS Beauty Buriti Bronzer – all natural, non toxic and gives a beautiful, sheer bronze tint that makes you look like you've spent the day at the beach!
St. Tropez Self Tan Bronzing Mousse – there's nothing more flattering than a beautiful, (fake) bronzed glow on an ever-growing belly. I've spent a small fortune trying self tanners over the years and this one has the most realistic color and doesn't smell. This is another, more budget-friendly version that works well, too!
Living Proof Perfect Hair Day Dry Shampoo – Hands down, the best dry shampoo I've ever tried. A little bit goes a long way and even for my fine hair, I can go three and sometimes four days without washing. It also gives a little lift at the root!
Mother's Special Blend All Natural Skin Toning Oil – I swore by this for preventing stretch marks and easing itching as my belly grew when I was pregnant with Lydia and it's my go-to, once again. I put it on as soon as I get out of the shower when my skin is still damp and it also works as a makeshift eye makeup remover when you're out!
CeraVe SPF 30 facial sunscreen – I'll lather sunscreen on my face, neck and chest until I look like Casper the friendly ghost, but I've learned over the years that, unless the active incredients are zinc and titanium dioxide, it's a waste of money. This one by CeraVe is inexpensive, easily blends in and doesn't make my sensitive skin break out!
Tarte Inner Rim Brightener – This soft beige eye pencil works WONDERS for making you look bright eyed and busy tailed, even when you're far from it! It's so much softer than the white pencils I've tried in the past and it makes your eyes look huge!
NanoThermic Contour Brush – This bad boy has cut the time it takes to blow dry my hair straight in half and some days, depending on how bad the humidity is, I don't even need to use a flat iron (which is really saying a lot for my naturally very curly hair!) There's nothing I hate more than having to do my hair when I'm exhausted or have one million other things that need my attention, so this has been worth its weight in gold for me!
Having a pool in the backyard has never been more of a saving grace – not only do little miss and I exhaust ourselves out back every day until our fingers and toes prune, but it's been a great way for me to get low-impact exercise in while she plays. I run back and forth in the shallow end (it's harder than it sounds!), swim laps and tread water in the deep end with my arms above my head. It definitely helps me feel reinvigorated and, I'm hoping, it helps with the vein that is threatening to bulge at the back of my right thigh!
I a compression stocking by 2XU on my right leg and use short blade swim fins like these when I swim for a little more oomph for my workout. I swam competitively for years growing up, so I'm all about using fins to make my workout go a little further!
What are some things you couldn't live without during your pregnancy??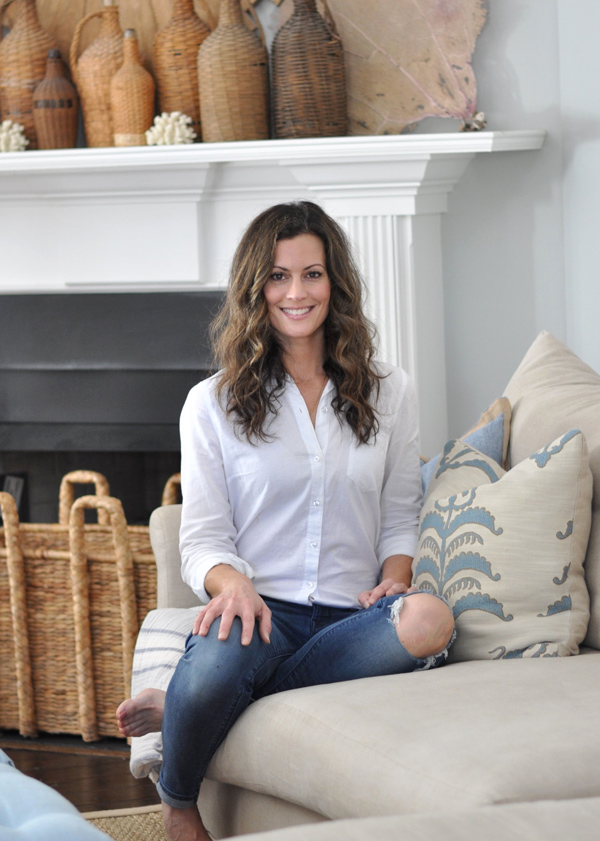 Hello and welcome to Bungalow Blue Interiors!
I'm Kelly, interior designer, stylist, hostess with the mostest and editor of my blog, where I share pics of my work, my own home, décor projects, entertaining hacks, where to find the best decorating deals and all the beautiful things that are currently inspiring me!