PARING DOWN + BEAUTIFUL STORAGE
When school let out for my kiddos this summer, any and all home improvement or decor projects came to a screeching halt. It's been so nice to have had a little break, but my list of items to tackle when they're both in school again is growing longer and longer by the day! This past weekend, while both littles were making birthday cards for my mom at the kitchen table, I tackled the cabinets under the plate hutch behind it on a total whim. It wasn't bad, but it was full of mismatched dinner napkins, old Ball jars, round, clear vases, bowls of seashells we've collected on beach trips as well as a ton of other things that I haven't used in years. I really wanted all of my favorite and most used entertaining pieces all in the same spot, so I took everything out, wiped down the shelves and then tossed and donated pretty much everything I no longer used or wanted. I ended up freeing up enough space to only keep the dinner napkins that we use on a regular basis, my favorite vases, hurricanes and candles, as well as my stash of clear glass votives.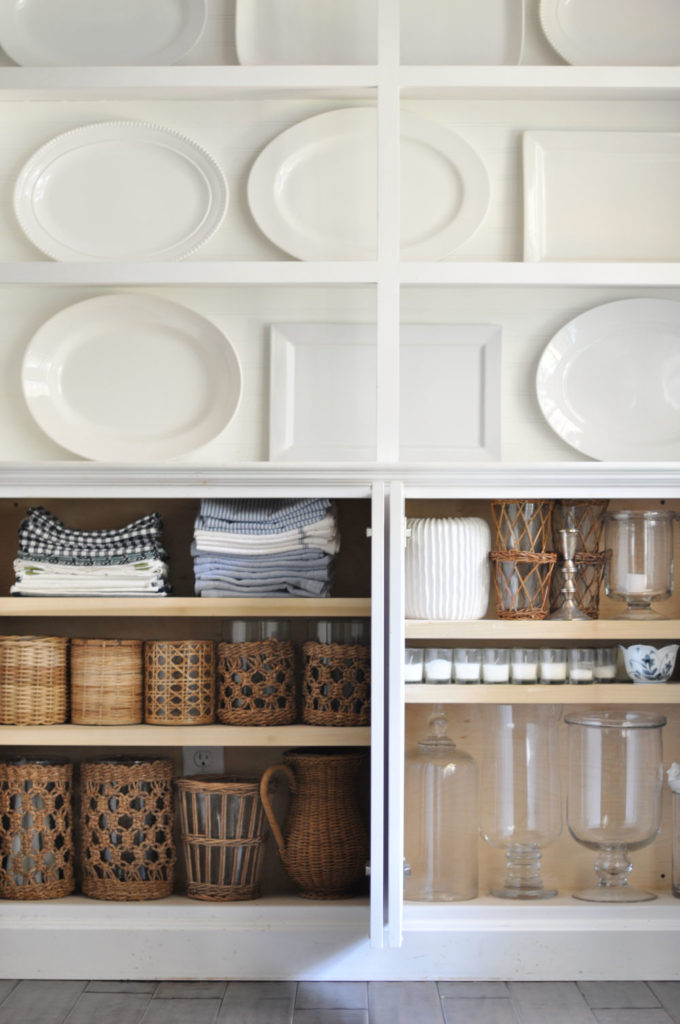 It feels so good to not only have gotten rid of a TON of stuff that I no longer use or really even want, but most importantly, for someone who is constantly noticing aesthetics, it feels even better to open the cabinet to such pretty organization! In a world of so much excess, it sure is nice to have pared down to the items I really love and use often, that also happen to be timeless pieces that I know I'll be using constantly for years to come. Here is what I kept around: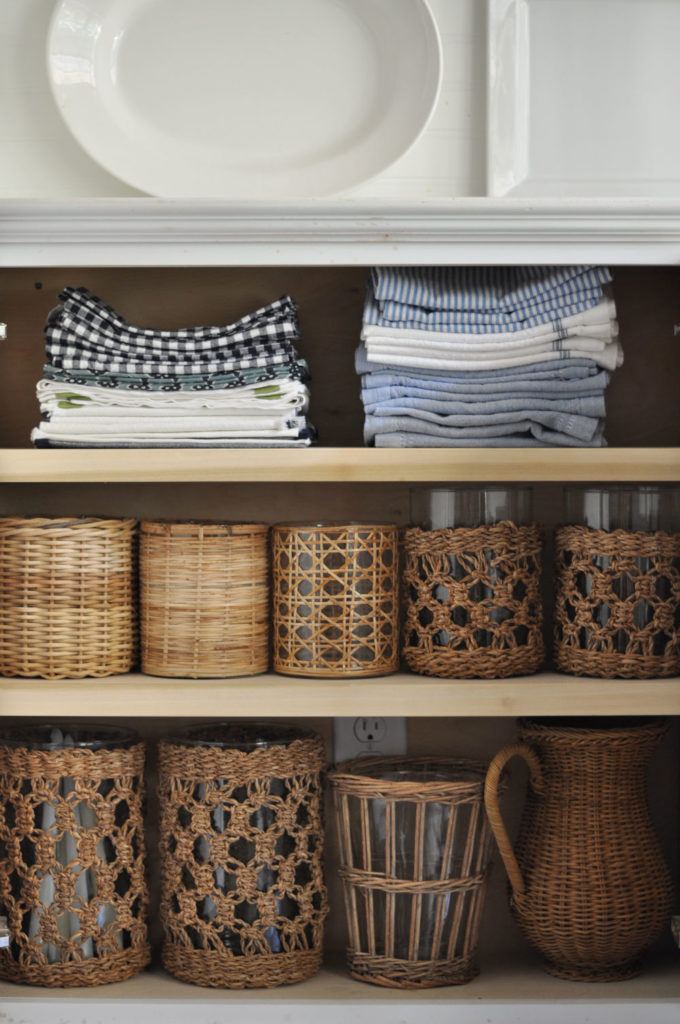 LOTS OF BLUE AND WHITE NAPKINS – Navy gingham, chambray and (similar) blue and white striped dinner napkins get used the most on a daily basis, so I kept those in here, within a foot of the table, for easy access. I spot treat them and then throw them in the wash and air dry. Ironing is one thing I'm not good about AT ALL, but if they're particularly wrinkly when they dry, I'll throw them in the dryer for five minutes with another damp towel and then they're perfect!
RATTAN BASKETS, VASES + HURRICANES – whenever I bring home a handful of flowers or cut some from my yard, these are the vessels I reach for the most. From left to right on the middle row, the basket is from Pottery Barn last year, but this is a similar option (and comes in a set of three!) The rattan vase and open weave rattan vase next to it are both from Amanda Lindroth, my absolute favorite. The next two are from Home Goods years ago, as are the two taller ones to the left on the bottom row. The rattan pictcher and smaller wicker vase are both antique store finds.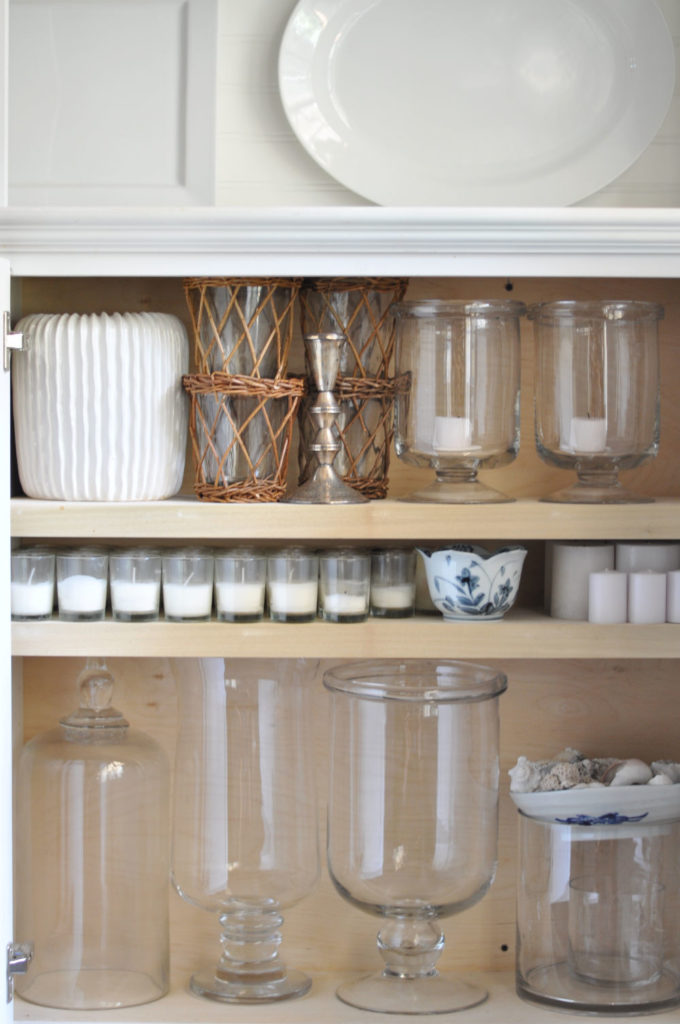 WHITE RIDGED VASE – This is one of my very favorites for bright blooms or a handful of baby blue hydrangeas, but it looks just as beautiful and sculptural on its own!
SMALL WILLOW AND GLASS VASES – These were actually Park Hill candles! When the candles burned down, I turned the glass upside down on a foil-lined baking sheet and put in the oven at 400 degrees for just a minute or two until the wick dropped. Once cool, I washed the glass with warm, soapy water and use them for smaller arrangements in Lydia's room or down the middle of a table for holidays or get togethers!
FOOTED GLASS HURRICANES – I wrote an entire blog post on these budget-friendly finds from Target last year and they're still some of my favorites! We use the smaller ones on the dinner table with candles almost every night and the larger one (on the bottom shelf) holds branches in the spring and candles throughout the winter.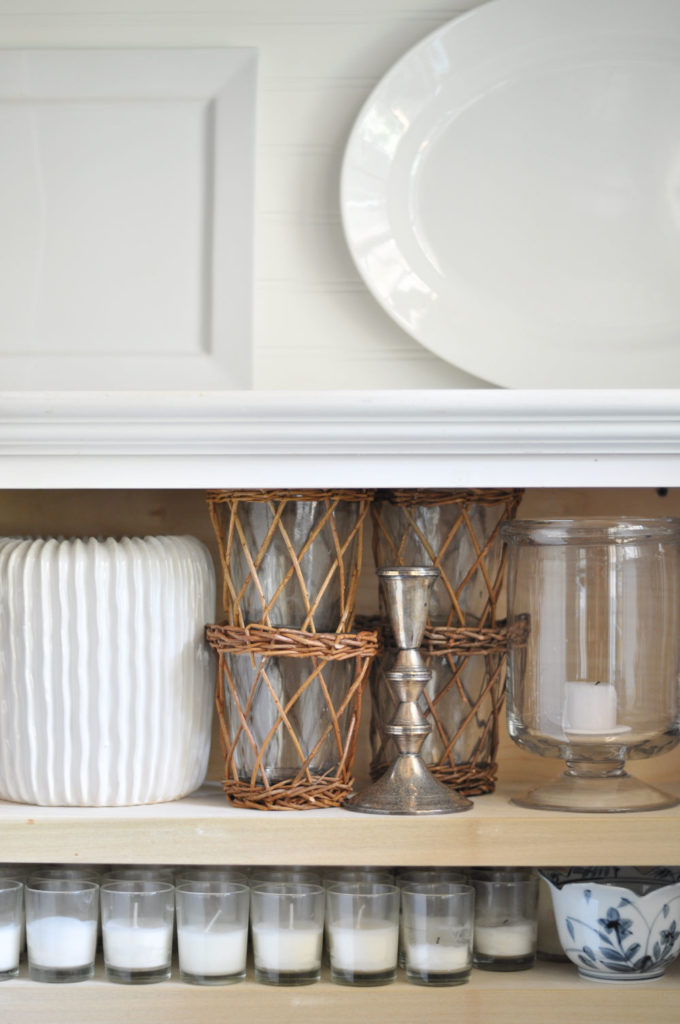 GLASS UNSCENTED VOTIVE CANDLES – I've stocked up on these from the dollar store, believe it or not (they come two in a pack) Having adjustable shelves has been great because I finally have a place to stash all of them! These have come in handy the many times we've lost power during hurricanes, tropical storms and the occasional tornado that has blown through, so it's perfect to have these in such an easy-to-access place for when we need them, but the kids sometimes like to line a bunch of them along the dinner table for some extra glow! This is a great deal on a set of 48.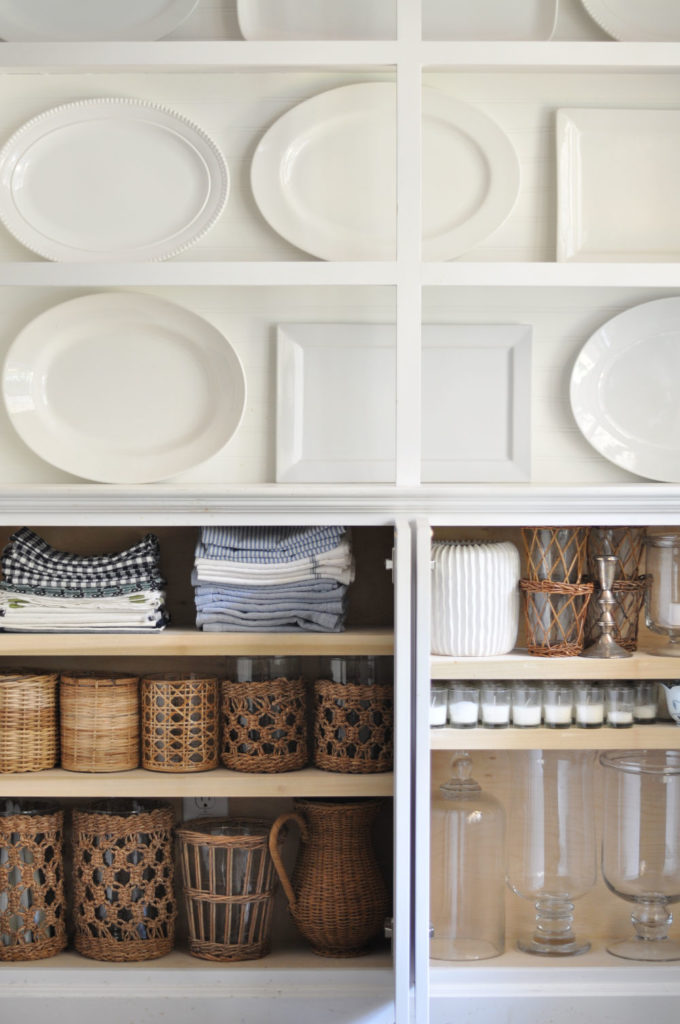 Once the kiddos are back in school, I'll be moving on to the laundry room cabinets and kitchen pantry; I can't promise they'll be as pretty as this hutch, but I'll sure be doing my best to get as close to it as possible! Thanks for reading along today; hope you're all off to a great start this week!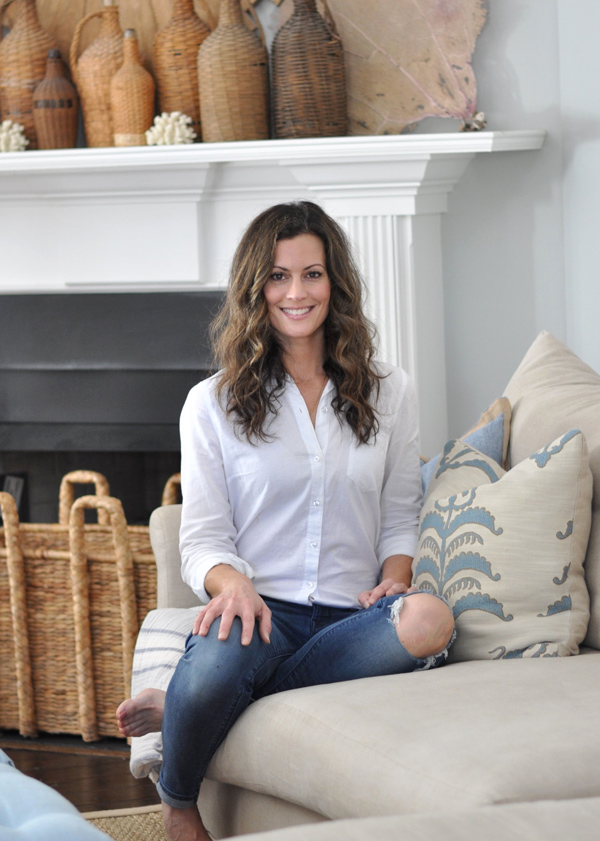 Hello and welcome to Bungalow Blue Interiors!
I'm Kelly, interior designer, stylist, hostess with the mostest and editor of my blog, where I share pics of my work, my own home, décor projects, entertaining hacks, where to find the best decorating deals and all the beautiful things that are currently inspiring me!