one heck of a first impression
My apologies for the silence on the blog the last few days; the 70-degree weather has just been too nice to sit inside! It's getting down into the 20's again tonight, unfortunately, but it doesn't matter because I have Spring fever big time! I'm chomping at the bit to give our front porch a little TLC but pollen season is about to rear its ugly head, so I have to wait a little while longer. In the meantime, I thought I'd share a one of the most fabulous entryways I've seen in a long time.
If you've been reading my blog for a while, you know my love for interior designer Steven Gambrel's work runs deep. His Six Swans project is a particular favorite and as much as I love the inside, I've always been curious about the exterior. I was thrilled to discover Frank Greenwald was the architect on the project (he also was the mastermind behind Ina Garten's amazing barn renovation) and, lucky for us, he was generous with his photographs of the exterior! If you only get one chance to make a good first impression, this front porch accomplishes it in spades. Hanging lanterns, a pergola, slate steps, an upper balcony, crisp white trim, Gambrel's signature gray/blue front door, transom windows, ivy-clad walls and potted boxwoods ooze charm and elegance, a beautiful hint of what's to come inside:
And look how warm and welcoming it looks at night:
And while we're at it, let's take a look at the rest of the exterior, shall we? Love, love, LOVE the glossy black painted trim on the screened-in porch in the back…
Black and white never looked so good…
In the South, an outdoor room is a must and this one is a fabulous example of bringing the indoors out; comfy furnishings and a beautiful view are a great way to spend long summer nights. I would live out here most of the year!
Gray/blue pops up again on garage doors…so fresh and unexpected!
There is so much to love about this entire property; here are my picks for creating a similar look on your front porch:
Hydrangeas / Clam shell / Whiskey barrel / Copper lantern / Whale door knocker /
Door mat / BM Heavenly / Boxwood
To see more of the outside of this home, check out Frank Greenwald's portfolio here. To check out the interior, see Steven Gambrel's portfolio.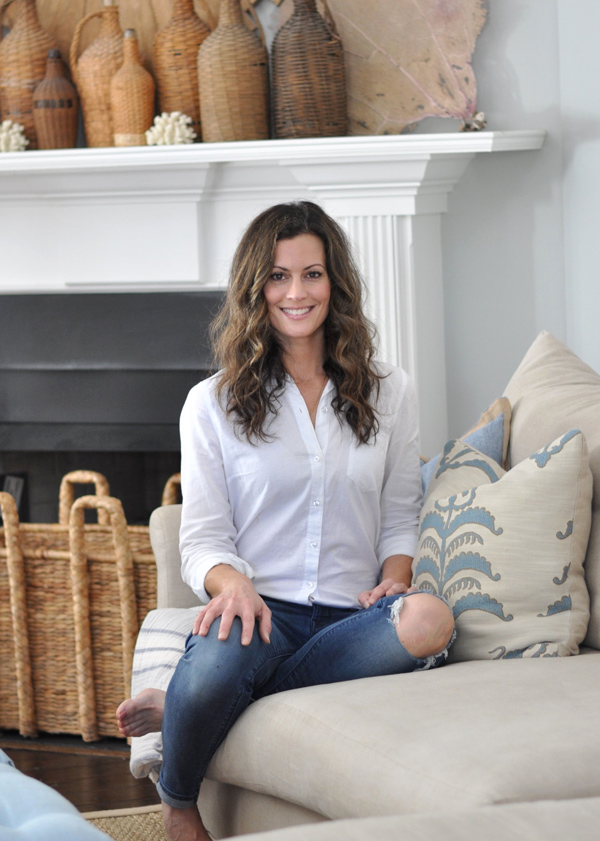 Hello and welcome to Bungalow Blue Interiors!
I'm Kelly, interior designer, stylist, hostess with the mostest and editor of my blog, where I share pics of my work, my own home, décor projects, entertaining hacks, where to find the best decorating deals and all the beautiful things that are currently inspiring me!