nursery progress + a quick and easy before and after
It's amazing how a few key items can really make a space feel like it's pulled together, even if it's not quite close to being finished! Last week, I received my crib bedding and curtains for the nursery and not only did they both turn out even more amazing than I expected, but they really make the room feel so much more cozy and almost complete! I'm still waiting on art so I can hang her gallery wall and for bedding to arrive for the daybed, but things are coming along! I know these are some sneaky peeks, but I promise to do a full reveal once everything is completely done…so, in the meantime, here are a few progress shots for everyone who has been so kind as to email about the nursery!
One of my dearest friends back at the beach happens to be an interior designer and master seamstress and her gift to Baby Girl was to fit the windows in her nursery with some gorgeous curtains. They turned out amazing and not only soften the entire room, but they compliment the peachy/coral ceiling paint and look fabulous paired with bamboo Roman blinds:
I ordered sample cards of linen in every color you could imagine from Gray Line Linen and, after pouring over them for a ridiculous amount of time, ended up going with flax panels with a four inch band of coral linen. I was very impressed with the fabric weight, the color varieties (there are a TON!) and customer service over at Gray Line Linen; the fabric arrived three days after ordering!
From the very moment I found out I was having a girl, I had my heart set on a champagne crib; it has been the one item throughout all the planning for her room upon which every other detail was based and I am in love with how it turned out! To be completely honest, it was no way near the easy process I anticipated-from finding the perfect shade of metallic champagne paint (it's harder than you think!) to getting it sprayed (twice!), it was a real pain in the ass, but, in the end, it was definitely worth the hassel.
I decided on a Jenny Lind-style crib from the get-go; I loved the simplicity and antique feel of the spindle style and you couldn't beat the price! I'm not a fan of oversize, convertible cribs, so this one was perfect for me. After an exhaustive search for paint, I ended up going with Ralph Lauren's Regent Metallic paint in Champagne Toast – the perfect pale gold, it complimented the ceiling paint and crib bedding fabric beautifully. Another major bonus was that it was a one-step process, unlike many metallic paints where you have to prime, paint and then apply a metallic top coat (all of which is hella expensive, might I add!) Here's a little peek of both the crib paint and the bedding:
I NEVER sub out any of my furniture, but I wanted a smooth finish with no brush strokes, so I had it sprayed professionally. The paint is so gorgeous-great coverage and the most amazing pearl finish. The only drawback was that the air compressor sucked up most of the metallic, making it look more like a wheat-painted crib, which was NOT what I wanted. So, I picked up a quart of Metallic glaze in gold from Sherwin Williams; a light coat was all that was needed for that extra shimmer and it's absolutely gorgeous!
Above the crib we mounted a hand-carved mermaid that my aunt found in an antique store in Newport, RI. An older, retired gentleman makes them by hand and I especially love that half of the proceeds go to military families. At almost FIVE FEET LONG, she is absolutely stunning and has become the focal point of that side of the room! Isn't she gorgeous?
There have been quite a few DIY's in the design of this nursery, the easiest of which has been a quick and easy paint treatment on a lamp. I loved the lines and shape of the Audrey lamp from Lulu and Georgia, but at more than $200, sadly, it was way out of my price range. I found the one below left on sale for $50 at Hobby Lobby; I loved the shape and burlap shade, but the brown faux wood finish had to go. To help it blend in a little better with my framed Animal Print Shop prints (I used large mat Target frames that I painted in this gold spray paint), I applied a light coat of adhesion primer first and then broke out my liquid gold leaf and voila!
What a difference, no?
And last, but not least, the making of a gallery wall…the sail boat was painted by a lovely friend (see my tutorial on how to make linen picture frame mats here), the "Prayer for a Little Girl" hung in my nursery as a baby and the navy mermaid is from Pottery Barn. It was actually the very first thing I bought for the nursery! Still waiting on a few little pieces of art and a handwritten calligraphy piece, but it's starting to come together nicely:
Finished pics coming soon!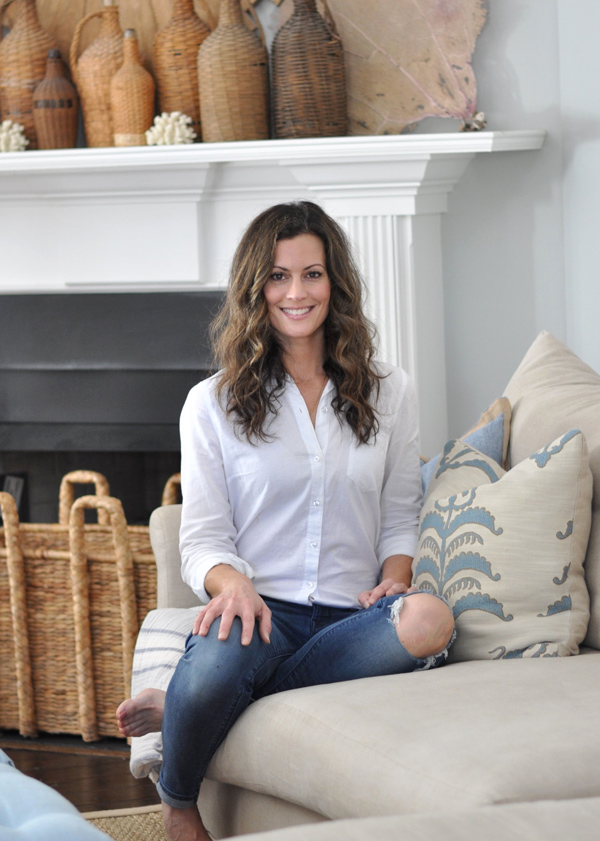 Hello and welcome to Bungalow Blue Interiors!
I'm Kelly, interior designer, stylist, hostess with the mostest and editor of my blog, where I share pics of my work, my own home, décor projects, entertaining hacks, where to find the best decorating deals and all the beautiful things that are currently inspiring me!