my top 10 no-fail design products
Design and decor trends may come and go, but there are a few products in my arsenal that I use time and time again that never fail me, no matter the design style I may be working with! I love each and every one of these products not only for their versatility but also for their budget-friendly price tags (an added bonus when putting together design boards for clients!) I could have dragged this list on and on, but here are my top 10 go-to design and decor products that never disappoint. What are your favorites? I'd love to know!
1. If I had a dollar for every project in which I've used Ikea's Merete grommet curtain panels, I'd have a pretty fat piggy bank! Who doesn't love crisp white curtain panels? They soften a room and look fabulous paired with bamboo Roman blinds, and at less than $30 for a pair of two 98″ panels, you would be hard pressed to find fabric by the yard for the same price! They used to sell them in 118″ length, as well, which is what I have all over my own home, and even though they discontinued them a few years ago, I still have high hopes they will someday bring them back!
2. Seagrass baskets are a must-have in any space; they add texture and interest and the additional storage is always a plus. I use them to corral magazines, blankets, toys, towels, firewood, toilet paper, as pots for plants and sometimes just to fill an empty corner (clients always find something to stick in them!) The one pictured above is from Wisteria, but I can always find them for a fraction of the price at TJ Maxx, HomeGoods and Marshall's.
3. Benjamin Moore Revere Pewter is, hands down, THE PERFECT NEUTRAL PAINT COLOR! A beautiful shade of greige, it goes from gray to taupe to a lovely shade of wet sand, depending on the light. I've used this in kitchens, dining rooms, this nursery, even my own guest room – it always looks so elegant and is a gorgeous backdrop for bold color and pattern!
4. Bamboo Roman blinds have become my #1 treatment for windows as much for price as texture, warmth and overall loveliness. I have used these from Home Depot for many client projects, and I have them all over my own home – they come in a bunch of different sizes and do an amazing job of blocking light (an added bonus so that way you can see the bamboo from the outside and not an ugly liner!)
5. I'm a firm believer in that every home should have a gallery wall and my favorite way to display a collection of family photographs is with modern, clean lined frames with extra wide white mats. I love this collection from Target and have used them time and time again; they are such a great price point to begin with, but they go on sale often, an added bonus!
6. Resin coral pieces are a beautiful way to add a natural element to bookshelves, built-ins, coffee tables, even on top of a pile of books, to name a few places and they add so much bang for your buck. TJMaxx and HomeGoods always have a great selection year-round but I've also used these faux pieces from ZGallerie and haven't been disappointed!
7. Blue and white ginger jars, oh, how I love thee. They add such an elegant, colorful touch to bookshelves and countertops and I especially love using them as makeshift vases for magnolia branches and fresh cut flowers! The set listed above is from here, BUT…I hate to sound like a broken record, but, you guessed it – I have only ever bought them for a fraction of the price from TJ's, HomeGoods and especially, Ross, believe it or not!
8. Every space benefits from a monogrammed touch, ESPECIALLY in the bathroom and these satin stitched embroidered beauties from Pottery Barn are my favorites for adding an elegant, modern touch, with a pop of colo. They wash really well, too, making them perfect for hand towels in powder rooms!
9. Live plants are a must for a pop of color and freshness, but they can be an expensive investment if you don't have a green thumb. I LOVE live topiary, but it's always been super difficult for me to keep them from committing suicide…until I found this rosemary version for less than $20! I've used them a lot lately and my clients love them!
10. This telescope floor lamp is the ultimate triple threat – its modern style, great size and super affordable price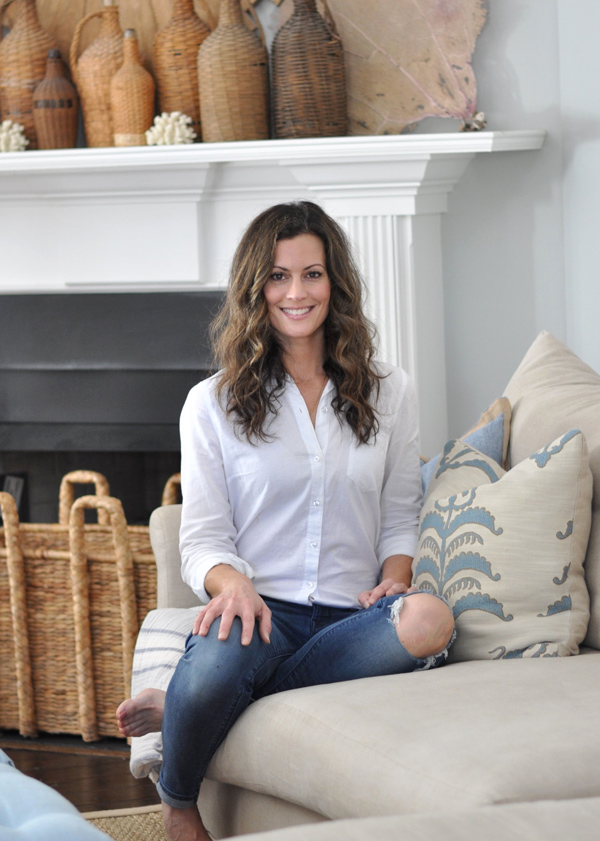 Hello and welcome to Bungalow Blue Interiors!
I'm Kelly, interior designer, stylist, hostess with the mostest and editor of my blog, where I share pics of my work, my own home, décor projects, entertaining hacks, where to find the best decorating deals and all the beautiful things that are currently inspiring me!