new (antique) end tables for lydia's room
I dropped my sweet baby girl off at her first day of kindergarten this morning and am not even embarrassed to admit that I couldn't make it out of the room without bawling my eyes out.  So, given this momentous day for her, myself and Luca, I thought it only appropriate that I would post some new finds for her room while we sit here and count the minutes before picking her up!  Also, how early is too early to get in the pick up line??  I'm assuming an hour into her school day is pushing it a bit, lol!
Despite being one of the most impatient people on the planet, I now believe the old adage "good things come to those who wait" to be absolutely true!  This post is a long time coming, so if you follow me on Instagram, you know this is super old news, but I finally found end tables for Lydia's room!  I had been on the hunt for a pair for a while now; it was time to move the dresser from her room into Luca's, which meant she needed more "big girl" pieces that she could grow with and we definitely needed extra storage for her books and endless collections of girly accessories.  Only problem has been that I hadn't found anything I like even a little bit.  Then, randomly a few months ago while on an antiquing adventure when my aunt was in town, I stumbled upon the most gorgeous set of vintage tortoise shell bamboo chinoiserie end tables.  I couldn't stop thinking of them so the next week I went back to the shop and asked if I could take one on loan to see if it would work.
Of course, I LOVED it the minute I set it down but since it didn't really add any extra storage for her books, AND it was an antique, I second guessed myself.  My mother reminded me that I grew up with my grandparents' antique bedroom set and that it would be good for Lydia to have an appreciation for nice things and to treat them well and it was all I needed to pull the trigger and buy them!
I'm so, SO glad I bought them!  I can't even tell you how excited I still get, all these months later, when I walk into her room and see them flanking her equally lovely antique four poster bed.  I added another lamp, identical to her original one on the other side (it's from Hobby Lobby years ago and has been discontinued for a while; a friend had one and offered to trade with me!)
Now I'm in the process of finding someone to build a tall, skinny bookshelf to attach to the wall to make it look like a built-in between her door and closet doors – some place for all her books and her ever-growing collection of girly things, haha (something tells me this is never ending).  We also need a dresser in here but I'm so torn on whether or not to go with a white painted bamboo to coordinate with her bed or to just do plain white.  I'm not the biggest fan of matchy-matchy, but I'm hoping that something will jump out at me and I won't be able to stop thinking of it, much like the tortoise end tables, lol!
 Hope you're all having a wonderful Wednesday!  And to all the mommas getting ready to drop their babies off on their first day of school, I'm thinking of you!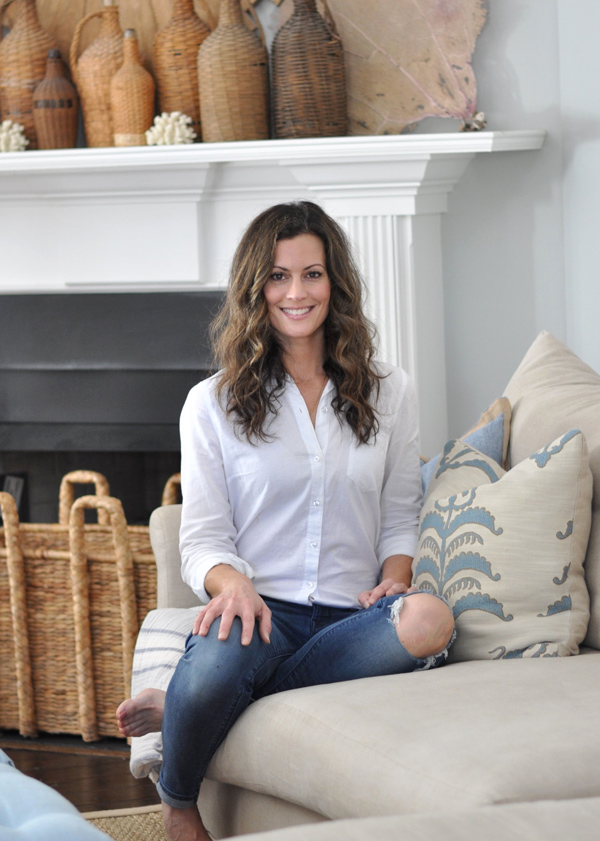 Hello and welcome to Bungalow Blue Interiors!
I'm Kelly, interior designer, stylist, hostess with the mostest and editor of my blog, where I share pics of my work, my own home, décor projects, entertaining hacks, where to find the best decorating deals and all the beautiful things that are currently inspiring me!