ANSWERING ALL YOUR QUESTIONS ABOUT OUR POOL
If you guys follow me on Instagram, you may well be tired of seeing my pool in my feed or stories, but as this is our happy place from now until the end of September, this is where you will find us for 90% of the summer! and, consequently, where most of my pictures from this time of year come from!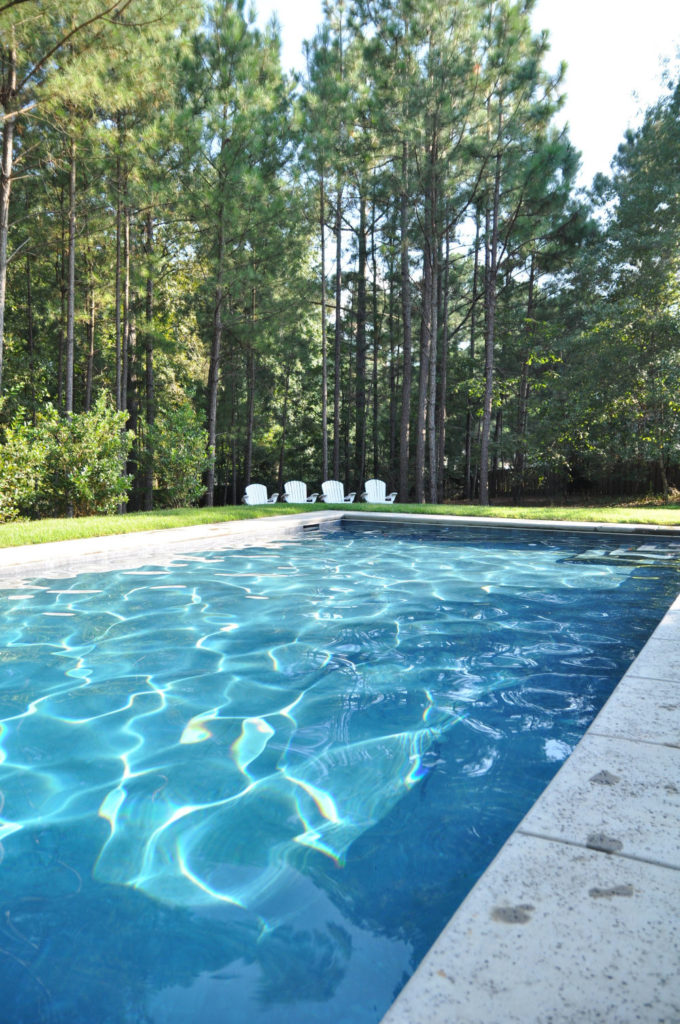 Any time I post a photo of our pool, I get a ton of questions, so I thought it would be helpful to answer them all here! I made sure to go back through all my DM's to make sure that I answered every one, so here we go: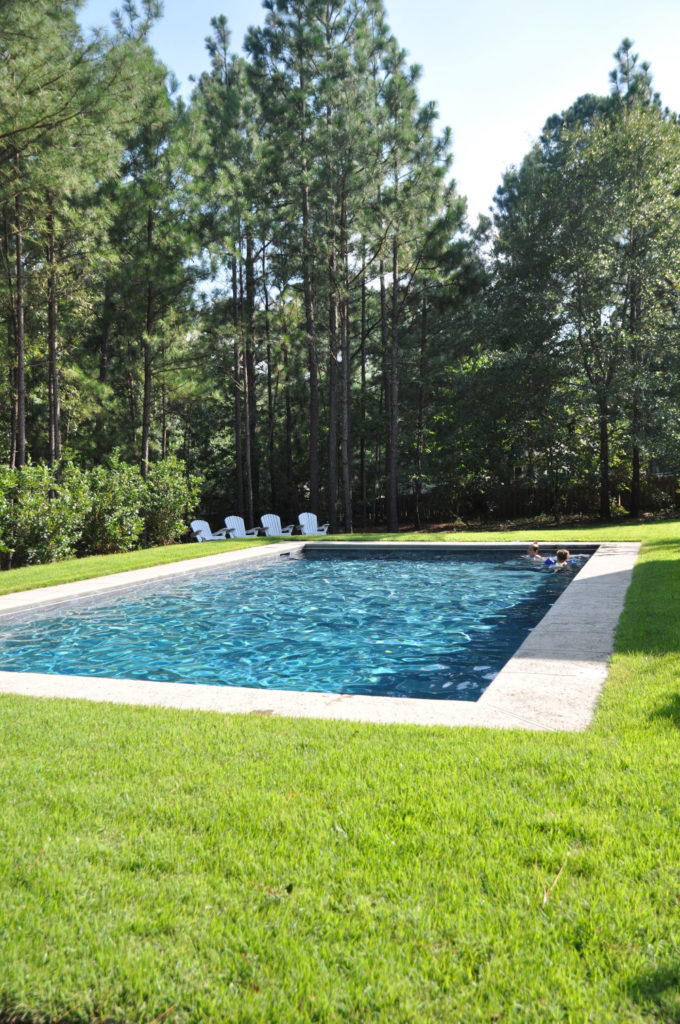 How big is your pool? 18×36 feet.
Is it saltwater? YES!!
How do you keep the grass around the pool from dying? This is one of the most-asked questions and the answer is that it, honestly, has never been a problem! If anything, we have a little erosion around the corners of the concrete every so often, so we just fill that in with soil, but our grass has still thrived up against all the splashing!
What kind of pool do you have? We have a gunite pool, which means it has a rebar framework that is sprayed over with a mix of concrete and sand. It is much more durable than a traditional poured concrete pool.
How is your pool so blue? The plaster on our pool is tinted azure blue. Even if there is a scratch or a gash in the plaster, you will not see white concrete, but the same blue plaster throughout.
How wide is the coping around your pool? 24 inches.
Is that slate tile around the top? We were told that slate did not fare well with salt water so, instead, we opted to go with a matte ceramic tile that looks just like it but was about half the cost of slate! I absolutely love it – you really can't even tell that it's not slate!
How deep is your pool? It goes from three feet in the shallow end to seven feet in the deep end.
How much time do you spend maintaining the pool? Honestly, it really isn't too much work – once a week we brush the pool and backwash (or more often if we've gotten a lot of rain), both of which I can do with the kiddos in the pool. We also have an automatic vacuum, which is worth its weight in gold. I literally plug it in and let it go for 45 minutes to an hour and it's squeaky clean! The biggest issue with saltwater pools, at least that we have experienced, is that the pH is always super high. If you let it go, it can lead to other bigger issues, so we test the water every other day or so and add some muriatic acid to bring it back down again.
What kind of trees are around your pool? We have pink crepe myrtles all over our yard. When they bloom in summer, the pink is such a pretty pop against all the blue and green!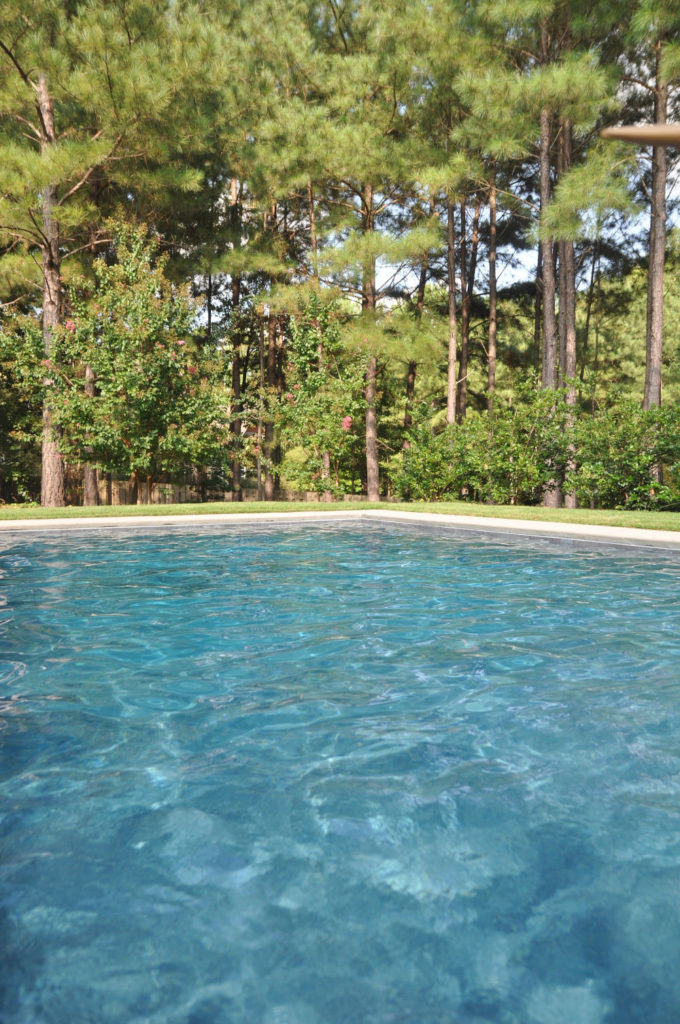 What kind of grass do you have? We have zoysia. When we built the house, we had laid Bermuda, but it did not do well with the shade from all the trees, so, a couple years back, we had it all pulled up and laid zoysia down. It was the best money we could have spent, considering how much we are out back here – it's so soft underfoot and looks amazing!
I think I covered everything here, but if there's still something you'd like to know, leave a comment below! Hope you're all off to a great start this week!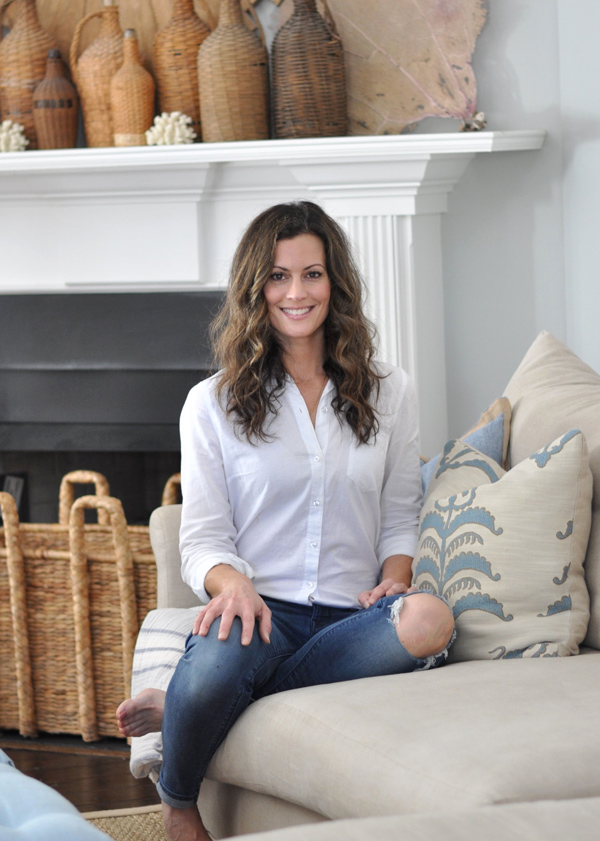 Hello and welcome to Bungalow Blue Interiors!
I'm Kelly, interior designer, stylist, hostess with the mostest and editor of my blog, where I share pics of my work, my own home, décor projects, entertaining hacks, where to find the best decorating deals and all the beautiful things that are currently inspiring me!