a vintage JB Van Sciver bamboo bed for Lydia
I'm a firm believer that good things come to those who wait – or, in my case, when you aren't even looking in the first place!  It seems like whenever I'm on the hunt for something in particular, I always come up empty handed, but my best finds to date have always been popped up when I least expected.  A prime example of this was earlier this summer when I was searching Craig's List for a bamboo table for the upstairs guest room; I typed in "bamboo" and the very first image to pop up was of an original JB Van Sciver four poster bamboo bed in all its yellowed glory.  I didn't have a place for another bed and I hadn't planned on getting a new one for Lydia – she was in love with the daybed her daddy made for her – but I just couldn't stop thinking about how amazing this one would look with a fresh coat of white paint, or how my little miss would feel even more like the princess she is in this four poster beauty.  I called the owner, who set it aside for me, and made the hour and a half trek to pick it up.  In the end, it was so worth it – it was even prettier in person, it was in great shape, is super sturdy and the price just couldn't be beat.
Here is what it looked like before painting:
After cleaning it and giving it a light sanding with 250 grit sand paper, we used our air compressor to spray a light coat of primer and then followed it up with two coats of Benjamin Moore White, the same color as her walls, but in a semi gloss finish. I absolutely love how it turned out; the white is so fresh and clean and it truly looks fit for a little princess!
I still need to find something to replace the Animal Print Shop prints above the bed (a mirror? new art?) and she needs some end tables, something for all her books and a duvet; right now, she's got flamingo sheets from Target's Pillow Fort line and two of her Euro pillows from her daybed.  We are making headway, slowly but surely, but she's so happy with her new bed and that's all the matters to me; the rest will come in time (probably when I'm searching high and low for something else!)
Any recommendations for replacing the animal prints, I'm all ears!  I'm leaning toward a small, gold mirror but I'm open to any ideas!  Happy Thursday, everyone!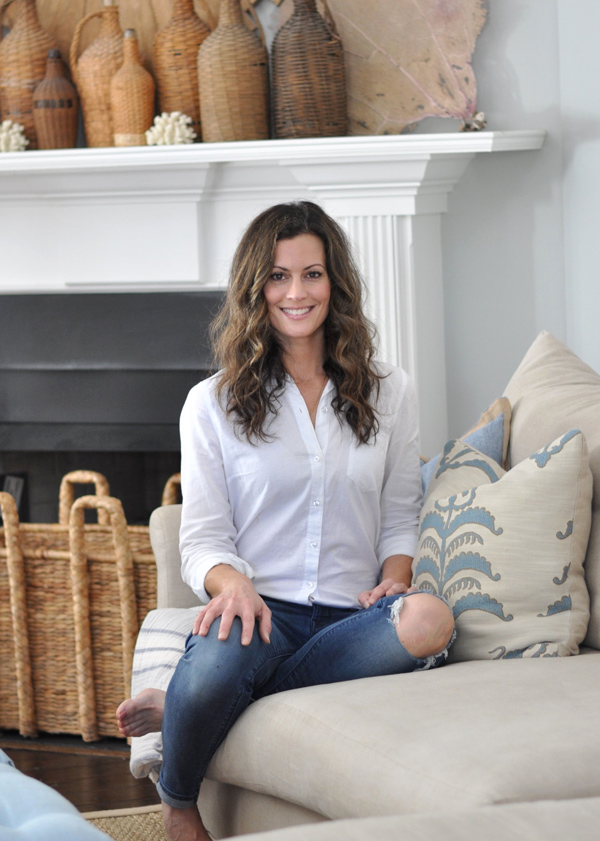 Hello and welcome to Bungalow Blue Interiors!
I'm Kelly, interior designer, stylist, hostess with the mostest and editor of my blog, where I share pics of my work, my own home, décor projects, entertaining hacks, where to find the best decorating deals and all the beautiful things that are currently inspiring me!