a few helpful tips before your next diy
Lately I've gotten quite a few emails about some of the DIY posts I've blogged about, so I thought this would be the perfect opportunity to highlight some of my favorite products for helping with your next project!
Krylon spray paint is my go-to brand – the coverage is excellent, the color selection is crazy good and it's super affordable! When doing gallery walls,I always tell clients to look for frames in the clearance section at TJMaxx and HomeGoods – I like to spray paint them all the same color. Krylon's SATIN finish is, hands down, the best…not too shiney, not so flat it looks dry and it's super easy to run a cloth over when the frames get dusty. (Can't say the same for flat!). I stockpile this in my arsenal:
A protective coat is a must on refinished wood furniture that sees a lot of wear and tear like tabletops, chairs and barstools, but if you've ever tried to polyurethane a piece you just painted white, chances are you've watched in dismay as your crisp color turned yellow! The secret to protecting painted furniture is to use polyacrylic-it's waterbased, doesn't smell (so you can work indoors if you need to) and stays clear once dry. (Save your brushes and apply with a disposable foam brush, too!)
Until recently, I had never tried chemical stripper to remove paint from wood furniture – I don't trust myself with chemicals and have read horror stories about the messes they could make. But, after burning through four packs of 60-grit sandpaper and STILL not getting through two chairs for a client, something had to give. I found SmartStrip paint remover, a100% biodegradable, water-based paint stripper at Sherwin Williams and it definitely helped with hard-to-reach spots. The work time was incredible….slather it on with a foam brush and use a putty knife to scrape away when it turns pink. I'll post a review and tutorial soon:
Cutting your own picture frames is a lot easier than you think (check out my tutorial here) and the best part is that it doesn't require an electric saw! I used this miter box saw and, while an electric one would have been a lot faster, it certainly did the trick. Best part? It's easy to use and I paid less than $15:
Painting stripes on your walls is a great way to add character to any space, but the one thing you definitely need in order to reate perfect lines is a great laser level. This one is worth its weight in gold! I used it to paint navy and pale blue stripes in this nursery and I couldn't be more pleased with how well they turned out!
What are some of your diy tools you can't live without?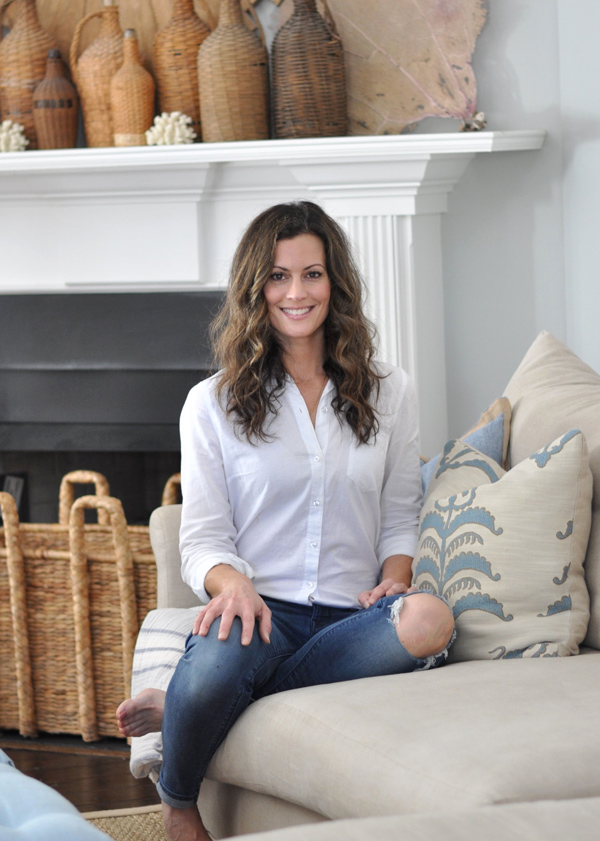 Hello and welcome to Bungalow Blue Interiors!
I'm Kelly, interior designer, stylist, hostess with the mostest and editor of my blog, where I share pics of my work, my own home, décor projects, entertaining hacks, where to find the best decorating deals and all the beautiful things that are currently inspiring me!