TIPS FOR MAKING YOUR CUT FLOWER ARRANGEMENTS LAST LONGER
One of things I look forward to every summer is planting tons of flowers with my little miss and watching them bloom. The last few years, we've grown our share of summer flowers in pots which have resulted in vases brimming with summer blooms on every surface of the house – sometimes, we even run out of space to display them! We've been snipping blooms here and there for a few weeks now and I thought it would be fun to share a few tips that have come in handy when trying to make my summer flower arrangements last longer!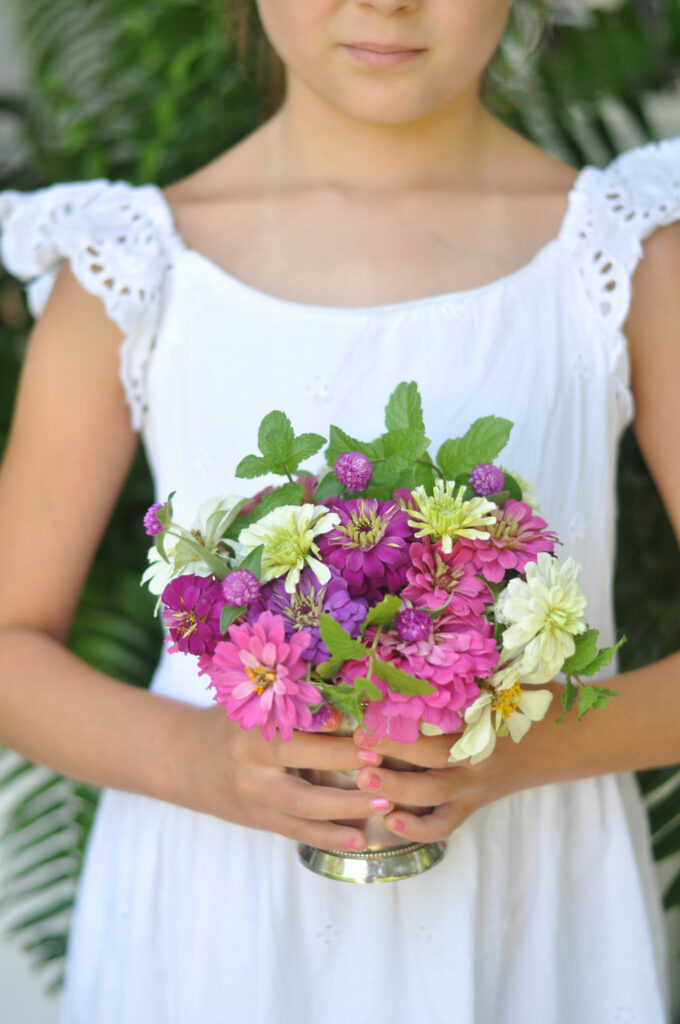 PICK BLOOMS WITH A LONGER CUT LIFE Since I'm planting my flowers in pots and not in the ground every year, I like to start with flowers that have a longer vase life and that also don't require too much upkeep. Zinnias, gomphrena and cosmos are the blooms that just keep giving, since the more you cut them, the more flowers they produce. I love dahlias and always plant a few varieties every summer, but they don't tend to last more than a few days in a vase, while the varieties I mentioned above will last for weeks!
TRIM ALL LEAVES BELOW THE WATER LINE Any leaves left on the stem and submerged under water will breed bacteria which will, in turn, kill your flowers faster. Removing all the leaves that are on the stem but will fall under the water line is a must!
GIVE BLOOMS A FRESH SNIP BEFORE PLACING IN WATER I like to snip the stems on the diagonal with a sharp pair of pruning scissors. It helps the plant to drink water.
REFRESH THE WATER EVERY DAY/EVERY OTHER DAY Water breeds bacteria, and flowers need water, so changing out the water every day or, at the very least, every other day, is a great way to extend their life. 
ARRANGE THE BLOOMS NATURALLY – DON'T OVERCROWD THEM! One tip I actually picked up from one of Ina Garten's cookbooks that has always stuck with me is to arrange flowers as they would grow naturally in a garden and not crowd them.  The more you cram in there, the more you end up damaging the blooms themselves. 
USE FLOWER FOOD This is such an easy way to extend the life of your flowers and provide the minerals they need to remain healthy.  I have a glass vase filled with extra packets from grocery store arrangements I've bought over the years, but I also keep a container of this on hand and put a scoop in my vase every time I change out the water.
SNIP THE STEMS EVERY COUPLE OF DAYS I like to snip about a quarter inch off the stems every few days so that they can continue to drink as much water as they need and help keep them fresh.
TOSS DEAD BLOOMS This is a no-brainer, but sometimes blooms that are fading get lost in amongst the healthy ones and can contribute to more bacteria in the water. Toss individual stems as they die to keep the rest of the bunch healthy!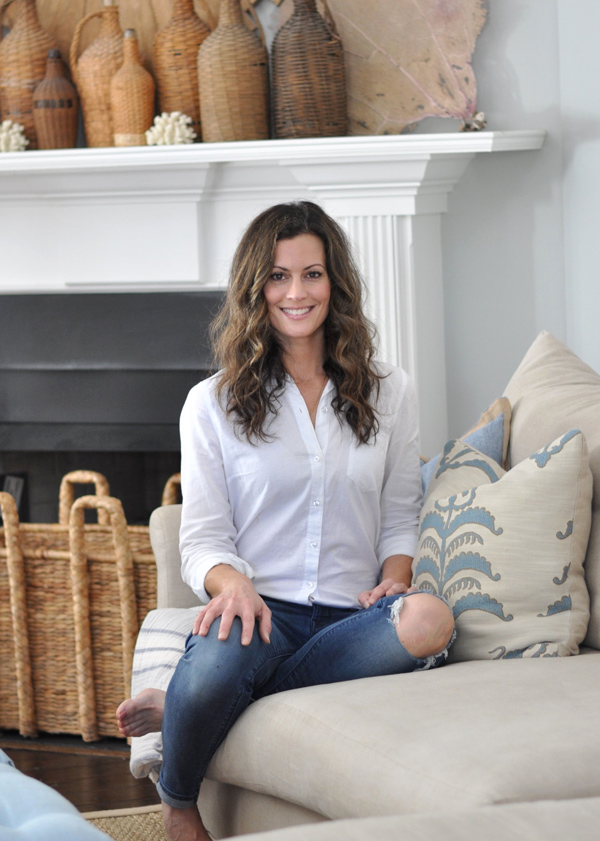 Hello and welcome to Bungalow Blue Interiors!
I'm Kelly, interior designer, stylist, hostess with the mostest and editor of my blog, where I share pics of my work, my own home, décor projects, entertaining hacks, where to find the best decorating deals and all the beautiful things that are currently inspiring me!