nursery progress + how to get the look of "board + batten"
Last Friday I hit 31 weeks in my pregnancy and realized in somewhat of a panic, I had very little time until Baby Girl arrives. I've been thinking I have all the time in the world to get her nursery in order, but now I'm really beating feet to finish up and get it all done! If you follow me on Instagram (@bungalowblue), you know we've definitely made a lot of progress, the biggest thing so far being our version of board and batten up on the walls, inspirational pictures of which I posted a few weeks back (here). It was actually a a very simple project and the result is better than I ever could have imagined! Painting the boards white has really opened up the space and made it so light, bright and airy!
After an exhaustive search for nursery inspiration, I fell in love with the floor-to-ceiling board and batten walls in this Serena and Lily-designed space. Everything in the room really popped against those crisp white walls and the battens added so much interest, but it would also be something Baby Girl could transition to as she outgrows her crib.
The room was previously a catch-all spot to drop anything that I didn't want out in the rest of the house. I could just close the door, out of sight, out of mind. We had our work cut out for us:
So off to to Lowe's we went and picked up a bunch of 8 foot pine lattice boards, 1 5/8″ thick and 1/4″ deep (perfect because our baseboards are exactly the same depth, so we didn't have to pull them off to get the battens up):
Crown molding went up first and then it was on to the walls. We spent the most amount of time trying to determine the spacing between battens; in the Serena and Lily nursery above, they looked like they were about a foot apart but that was a little too busy for me, so, instead, we doubled the distance, opting instead for 24 inches between each board. In true ghetto style, we used blue painters tape and a level to make sure each board was straight and secure it to the wall.
The ceiling in the room is ten feet high, so even with our baseboards and crown molding, the eight foot pine boards stopped about six inches short of the crown. To remedy this, we attached board horizontally at the top of the vertical battens. This also beefed up the look of the crown:
After we had checked a million times to make sure everything was straight, we used a nail gun to secure the boards to the walls with a nail gun; it took less than an hour to finish everyting. Here's a shot of the hubby working his magic for his baby girl:
We did this on a Sunday and I spent all of my free time after work and on lunch breaks the following week filling in nail holes, sanding, priming the boards and crown and then painting everything crisp white. The ceiling got two coats of the most gorgeous peachy/coral paint and not only is the contrast so beautiful, but the room no longer looks like a white box:
Curtain rods went up this weekend; 1 1/2″ wooden dowel rods, finials and brackets from Lowe's all got a couple coats of Ralph Lauren's Regent Metallics paint in Champagne Toast (one of my favorite tricks for inexpensive curtain rods!) It's the most perfect shade of pale gold and, along with the Roman bamboo blinds, adds so much warmth to the space:
This antique oak buffet is going to be used initially as a changing table and then for extra storage and surface space once she outgrows that. I am in love with the size and lines, as well as the fact that she will have such a beautiful antique piece to start out with and grow into:
And here's a little peek of the crib skirt fabric:
The crib is getting painted as we speak, fabric is getting dropped off this afternoon for the crib bedding, curtain fabric and trim has been ordered…lots more to show very soon!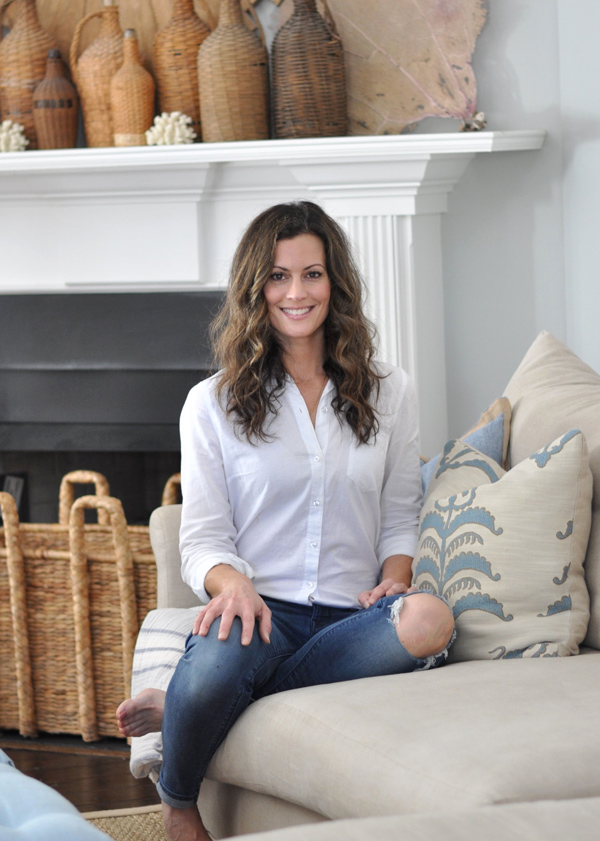 Hello and welcome to Bungalow Blue Interiors!
I'm Kelly, interior designer, stylist, hostess with the mostest and editor of my blog, where I share pics of my work, my own home, décor projects, entertaining hacks, where to find the best decorating deals and all the beautiful things that are currently inspiring me!