my living room: sofa, pillow, mirror, map sources
Happy Hump Day, friends! A few of you asked about the sofa and throw pillows in my living room after I posted a picture on Instagram last week of how we keep our furbaby from having dance parties on the sofa when we are out of the house, so, I thought it was good motivation to tidy up and snap some pictures along with sources!
My sofa/sectional. We got rid of our old sofas when we built this house – it was time for some grown up investment pieces and, because of the layout in our living room, I knew a sofa with a connecting chaise and two chairs was going to be better than two bulky sofas. I wanted a natural, flax linen upholstery with more modern lines, and after an exhausting search, we headed to High Point and ended up with a sectional by Robin Bruce, Rowe's upscale line for a FRACTION of the cost of Restoration Hardware, Pottery Barn and every other retailer I was sourcing. I ABSOLUTELY LOVE IT. We bought it five years ago and it still looks brand new; I do flip the seat and back cushions every morning because they are down and I don't want huge dips, but it's a small price to pay, I think! Unfortunately, this model is no longer available (I can't, for the life of me figure out why) but this one is pretty similar, save for the rolled arms.
The oversize wood sunburst mirror over my mantle. Many readers have emailed me asking about this bad boy. It's from Ballard Designs a few years ago and it's HUGE. Almost 4 feet in diameter and, of course, it's no longer available through Ballard. This one from Wayfair is similar in size and definitely has the same wow factor.
Throw pillows. I intentionally went with a neutral sofa so that I could easily change out throw pillows but I love mine so much that I have yet to swap them out! I like to mix a solid with a stripe and a print whenever possible both for variety as well for color and texture. From left to right, the blue linen with jute cording were Home Goods finds. The cream and linen stripe pillow, backed by and corderd with blue linen are from etsy seller CCDeuxVie; I absolutely love the quality and fabric variety of her pillows and have actually blogged about her here and here. The printed pillows to the right were custom made by my seamstress. The fabric is Robert Allen's Nehru in Indigo and it's GORGEOUS in person.
The nautical charts over my sofa. These are one of my favorite items in my living room as much for the drama (each one is over four feet wide) and color but also because they respresent where my husband and I met and where we took our first vacation. I bought both of mine from MD Nautical online, then had them mounted on foam core mat board and made frames from simple molding from Lowe's. You can read about how I did it step by step here. It's a great and inexpensive way (I paid less than $30 for each map!) to make a big and beautiful statement in any space:
I hope you're all having a wonderful week!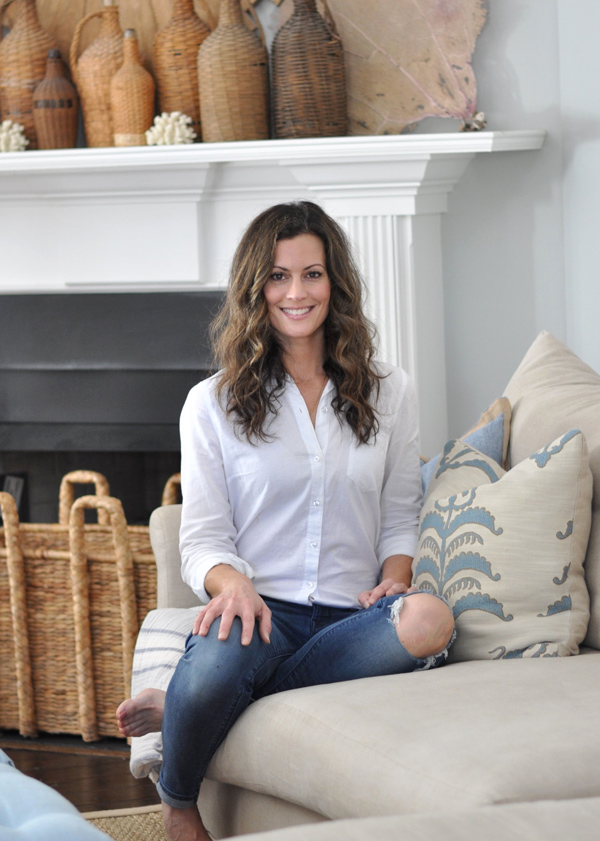 Hello and welcome to Bungalow Blue Interiors!
I'm Kelly, interior designer, stylist, hostess with the mostest and editor of my blog, where I share pics of my work, my own home, décor projects, entertaining hacks, where to find the best decorating deals and all the beautiful things that are currently inspiring me!