my 10 favorite decorative accessories + where i find them
A few weeks back I asked followers on Instagram what kind of posts they would like to see on the blog and quite a few wanted to know my favorite decorative accessories and where I find them, so here we go!  I'm nothing if not consistent when it comes to my decor; I tend to steer clear of trends and, instead, gravitate to the same kinds of decorative pieces over and over again.  For this reason, I'm actually surprised that anyone would ask me to post my picks because I feel like I'm constantly featuring the same thing, but here we go, guys!!
Pillows – Throw pillows are a great way to add color, pattern and texture to your space and it's a relatively inexpensive way to completely change the feel of a room without having to do much else!  My favorite pillow shops are all on Etsy; Spark Modern and Motif Pillows have incredible varities of beautiful, designer fabrics to choose from and the customer service can't be beat!!
Round Mirrors – I didn't even realize I had a round mirror obsession until a friend was over one day and counted five, between my living areas and Lydia's bedroom!  Round mirrors are perfect for bouncing light around a small space and adding a little softness to square rooms, mantles, etc.  I always keep an eye out for them when I'm in HomeGoods; I've found most of mine there for a fraction of the price of retailers!
Baskets – My love affair with round and rectangular water hyacinth and seagrass baskets knows no bounds.  I use them for plants and have a ton of them around the house for easy toy pickup at the end of the day.  HomeGoods, TJMAxx and World Market are my go-to places for finding big beauties!
Trays – Essential for coraling kitchen and bath essentials, creating a beautiful display on a coffee, side or dining table, even a makeshift bar setup when you have company.  Target, HomeGoods, TJMaxx and Pottery Barn (when on sale) all have beautiful options!
Fresh Greenery – You just can't beat the pop of color and LIFE that house plants bring to any space.  My favorites are palms, maiden hair ferns, umbrella plants, philodendron and, of course, my unicorn – myrtle topiary.  While I've always been an advocate of fresh over faux, I just haven't been able to keep topiary alive, so, in this case, I made my own out of some faux branches from Hobby Lobby (you can read about it here).
Coffee table books – thank the lord for Amazon Prime!!!  There isn't a lot I splurge on, but my beloved design books definitely are!!  I occassionally will purchase "used" for a fraction of the price and, most times, you can't even tell they've been previously owned! You can tell a lot about a person, based on their books!
Oversize clam shell – this things moves around the house as much as I do lately.  It looks just as great on its own as it does filled with clementines or simple silver ornaments for the holidays, stacked on top of a few coffee table books or as a simple centerpiece on a table setting.  Mine is from Z Gallerie more than ten years ago and I love it as much now as when I first bought it!
Woven and glass hurricanes – I love versatile decor and my woven covered glass hurricanes from HomeGoods last year are my favorite vessels to use for fresh blooms, but they also look just as amazing with simple white pillar candles on the table.
Simple, silver picture frames – thin, modern silver picture frames are my favorite.  I always find a few whenever I stop into HomeGoods (again, I know!)  I don't have a lot of surface space in my living areas so I like to group a bunch together on a console or side table; when you keep the frames simple, I think it makes such a dramatic impact!
Resin coral – maybe it's because I love the beach so much, maybe it's because my hubby is a career Marine….maybe it's just because coral adds texture and interest to bookshelves, a stack of books, a mantle, you name it, but I just can't resist a little piece of the fake stuff whenever I pass one!  I have a few pieces I've found on sale at Pottery Barn a few years back but most comes from HomeGoods!  A tip:  the stores near the water always have the best selection!
What are some of your favorite decorative accessories and where do you typically find them?
Have a wonderful weekend!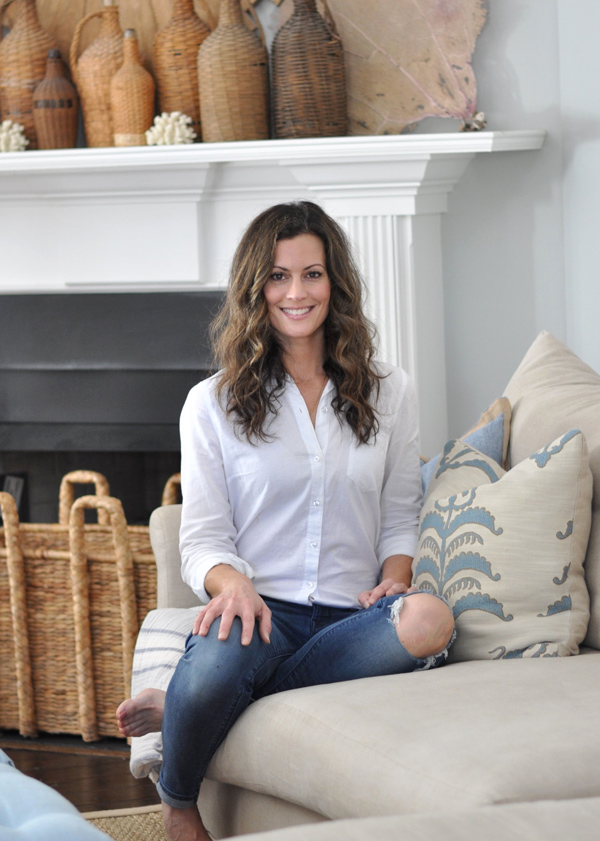 Hello and welcome to Bungalow Blue Interiors!
I'm Kelly, interior designer, stylist, hostess with the mostest and editor of my blog, where I share pics of my work, my own home, décor projects, entertaining hacks, where to find the best decorating deals and all the beautiful things that are currently inspiring me!