instagram inspiration: ibie falcusan (ifalc)
I hope you all are doing A LOT better than I have been the last 48 hours!  I got a touch of food poisoning on Sunday night and it completely shut me down.  I'm no stranger to being sick while having to take care of a little one – I got mastitis when Lydia was 5 months old and a pretty bad case of bronchitis when she was 8 months – but not being able to be more than five feet from the bathroom with a super active toddler is NO JOKE.  Thankfully, my sweet friend took baby girl for the morning yesterday so I could rest.  My sister-in-law brought crackers and Gatorade and my neighbor hooked me up with Zofran.  I seriously don't know what I would have done otherwise – the day was saved by a few fab ladies!
And speaking of fabulous ladies, I'm dying to tell you about my latest Instagram find, Ibie Falcusan (@ifalc)!  Wife, momma, lawyer, Martha Stewart-in-the-making, Ibie's feed is chock full of pictures of her gorgeous home, an amazing kitchen reno, her adorable little guy, craft projects, gift baskets, the prettiest homemade marshmallows and you will just DIE when you see the arrangements she whips up out of grocery store bought flowers!  I mean, seriously….aside from marveling at where she finds the time and energy to do all of this, what I love most about her feed is that she keeps it real.  She's funny and witty and doesn't try to make things look perfect (even though she pretty much do!). It's such a refreshing change!  If you're looking for some gorgeous inspiration, you MUST follow her:
One of many amazing flower arrangements:
Herringbone floors, brass hardware, stunning marble subway tile and a Dutch door you can't see here – pretty much the perfect kitchen renovation:
Parrot tulips, white wine and a block of parmesan for gift baskets for neighbors on a snow day – is she not the sweetest?
A pretty chic time out space for her little man, Jude, complete with a DIY five foot canvas artwork she whipped up herself:
Bone inlay mirrors, dental molding and gorgeous light in her living room are so pretty!
You've probably seen this little vignette in her living room on Pinterest:
Carnations look chic in this arrangement and how stunning is the metallic champagne grass cloth wall covering above it?
Another great shot of her fabulous kitchen – it's tiny but mighty, for sure!
More artfully arranged blooms:
Another shot of her gorgeous living room:
Check out her feed @ifalc for more loveliness!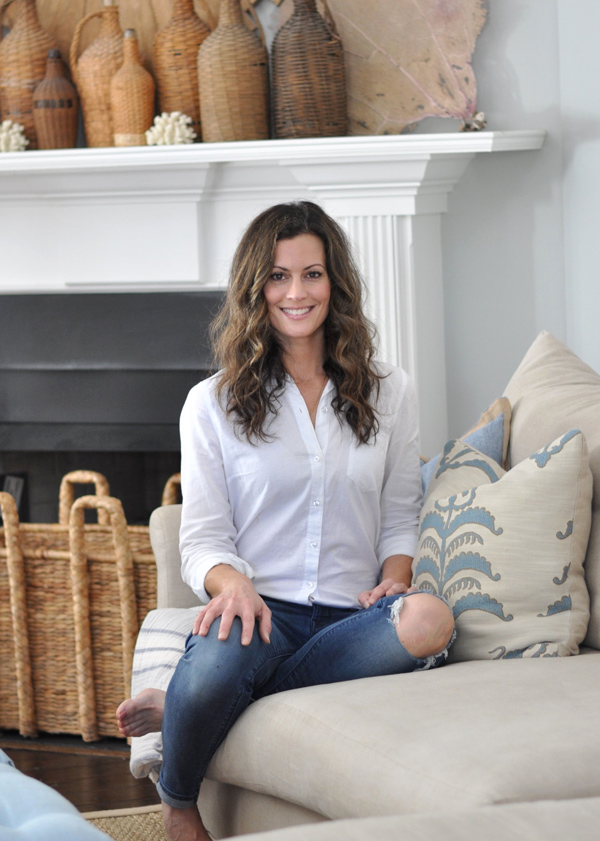 Hello and welcome to Bungalow Blue Interiors!
I'm Kelly, interior designer, stylist, hostess with the mostest and editor of my blog, where I share pics of my work, my own home, décor projects, entertaining hacks, where to find the best decorating deals and all the beautiful things that are currently inspiring me!