how to make a monkey's fist (nautical rope door stop)
One of the first DIY's I ever posted here on the blog was a Monkey's fist, better known as a nautical rope door stop. I've made so many of them over the years for friends and clients and I even gave some away as favors at my baby shower! Not only are they super simple to make, but they're one of those little projects that gives you so much satisfaction at being able to do yourself. In the spirit of the beachy, nautical vibe of my posts lately, I thought it was worth posting again! It's the perfect nautical touch for bookshelves or coffee tables and is a great "just because" gift idea.
For this one, I used 1/2 inch manila rope that I bought at Lowe's for less than 50 cents per foot. You'll need 12 feet. Begin by making four vertical turns around your hand:
Then, hold your vertical turns with four horizontal turns, like so:
Next, make another four vertical turns around the four horizontal ones you just made, this time from inside and underneath the vertical turns (you'll bring your rope up from the bottom of the knot, up around to the top):
It may take a little tweaking and tightening of individual pieces of the rope, but it will look like this once you're done:
The extra rope that is left at the end can be tucked in to the knot. To make the "handle" of the knot, take the remaining rope and tuck it in, creating a loop:
The best part is that you can take it apart easily and re-do until you get the hang of it; for me, the hardest part was getting each piece tight enough, but after a few tries you get the hang of it. Easy peasy!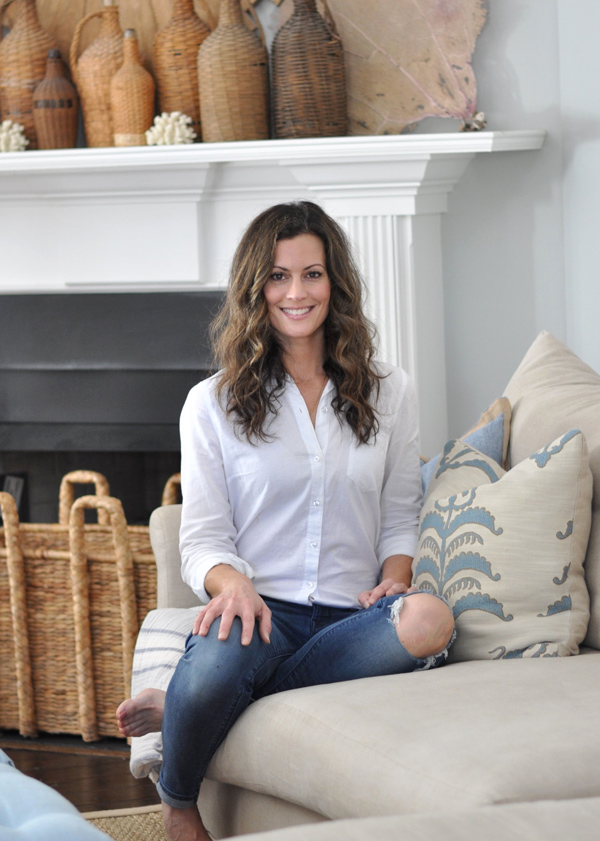 Hello and welcome to Bungalow Blue Interiors!
I'm Kelly, interior designer, stylist, hostess with the mostest and editor of my blog, where I share pics of my work, my own home, décor projects, entertaining hacks, where to find the best decorating deals and all the beautiful things that are currently inspiring me!