guest suite progress: the bathroom
The longest running construction/reno project in history (also known as my upstairs guest suite) is finally nearing completion! To be fair to our contractor, we knew when we hired him this past summer that it was the height of the season and that it would take a little longer than we had hoped it would (it was supposed to have been done in the end of September and here we are in December), but I couldn't have asked for a better group of people to have worked on our home and I'm SO thrilled with how it turned out!
You might remember a few months ago, I posted our plans for the bathroom up there (you can read about it here). This was to be a full fledged guest suite for visiting family and friends to free up the other bedroom downstairs for baby boy's nursery and to also give our guests a space of their own, completely on the other side of the house, where they didn't have to tiptoe to the bathroom at night, in fear of waking a sleeping babe. For the most part, we stuck to the plan and I love how it looks! We tried to keep the cost down as much as possible so I looked to Home Depot, Lowe's, Amazon and Wayfair for almost everything. And you know what? It all looks like I paid a lot more than I did.
The bathroom. This was our original plan. And this is how it's looking right now. It's so crisp and clean and just so PRETTY. The wall color is Etching by ICI paint and the gorgeous slate floors are Montauk Blue Slate from Home Depot.
The subway tile and cast iron tub are from Lowe's (that tub weighed more than 500 pounds, took four guys to get it upstairs and was less than a cheapo fiberglass insert!!!) The frameless tilting mirror is from Amazon and the gorgeous pedestal sink and faucet are from Signature Hardware, with whom I am seriously in love…their prices are INSANE good and their customer service just can't be beat.
I wanted a chrome pedestal sink in here SO FREAKIN' BAD but I couldn't find one for less than $1000, so I went with a small white pedestal and I actually love it more!
At the last minute, I decided to put beadboard up instead of doing my version of board and batten like I had originally planned and I'm so glad I did. I love the contrast, although it's soft, between the blue/gray walls and the beadboard, which is painted Sherwin Williams Extra White like the cabinets, trim and built-ins in the rest of the house. It adds just the right amount of texture and interest, not to mention that it looks so amazing adjacent to the slate floors.
For the rest of the living space, we did not want carpet but we also had to be mindful of our budget. We found 6 inch wide bamboo flooring at Home Depot in a rich espresso finish that was on sale for just under $2 per square foot (cheaper than anything we could find at Lumber Liquidators) and it looks amazing against the light walls.
We still have to finish shelving in the bedroom/living area and the floors need a good cleaning, so I'll save pics of that for another post. All in all, this may have taken ten years to finish, but I couldn't be happier with how it turned out! Now it's time to buy a rug, hang window treatments, move furniture in and decorate…which also means the downstairs guest room will be freed up for me to make a nursery for Luca! I can't wait to show you all how it looks once I get everything in and set up!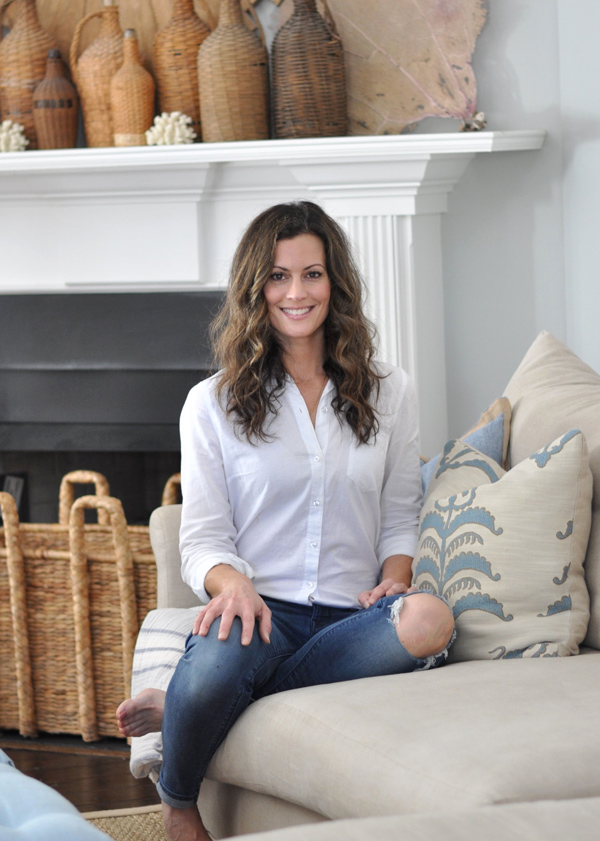 Hello and welcome to Bungalow Blue Interiors!
I'm Kelly, interior designer, stylist, hostess with the mostest and editor of my blog, where I share pics of my work, my own home, décor projects, entertaining hacks, where to find the best decorating deals and all the beautiful things that are currently inspiring me!