diy: step-by-step guide to whitewashing furniture
Lately, I've gotten quite a few emails asking for help creating the whitewashed finish I wrote about last year, so I thought this would be the perfect opportunity to post a step-by-step guide for anyone interested in trying it! Whitewashing is a simple technique of watering down white paint and literally washing it over a piece of furniture with a paint brush, then wiping it back with a clean white cloth. It's beautiful on its own, or you can take it one step further and drybrush overtop, which I'll show you here. Here we go!
I find these pedestal end tables all over the place, and this one is actually one of a set of two. Here is the table after one coat of primer and one coat of Benjamin Moore Kendall Charcoal:
To make your whitewash, you'll need a good faux latex glaze. I swear by this one by Sherwin Williams:
Mix four parts glaze to one part paint. I used 1/4 cup of glaze and about a tablespoon of Benjamin Moore White Dove. I added a little bit of water to thin it out-it will help extend your working time when you're wiping it back (you won't need to race to wipe it off as soon as you brush it on):
Once you've mixed your glaze, get to painting. I've had the best results painting in the direction of the grain of the wood. Just brush it on:
For a subtle look, you can wipe it back right away, or, you can let it sit for a minute and then, taking a clean white cloth, wipe it back in the direction of the wood grain, really making sure to get it in the grain. You can see in the picture below that the glaze mixture gets into the grain of the wood, highlighting it:
I like to work in sections, rather than painting the whole piece at once and then racing to wipe it all back. In this case, I did the entire table top, waited a minute or two, then wiped it all back. This is what the top looked like when I was done:
I like to err on the subtle side, so I use a light hand when mixing my glaze…it's always easier to apply a second coat than to have to sand your finish down and start over. In this case, the top was a little lighter than I wanted, so I applied a second coat of glaze and then wiped it back again. Next, I moved on to the rest of the table, brushing my glaze mixture on and then wiping it off. I didn't want the whole table to be uniform, so I used a heavy hand in some parts and used much less glaze in others. This is what the table looked like once I was done applying the glaze:
Once that was dry, I drybrushed white paint along the entire piece. I used a 2 inch Purdy XL. It's angled and semi-stiff, which is perfect for drybrushing:
Make sure the brush is dry and dip ONLY the tip of the brush lightly into your paint, then dab it onto a cloth until there's almost no paint on it (excuse my ugly brush – mine really take a beating):
Use light, feathery strokes, going with the grain of the wood. The idea is to highlight the grain and any imperfections, creating a distressed, aged finish:
One tip that makes a HUGE difference: flicking your brush back and forth from one corner or edge to the other creates a chalky, beautiful highlight:
See what a difference it makes on the legs? Such an easy way to create a beautiful highlight:
Again, I drybrushed randomly, to avoid making it look perfect. Once it's dry, I suggest using a wipe on polyurethane in a clear satin finish like this one:
Here is the table once I finished:
Happy painting!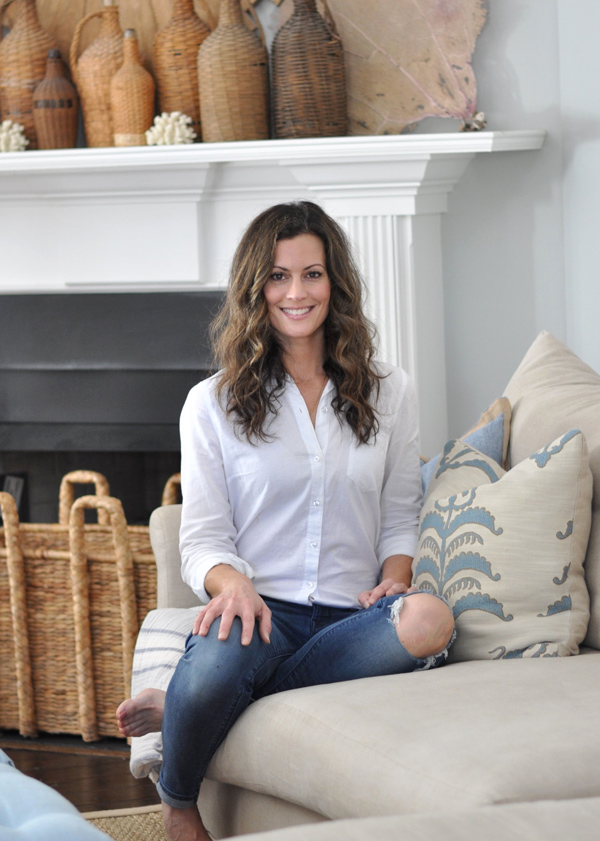 Hello and welcome to Bungalow Blue Interiors!
I'm Kelly, interior designer, stylist, hostess with the mostest and editor of my blog, where I share pics of my work, my own home, décor projects, entertaining hacks, where to find the best decorating deals and all the beautiful things that are currently inspiring me!