DIY: nautical rope doorstop
Another advantage of being married to a Marine is that mine knows how to tie an inordinate amount of knots. Normally, that doesn't come in handy except for that one day I decide I want to make my own nautical rope doorstop and then I become giddy like a schoolgirl!
This knot is called the Monkey's Fist and it really is simple to make. The thicker your rope, the easier it will be, believe it or not. I bought 1/2 inch manila rope at Lowe's for 48 cents a foot. You'll need 12 feet. To use it as a doorstop, you can slice a hole in a tennis ball and fill it with sand or pebbles, which will be hidden within the knot. It will also help to shape your knot. Here we go:
Begin by taking four vertical turns around your hand:
Then hold them with four horizontal turns:
Next, make another four turns around the horizontal turns, but from inside and underneath the vertical turns (you'll bring your rope up from the bottom of the knot, up around to the top):
…until it looks like this:
You can play around to tighten the turns, if you need. The extra rope that is left at the end can be tucked in to the knot. To make the "handle" of the knot, take the remaining rope and tuck it in, creating a loop:
A drop of crazy glue will help to hold it in place. Use it as a doorstop, decoration on books, on a door handle or just on its own. High style for around six bucks!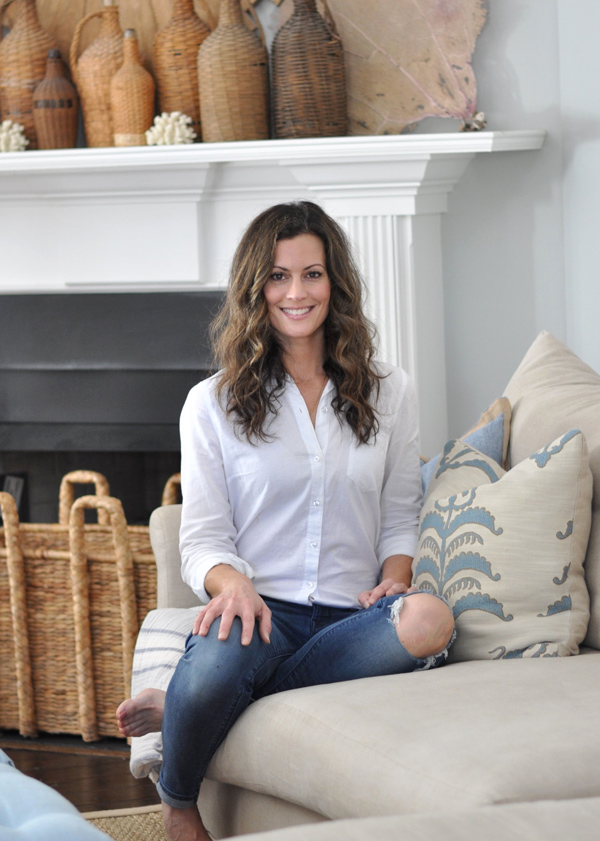 Hello and welcome to Bungalow Blue Interiors!
I'm Kelly, interior designer, stylist, hostess with the mostest and editor of my blog, where I share pics of my work, my own home, décor projects, entertaining hacks, where to find the best decorating deals and all the beautiful things that are currently inspiring me!