DIY: envelope pillow cases
Have you ever wandered through a fabric store, admiring all the beautiful prints, patterns and textures when one in particular stops you in your tracks? You wrack your brain, trying to figure out what you could recover in your house just so you can purchase a few yards, only to remember you aren't so handy with a sewing machine and don't really have the cash to sub it out to a pro? Well, fret no more! Envelope pillow cases are "sew" much easier than you think, and look just as fabulous as if you'd paid someone else to make them for you!
I'm currently finishing up a living room for a client who just bought her first home and in our quest for art and accessories for those final finishing touches, we realized we had an over abundance of throw pillows and not enough fabric to cover them. I found this navy and cream Morroccan tile print for $4.99 a yard at a discount fabric store and quickly got to work covering the last two.
Now, I'm certainly no expert with the sewing machine, and I'm sure there is a much more precise way of doing this, but here is how I made mine:
Lay fabric face-up and place pillow in the middle. Make sure that the fabric overlaps and covers the pillow entirely.
Pin a 1 1/2 inch hem on each side, fabric facing up. (You're going to turn the pillow case inside-out once you're done sewing). Then, sew a straight stitch.
Next, place the pillow back between the fabric and wrap each side over top, then pin the bottom edge of the fabric as close to the pillow as possible, without pinning the pillow itself.
Then, slide the pillow back between the fabric and feel along the top part of the fabric where the pillow is. With one pin, pin the fabric together at the end and pull the pillow insert back out. Continue pinning along the same line as the first pin and then sew together.
Once done, flip fabric inside-out and place pillow insert inside. It should look like this at the back (I know it's kind of hard to see the flaps because the pattern is so busy)…
And here is the finished product, sitting pretty on my couch, waiting to be taken to its new home!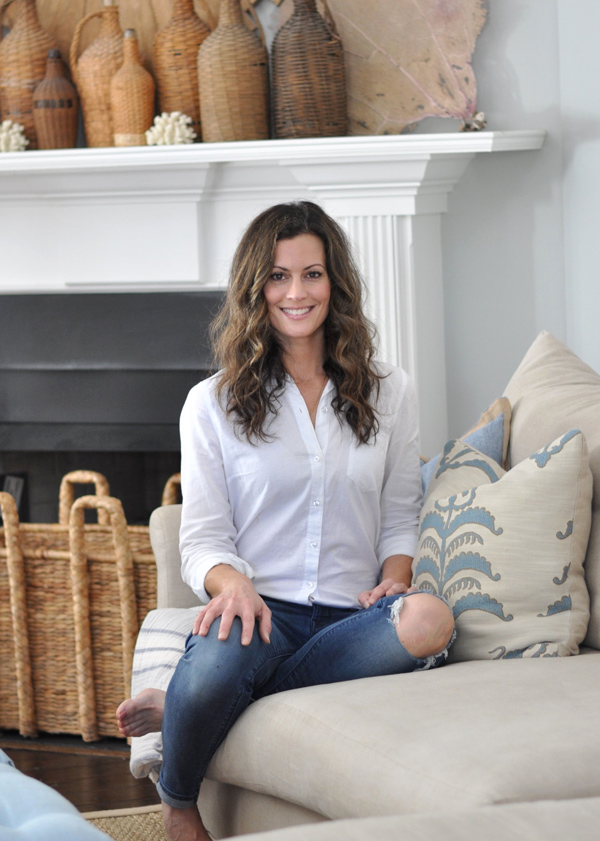 Hello and welcome to Bungalow Blue Interiors!
I'm Kelly, interior designer, stylist, hostess with the mostest and editor of my blog, where I share pics of my work, my own home, décor projects, entertaining hacks, where to find the best decorating deals and all the beautiful things that are currently inspiring me!