before + after: whitewashed brick fireplace
When my clients asked me to help bring their 1972 ranch home up-to-date, the first thing that had to go was the bright orange/red brick fireplace. Their family room gets so much natural light, yet the floor-to-ceiling brick seemed to glow. Instead of painting the brick completely, I decided to whitewash it, instead, to tone down the color, yet still maintain the integrity of the brick. The result is so beautiful and, even better, my clients love it!
Whitewashing brick is pretty similar to whitewashing furniture. The most important part is getting the water-to-paint ratio just right. Initially, I watered down the paint so much that I ended up having to go back and paint on more coats, but I finally got the perfect ratio. For me, the perfect mix was this: for every cup of paint you use, mix in 3/4 cup of water. Mix it well and make sure there is no paint sitting unmixed in the bottom, otherwise, you're not going to have an even paint job!
When you're ready to paint, start at the top and work your way to the bottom. Paint each and every brick, one at a time, before moving on to the next one, working your brush down into each nook and cranny. I painted the mortar, as well. Be careful of drips…wipe them back with a cloth or go over them with your paint brush. As the paint dries, you'll see the brick come through more and more.
Here is the fireplace before whitewashing, in all its orange glory:
This room is currently undergoing a major overhaul – the TV is being relocated elsewhere, a reclaimed beam from a 200 year-old hospital is being made into a mantle, walls are being painted and built-ins finished. The big reveal is right around the corner, but, for now, here are a few snapshots of the completed fireplace-what a difference!
Here is a shot of a reclaimed beam/mantle against the brick…love the contrast and especially how the beam really pops!
After pics of this project are right around the corner – stay tuned!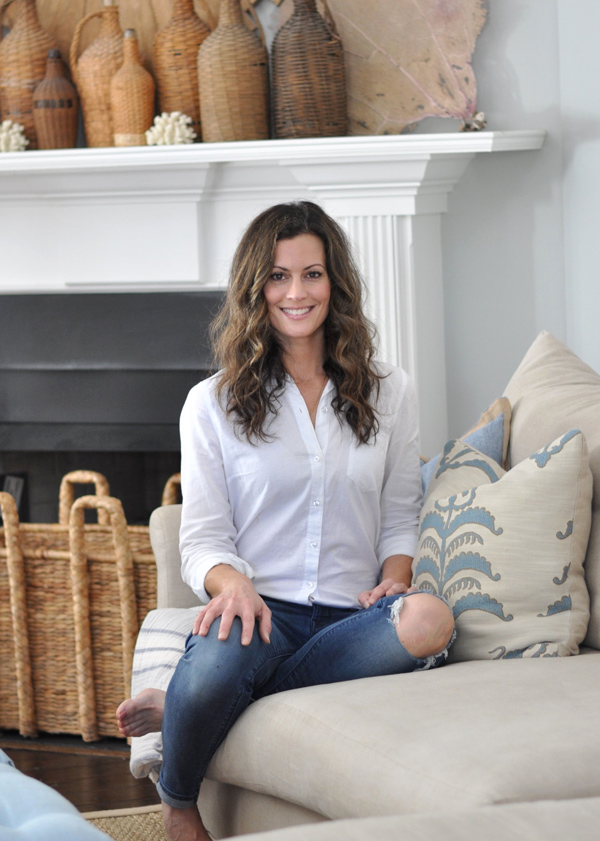 Hello and welcome to Bungalow Blue Interiors!
I'm Kelly, interior designer, stylist, hostess with the mostest and editor of my blog, where I share pics of my work, my own home, décor projects, entertaining hacks, where to find the best decorating deals and all the beautiful things that are currently inspiring me!