I hope you all had a wonderful weekend and got to celebrate Father's Day with your dad/hubby! I was so lucky to have had my mom in town for the last week to help me overcome a particularly nasty case of mastitis and relax, regroup and refresh. There just are times when nothing but your momma will do and I'm so thankful mine dropped everything to come to my rescue! I dropped her at the airport yesterday and spent the rest of the afternoon and evening moping around, so, I thought what better way to get back into the swing of things and kick off the week than with a super easy gardening DIY!
I love terra cotta pots for their simplicity and versatility in virtually any decorating style, however, I LOVE the crusty, old weathered ones even more, especially how they add a little maturity to a porch, patio or garden. Patience, however, is not a virtue I was blessed with, so instead of waiting for them to age and weather naturally, I decided to give my own little twist to a few newer pots that I was using for an herb garden. I had read somewhere that you can use yogurt to achieve the same results over a few months, but instead, I picked up a small bag of powdered lime powder from my local nursery and mixed it with equal parts water then brushed it on and let it dry. This was such a quick and easy project, both of which are right up my alley these days, and I loved how they turned out!
What you need:
terra cotta pots
foam brush
powdered garden lime
plastic container for mixing
paint stirrer to mix
sand paper (I used 60 grit)
Spray sealer
1. Mix one part water with one part lime powder until it's a paste-like consistency. I used a 1/2 cup and it was enough for my four pots.
2. Brush it on your pot; don't worry about being even, just coat the entire pot.
3. Once it's completely dry, sand the pot heavily in some areas and lighter in others to mimic natural wear and weathering.
4. Spray your pots with a protective sealant. You can skip this step if you're going to keep them on a covered porch, but if they are going to be outside where rain or sprinklers can get them, you want to seal them as the water will just wash away all of your lime!
Happy Monday!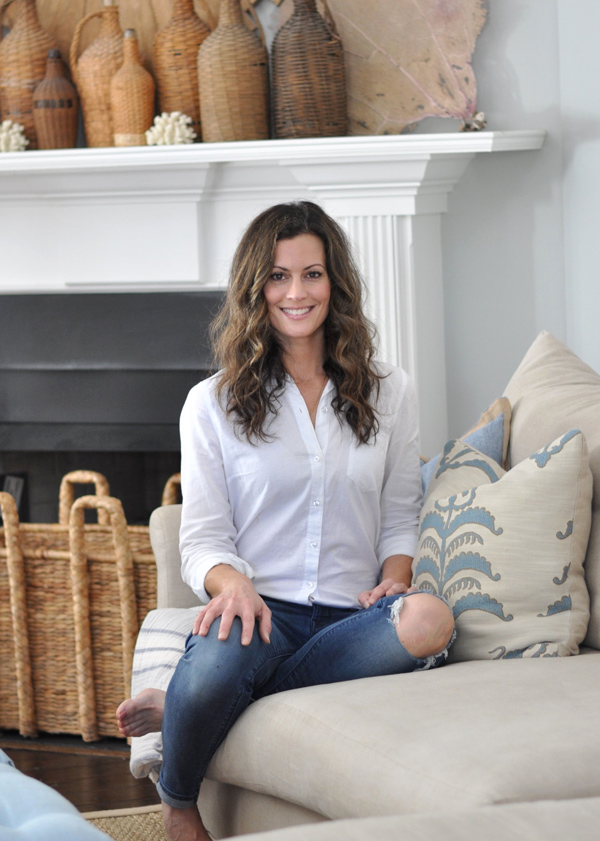 Hello and welcome to Bungalow Blue Interiors!
I'm Kelly, interior designer, stylist, hostess with the mostest and editor of my blog, where I share pics of my work, my own home, décor projects, entertaining hacks, where to find the best decorating deals and all the beautiful things that are currently inspiring me!