5 TIPS FOR STYLING GLASSFRONT CABINETS
If you guys follow me on Instagram, you have probably noticed my glass front shingle-style kitchen cabinets in the background on quite a regular basis. I know glass front cabinetry isn't for everyone, but the truth is, I LOVE mine. They make my kitchen feel so open and airy and they've helped me keep clutter and items I don't use to a minimum. It also makes me very happy to see all the items I've collected over the years for entertaining and hosting on display, all organized and pretty. With that being said, there's NO way I'd be able to do an entire kitchen of glass front cabinets. The other wall of cabinets is for baking essentials, mixing bowls, cookbooks, Lydia and Luca's colorful cups and melamine plates – basically, everything else that I use regularly that isn't exactly "pretty" enough for display behind glass doors.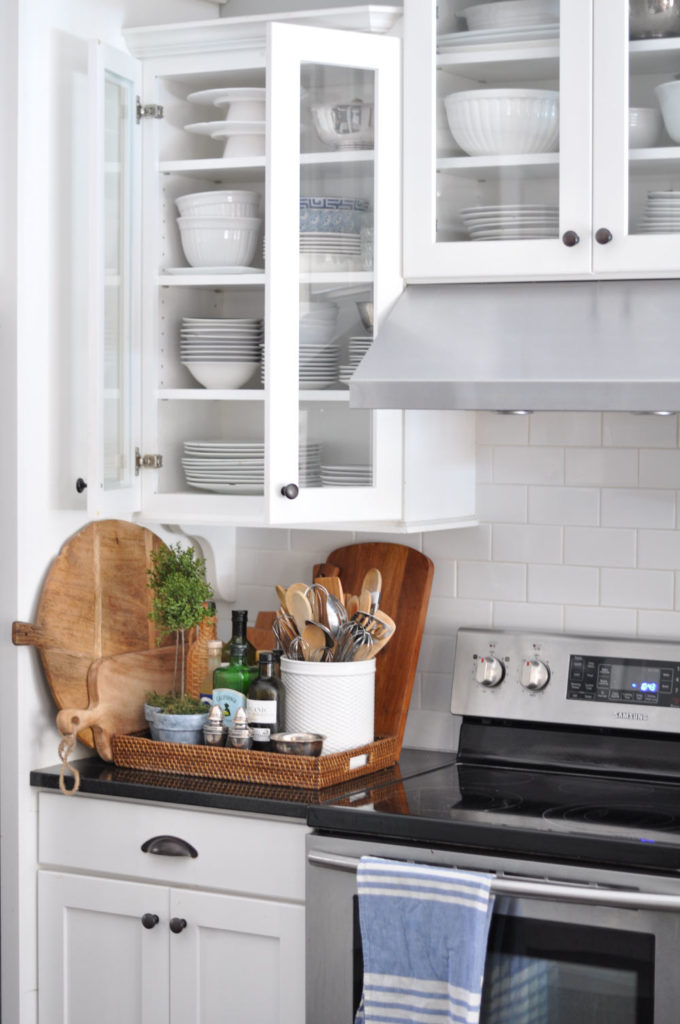 I used to be very OCD when it came to organization before I had my children but I simply don't have the time anymore to keep everything organized to within an inch of its life and frankly, I don't want to take that precious time away from my littles, so having these cabinets, with everything on display, all organized and pretty, is just a little something that makes me very happy when the rest of my house is covered in books, matchbox cars, magnatiles and dress up clothes! For anyone who has ever considered glass front cabinets, whether it's a single cabinet or an entire kitchen full of them, but has wondered how in the heck you would style them, here are a few tips that have worked for me: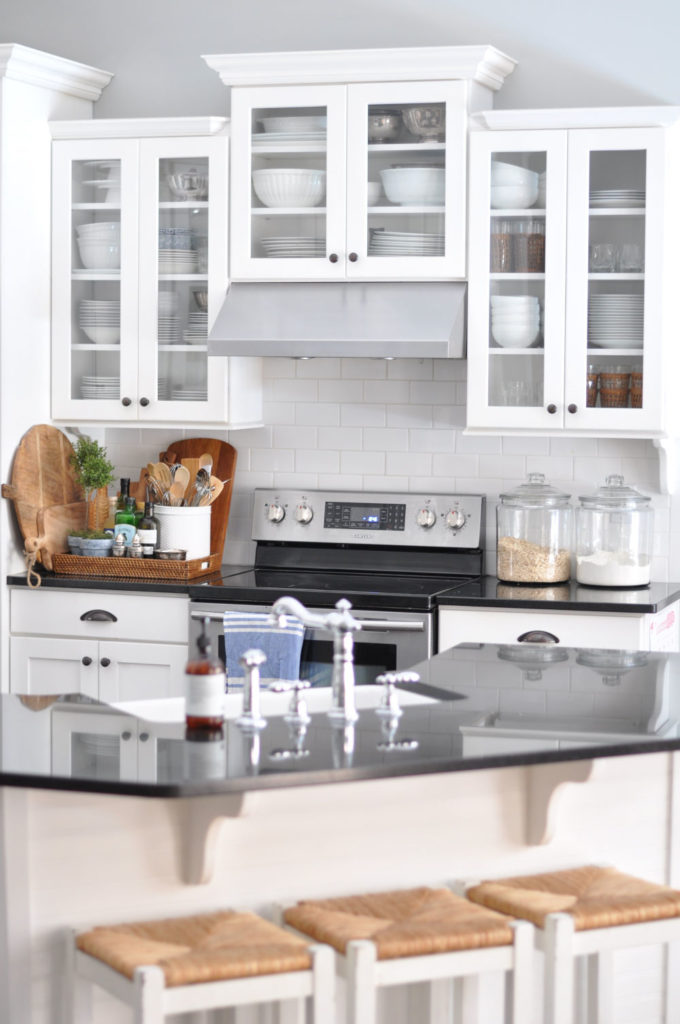 CLEAR THE DECKS When it comes to kitchen storage, I really believe that less is more. I wanted to start with a clean slate when we moved into this house, so I went through every single item in my cabinets and got rid of things I hadn't used in forever but was keeping around anyway. Random martini glasses, funny coffee mugs (we don't even drink coffee!!), an extensive collection of mismatched shot glasses. If I didn't use it regularly, it was tossed or donated. It was hard to let some things go for sentimental reasons, but once I was done, it just felt SO GOOD to get back down to the basics that I haven't regretted it a single day since!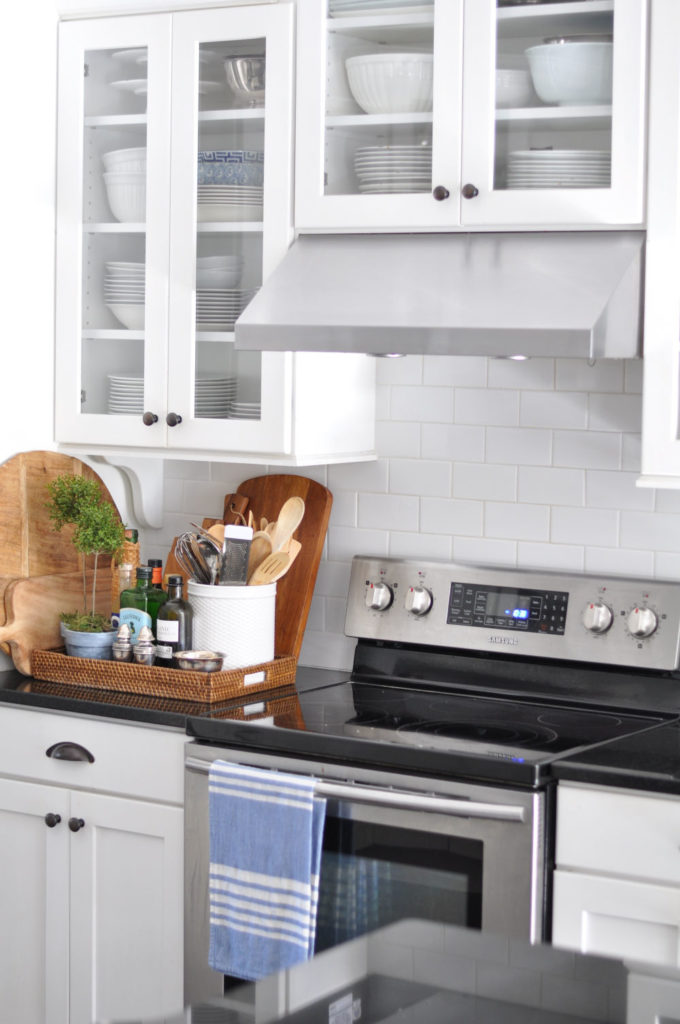 USE WHAT YOU DISPLAY The first time my middle brother came to visit us in this house he jokingly asked how often we use anything in our cabinets. Well, the truth is, I actually use it ALL! Our dinner plates, serving bowls, glassware and soup bowls get used on a daily basis, pitchers are beautiful makeshift vases for grocery store blooms and cake stands double as serveware for appetizers whenever we have friends over for cocktails and a dip in the pool. Nothing goes in those cabinets that doesn't get used frequently, which helps me stick to only buying something if I truly love it because I know that I'll use it!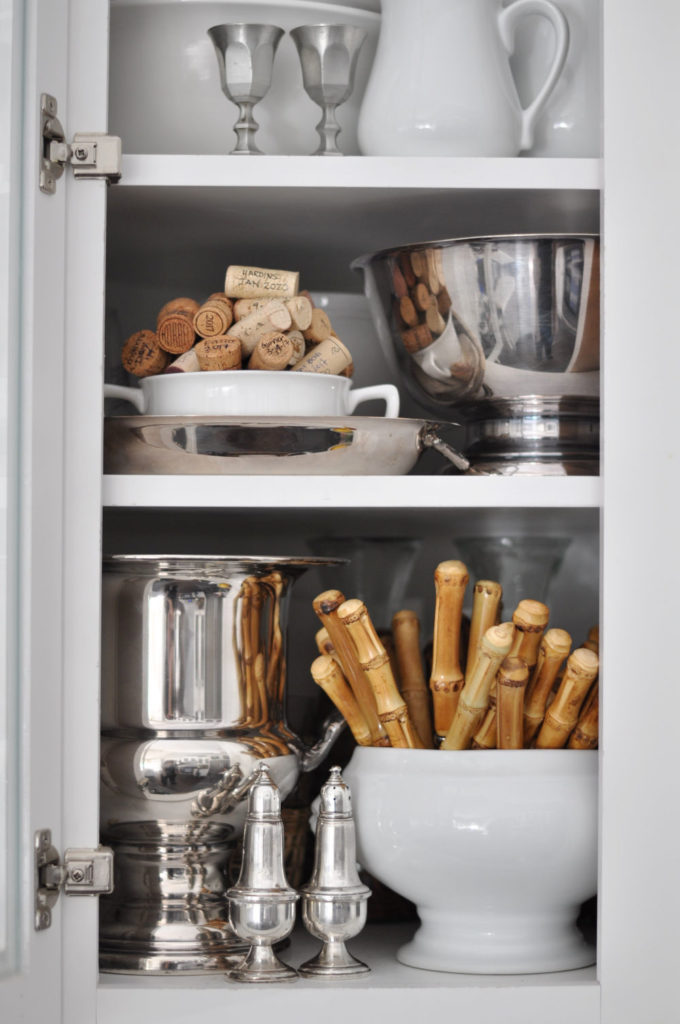 STICK TO WHITE (OR NEUTRAL) DISHWARE This is strictly personal opinion, but I've found that having an entire wall of glass front cabinets looks so much cleaner and less cluttered when mostly everything on display is the same color. A lot of my dishes and serveware are mismatched but because everything is white you'd never know the difference. And pops of silver are such a pretty compliment to all that white! I like to mix in pieces of silver, bamboo and rattan for interest and depth – the white dishware is such a pretty contrast!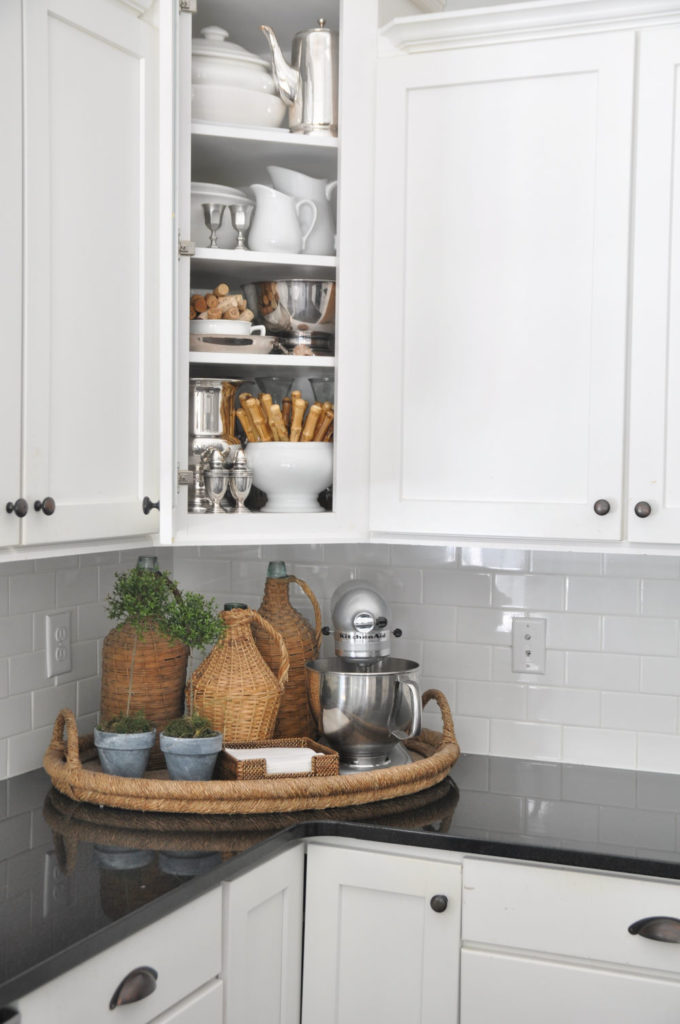 MIX IT UP I like to add interest and keep my shelves from looking too uniform, so I try to mix and pair items like drinking glasses on the same shelf as dessert plates; a set of cake stands with silver footed bowls or a group of white pitchers with a stack of serving platters.
DISPLAY YOUR TREASURES I am a super sentimental person and have attachments to family treasures that have been passed down – my collection of silver Revere bowls started with a few that my aunt gave me when I was in college, and a set of four crystal dessert bowls that my grandparents brought back from a trip to Italy have pride of place next to the Blue Willow dinner plates we use every day. It brings me so much pleasure to get a glimpse of these pretties every time I walk past my cabinets and it's even more special that such important pieces are displayed for everyone to see!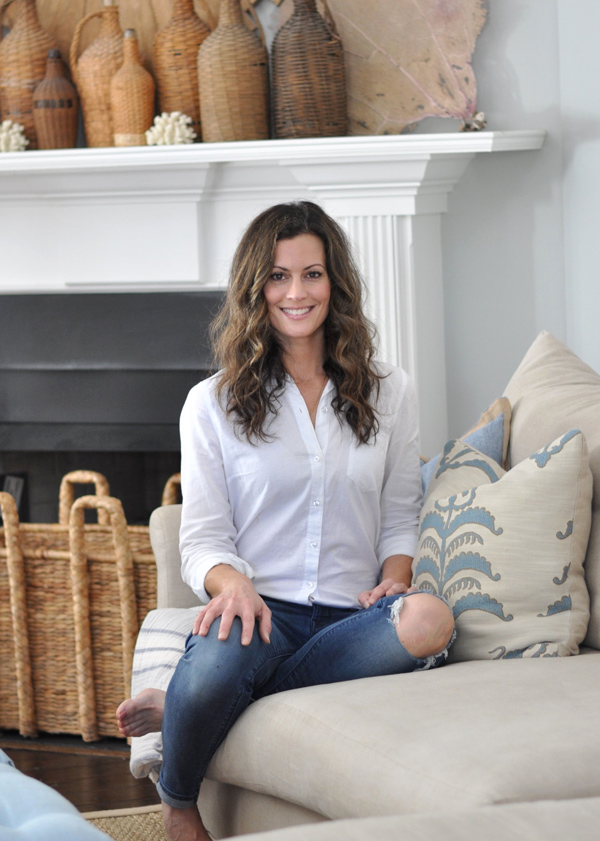 Hello and welcome to Bungalow Blue Interiors!
I'm Kelly, interior designer, stylist, hostess with the mostest and editor of my blog, where I share pics of my work, my own home, décor projects, entertaining hacks, where to find the best decorating deals and all the beautiful things that are currently inspiring me!