$20 grocery store centerpiece
When it comes to floral arranging, I am so far from knowing what I'm doing, it's actually quite comical. My attempts at creating a floral centerpiece usually look more like my three year old arranged it, despite my best efforts, so I tend to stick with white hydrangeas en masse in beautiful, woven vases for a dramatic impact (also for the most bang for my buck as I can usually stretch them to almost three weeks).
For Thanksgiving this year, however, I really, really wanted a dark and moody centerpiece for my table so I hopped into trusty old Trader Joe's to see what blooms I could find. Amidst a sea of sunflowers and mums, I ended up with one bunch of hydrangeas, one bunch of dark pink peonies and some random vase filler (not sure what they're called but they were pretty!) Not exactly what I was thinking when I was planning for "dark and moody", and it actually looks more like what I would do for every other centerpiece, but hey…if it isn't broke, right? And you know what? It was the best twenty bucks I've spent in a long time!
I used a large wicker hurricane from Amanda Lindroth (I have a smaller one from Southerly House and I LOVE it), filled it with water and a packet of flower food and got to work. I started with the hydrangeas first; there were only three, so I placed one on the left, one on the right and one in the middle. They're so big and fluffy and are great for filling space. I fit the five peonies around the hydrangeas and then tucked the vase filler in between. So easy! I'm sure everyone says that when they're writing a post on arranging flowers, but for someone who has always been florally challenged, I can honestly say I had this whole thing done in five minutes!
I threw a navy linen table runner out, along with my water hyacinth placemats from Pottery Barn to see how it would all look together and the dark inky hue is such a beautiful contrast to the pink and green! I guess I got my dark and moody, after all, lol! Can't wait for the big day now and will be sure to post pics of my whole table all dressed up!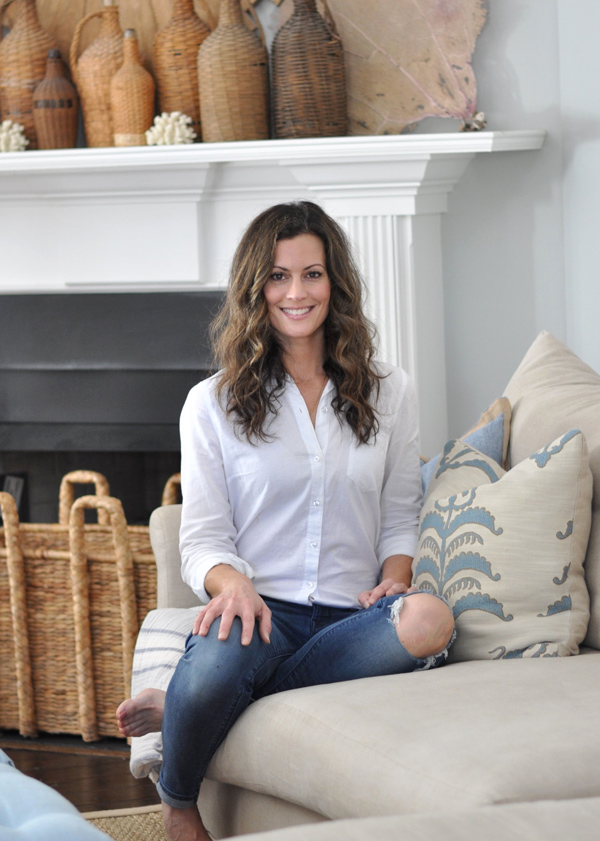 Hello and welcome to Bungalow Blue Interiors!
I'm Kelly, interior designer, stylist, hostess with the mostest and editor of my blog, where I share pics of my work, my own home, décor projects, entertaining hacks, where to find the best decorating deals and all the beautiful things that are currently inspiring me!