whitewashing vs. dry brushing
I get a TON of emails with questions about whitewashing furniture – mostly wanting to know the difference between whitewashing and dry brushing and how to choose which technique for a piece. I've posted a step-by-step tutorial on how to whitewash furniture, but thought I'd give a breakdown on the difference between the two and when to do both of them together. Here we go!
Whitewashing is a great way to highlight and brighten the grain of natural wood, but it's also beautiful on top of a painted finish for added depth and softness. It's a simple technique of watering down white paint (or glaze mixed with white paint – my prefered choice), then brushing it onto a piece of furniture and wiping it back with a clean white cloth.
A little whitewash highlights the grain of the wood on this farmhouse table and really toned down the yellowed finish:
These Queen Anne-style end tables are a great example of how whitewashing can breathe new life into a piece. They had great lines, but their oak finish was yellowed and had a lot of water damage, so I painted them a taupey-gray and then whitewashed on top. It really highlighted the curves of the piece:
I had the same idea when refinishing this crib – painting it a soft gray and then whitewashing on top totally transformed and softened a yellow/orangey oak finish:
How to whitewash:
*Mix 3 parts white paint with 1 part water
OR
*4 parts glaze, 1 part water + a couple drops of white paint. I swear by Faux Impressions Latex Glaze
Watering it down helps extend your working time when wiping it back (it won't be tacky or hard to wipe back off).
*Brush it on WITH THE GRAIN OF THE WOOD and let sit for about ten seconds:
*Then wipe it back with a soft white cloth:
You can either stop here and add a protective finish with polyurethane or polyacrylic – OR add yet another layer and dry brush on top. This is what whitewashing alone looks like:
Dry brushing adds depth of tone to a piece and really highlights the grain of the wood, any imperfections in the piece (adding to that aged look) and especially the curves or details in the design. More often than not, I will whitewash a piece and then dry brush on top – the result is absolutely stunning:
This oak pedestal table is painted a soft gray and then drybrushed all over to soften the finish and highlight the grain and curved base:
Drybrushing some white paint over a soft gray painted finish really highlighted the curved legs of this console table:
Whitewashing AND dry brushing overtop charcoal gray paint created a stunning finish on this side table – and it's my favorite way to add patina to a piece:
How to dry brush:
*Start with a dry paint brush and dip ONLY the tip of the brush into the paint, then dab it on a cloth until there is almost no paint on it:
*Use light, feathery strokes, to paint, going WITH the grain of the wood:
Flick your brush back and forth from one corner or edge to the other:
And that's it! Hope this helps anyone interested in trying either (or both) finish!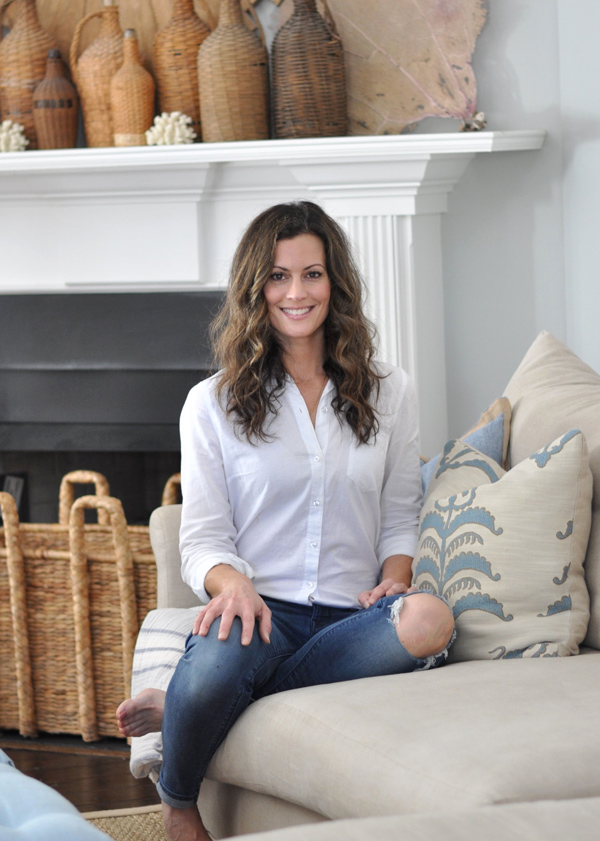 Hello and welcome to Bungalow Blue Interiors!
I'm Kelly, interior designer, stylist, hostess with the mostest and editor of my blog, where I share pics of my work, my own home, décor projects, entertaining hacks, where to find the best decorating deals and all the beautiful things that are currently inspiring me!