WHAT MY CHILDREN HAVE BEEN PLAYING WITH DURING QUARANTINE
We're getting ready to close out week nine of quarantine (it is week nine, right??), and one of the most asked questions I've been getting whenever I post a picture to my stories of my children playing or crafting, is what my kids are playing with/using to keep busy during quarantine. Honestly, if I had a dollar for every time someone asked me this, I could recover the two chairs in my living room! I'm glad to know I'm not the only momma who has run out of creative energy coming up with all the fun, creative things to do in addition to homeschool, cooking, cleaning, laundry…..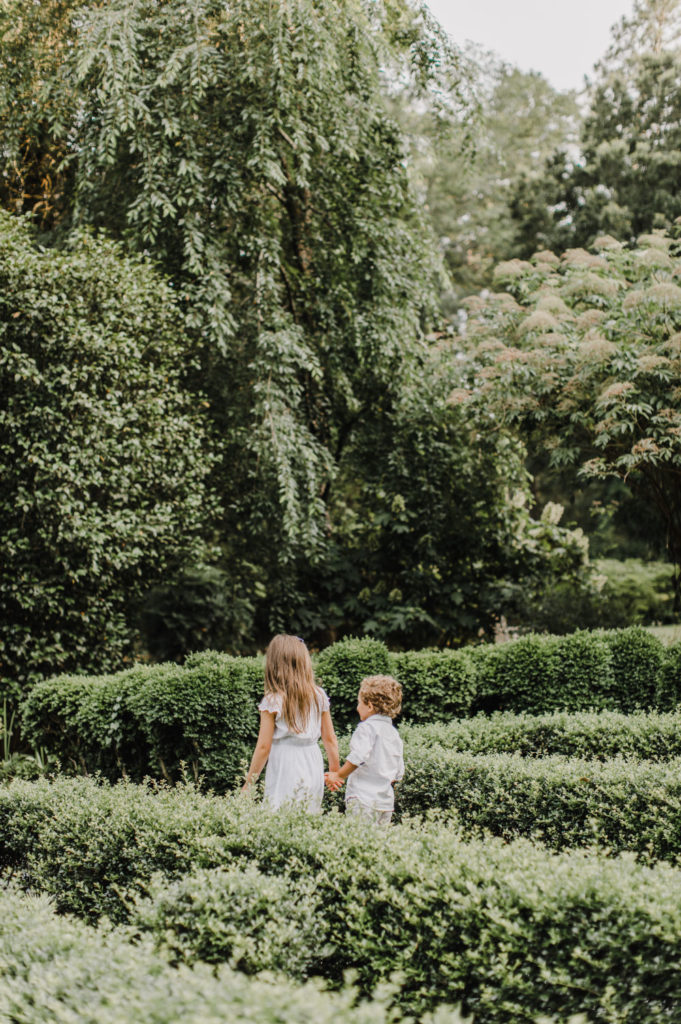 When quarantine first began, I was all about finding all the fun, creative things for the kids to do. Build the biggest obstacle course in the front yard? No problem! Search Pinterest for craft ideas and execute at least one ridiculously challenging project a day? Absolutely! By week two of homeschooling (my daughter is in kindergarten, my son in preschool), we were really just taking long bike rides, having picnics on the front lawn, playing kickball in the cul-de-sac, basically anything we could do outside to enjoy the beautiful weather we've had since this all began.
Now, after two months in, we take whatever we are currently obsessed with playing with and head outside as soon as school work is over. And that includes toys, puzzles, monster trucks, drawing/art supplies, stuffed puppies, dolls, you name it. I rounded up some favorites that the kids have had for a while and have been playing with a lot lately, as well as some new favorites they either got in their Easter baskets or "just because":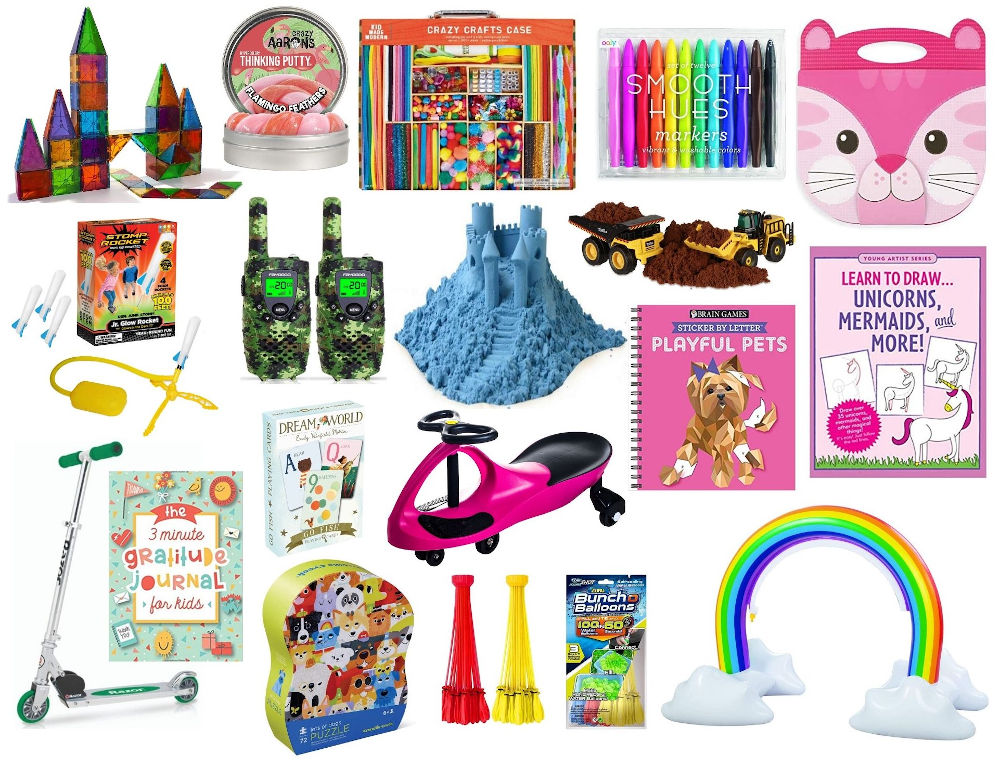 Magnatiles / Thinking Putty / Craft Case / Ooly Markers / Cat Drawing Pad / Stomp Rockets / Walkie Talkies / Kinetic Sand / Set of two Tonka Trucks / Learn How to Draw Unicorns and Mermaids Book / Paint by Sticker Book / Wiggle Car / Go Fish / Kids 3 Minute Gratitude Journal / Puzzle / Razor / Kids Science Experiment Book / Water Balloons / Rainbow Sprinkler
Magnatiles. Hands down, the most played with toy in our house, by both kiddos. Luca builds multi-level garages for his matchbox cars and Lydia builds everything from doll houses and castles to animals and geometric patterns. WELL worth the price!!
Crazy Aaron's Thinking Putty. Never dries out and comes in fun colors (and sparkles!)
Craft case. Lydia got this for Christmas and it has been a rainy day lifesaver! You can make everything from jewelry to popsicle stick people, pom pom animals and much, much more!
Ooly markers. We love the entire Ooly line, but these are our current favorites for drawing and writing.
Cat drawing pad. We go through notepads and notebooks so fast; I usually stockpile from the dollar store but since it's been months since I've been in one, I've gotten a few of these cute animal drawing pads and they've been a hit!
Stomp rockets. Fun for the whole family to see who can launch theirs the highest! Luca is especially obsessed with the glow in the dark launchers lately.
Walkie talkies. Great for hide-and-seek and all those covert military missions the kids like to do in the neighbor's yard, lol.
Kinetic sand + Tonka trucks. These both have been a lifesaver for me in keeping Luca busy (and quiet) while homeschooling Lydia! I put the sand on a big baking sheet and sit him with some construction vehicles and it usually gets me a solid 45 minutes!
Learn How to Draw Mermaids and Unicorns Book. Lydia got this for Valentine's Day- the instructions are easy to understand but it is definitely for a little more advanced artist!
Paint by sticker book. Another great rainy day activity (although we take these and do them outside, too). Added bonus: it's a good way to review numbers!
Wiggle car. Both kids love riding these down the driveway when we need to take a break from schoolwork and grab a quick breath of fresh air.
Go Fish. I LOVE this set by author Emily Winfield Martin! Her drawings are as magical as her children's books!
Kid's Three Minute Gratitude Journal. Another Easter basket item for Lydia and this has been a great way to introduce her to journaling and writing about what brought her joy throughout the day!
Puzzles. We can never have too many puzzles! We love all the Crocodile Creek 72 and 100-piece puzzles and do them outside on a large foam core mat board from Hobby Lobby!
Rainbow sprinkler. A favorite on hot days when the pool is still too cool to jump into!
Water balloons. I grabbed a few sets last time I was in Walmart and they were a huge hit!
Kids Science Experiment Book. A number of fun, easy to execute experiments for kids!
What are your littles loving lately during quarantine??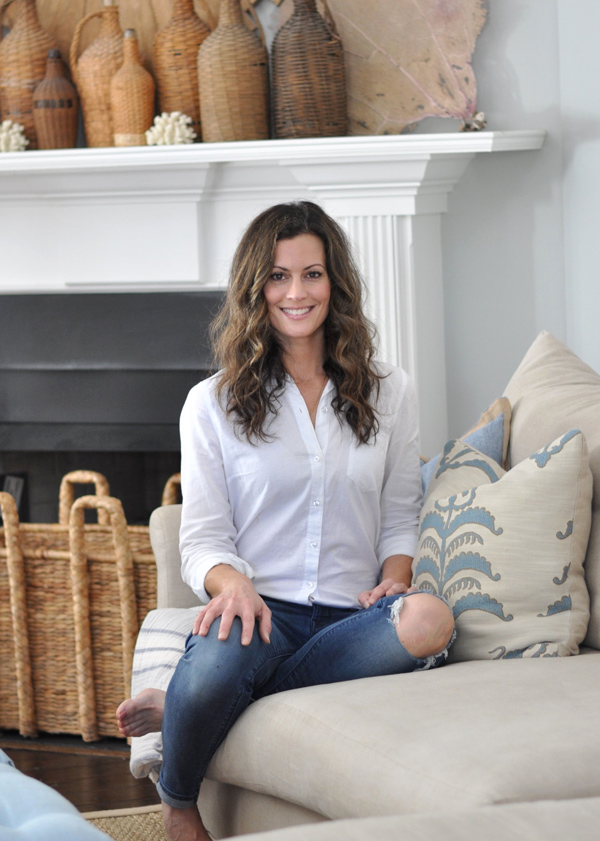 Hello and welcome to Bungalow Blue Interiors!
I'm Kelly, interior designer, stylist, hostess with the mostest and editor of my blog, where I share pics of my work, my own home, décor projects, entertaining hacks, where to find the best decorating deals and all the beautiful things that are currently inspiring me!