tips for hanging a gallery wall
I LOVE a good gallery wall.  Back when I was designing and decorating full-time, pre-kids, there wasn't a single house or project I worked on that didn't end up with one!  I'm all about filling your home with treasured items that have personal meaning and what could possibly have more meaning than a wall ful of photographs of the ones we love most?
When we built our house, I knew the one wall in our living room would be just perfect for a floor-to-ceiling gallery wall.  Over the years, it's changed quite a few times; I just haven't been able to get a layout that I love and that doesn't irk me the second I hammer in the last nail, so, here we go on, I think, our third layout change and I'm loving it so much more!  I took the pictures all the way down to the baseboards this time to maximize as much of the wall as possible and it really changes the whole look of that side of the room.
I ordered new pictures from MPix to update the simple black frames and white mats I already had and then stocked up on extras from Michael's and A.C. Moore whenever they were on sale. I don't think I paid more than $10 for a single frame, but you'd never guess it – in fact, when I posted a picture on Instagram once I finished, many thought the frames were from Pottery Barn! Here are a few more tips I try to follow whenever hanging a gallery wall:
Use craft paper + painter's tape to map out your layout.  Trace your frames and then cut them out.  It will save you time and frustration as you try to find a layout you like while also saving your walls from a million holes when you change your mind!
Layout your frames on the floor.  This helps me to see which pictures I want where in the configuration and give a little glimpse of what the final product will look like up on the wall.
Stick with the same kind of frame in different sizes for a cohesive look.  I do love to mix frames and finishes for artwork but, for me, I feel like using the same kind and color frame really attracts the eye to the photos themselves more and also, it doesn't look so cluttered when you're hanging them from the floor to the ceiling!
Use picture wire and eye hooks on the back of your frames.  It's so much easier to hang them and it also ensures pictures won't fall off the wall and take a chunk out of your baseboards (which happened to me at our last house).  First, I place the frame against the wall where I want to hang it and mark with a pencil at the very top center of the frame.  Next, I hold the frame by the picture wire and measure from the point when it's taut to the top of the frame.  From that pencil mark on the wall, I use the measurement, from the wire to the top of the frame, and mark however many inches down from the top pencil mark.  That's where I nail in my hook.
Take advantage of all the wall space.  The first time I hung this gallery wall years ago, the pictures were too close together and it made the wall look even bigger and my photo grouping look smaller.  This time I went almost to the ceiling and all the way down to the baseboard, keeping no more than two inches between the pictures.  It made a huge difference!!
 Happy Hanging!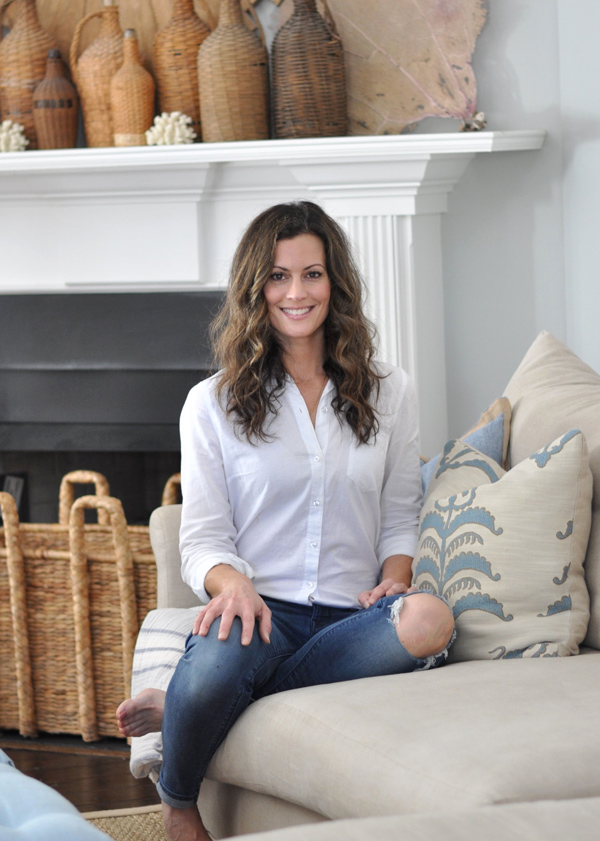 Hello and welcome to Bungalow Blue Interiors!
I'm Kelly, interior designer, stylist, hostess with the mostest and editor of my blog, where I share pics of my work, my own home, décor projects, entertaining hacks, where to find the best decorating deals and all the beautiful things that are currently inspiring me!