I finally got around to hanging some art in the upstairs guest room bathroom over the weekend (for those asking, it's a nautical chart that my hubby used to navigate the Intracoastal years ago that I framed!)  I've always loved this bathroom but it never ceases to amaze me how even a single piece of art can instantly make a space feel so much more cozy.  Another element that helps also happens to be one of my favorite tricks for making a bathroom – even a tiny one – feel instanly more grand is to hang a second shower curtain rod as high as possible and hang a pair of window treatments!  It makes things feel so much softer and instantly gives the room a luxurious touch (even though these curtains are as inexpensive as they come!)
Here I hung a pair of Merete grommet curtain panels from Ikea all the way at the top where the ceiling starts to slope.  I love how they puddle right at the floor and the fact that they hide the shower curtain liner is an added bonus. Now the room feels so much more polished and finished to me (I always feel the same way about adding curtains to a window!)  Just be sure to leave a few inches gap between the curtain liner rod and the curtain panel rod so that your curtains don't bunch at the top; you won't be able to slide them open, either!
I've been using this trick for years; I did the very same thing in my first apartment so that I could close the panels and hide a rather hideous pink and green tiled shower/tub combo, lol!  I love the Merete panels because you really get a lot of bang for your buck and if you don't like the grommets, it would be a super easy and rather inexpensive fix to remove them and sew rings that are large enough to fit over your rod!
As for the rest of the items in here, the cast iron tub, subway tile are from Lowe's; the Montauk slate tile floor is from Home Depot; the basket is one of my favorite HomeGoods finds and the towels are from TJMaxx years ago that I had monogrammed when we got married!
Happy Monday, everyone!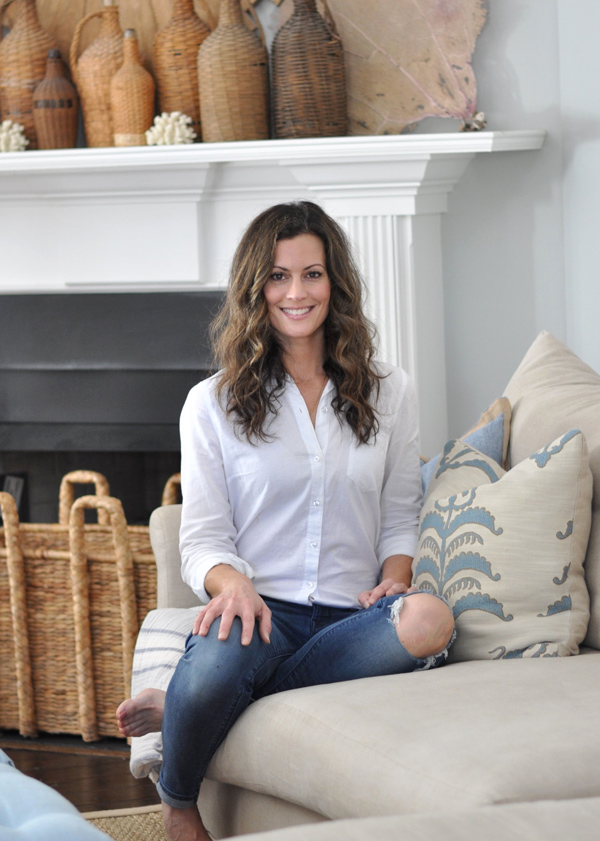 Hello and welcome to Bungalow Blue Interiors!
I'm Kelly, interior designer, stylist, hostess with the mostest and editor of my blog, where I share pics of my work, my own home, décor projects, entertaining hacks, where to find the best decorating deals and all the beautiful things that are currently inspiring me!