our christmas decor + the one finger rule
Hello, hello! I hope you all had a wonderful weekend! It was 75 degrees and sunny here so we spent almost all of ours outside, but I did manage to snap a few (hundred) photos of my Christmas decor before my greens are completely fried! Every year I swear I'm never buying the real stuff again because it dries out within two weeks but every year I end up eating my words and coming home with another 75 feet. I just can't resist the smell! As for decorations, I was curious to see how much would get broken or go missing because Lydia just couldn't help herself but then an Instagram friend told me about her genius "one finger rule" she had for her boys when they were little. They were allowed to touch anything they wanted but just with one finger and nothing ever got broken. It's worked well for Lydia, who loves everything and anything sparkly or glass and pretty, and, knock on wood, nothing has been broken, so thank you for the suggestion, Pat!
Other than our tree ornaments, our decor is pretty simple: fresh evergreen garlands, bowls of clementines and wreaths. Here are a few snaps of what I came up with this year:
I went a little "Fat-guy-in-a-little-coat" with the front door wreath this year; I had to trim a little back just to be able to close the door!
A few black and white photos of my parents sledding when they were kids paired with framed Christmas quotes I bought years ago from Pottery Barn mix with the normal decor on my built-ins:
The nutcrackers were in my house growing up and my mom gave them to us for our first Christmas after my husband and I got married. One is missing his nose (thank you, little miss!) but I love how it seems like they are standing guard over our framed family photos in the foyer:
I always throw some white pine garland over the hutch in my breakfast room and this year I filled my clam shell from Z Gallerie with as many clementines as it could hold:
More white pine garland and a preserved boxwood wreath hung by navy striped grosgrain ribbon in the entryway:
Gold spray paint glams up some unfinished wood letters from Walmart:
White lights and more garland are a must on the fireplace. I was so inspired by a mantle in the study of designer Steven Gambrel's Sag Harbor home which was decorated simply with empty glass apothocary jars that I decided to do the same for mine. They look so gorgeous with the lights on at night!
My clam shell from ZGallerie is on sale now; it's one of my favorite decorative accessories and would make a lovely gift idea:
My mom's childhood sled has pride of place, propped up on my hutch; I love the pop of red and, apparently, so does Lydia, who takes it down multiple times a day to "ride":
Close-up shelfie:
Happy Monday!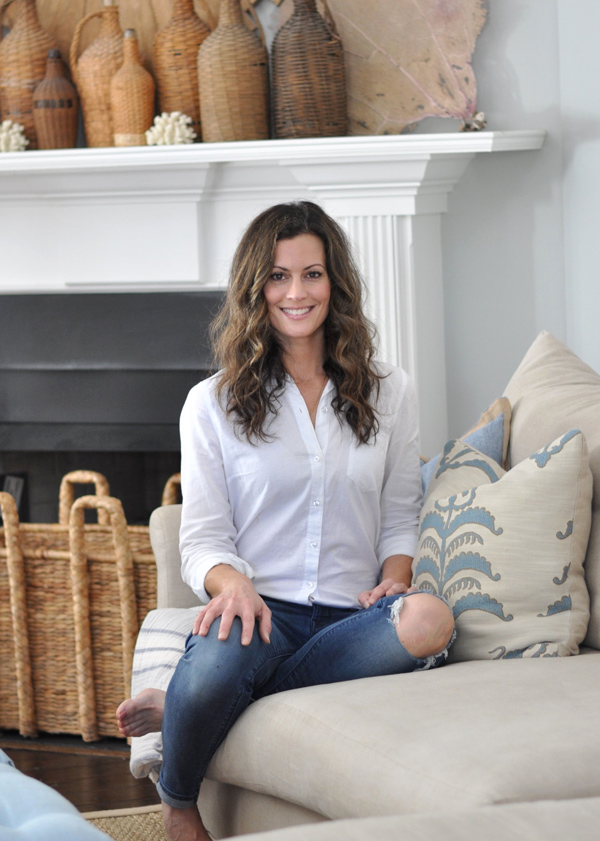 Hello and welcome to Bungalow Blue Interiors!
I'm Kelly, interior designer, stylist, hostess with the mostest and editor of my blog, where I share pics of my work, my own home, décor projects, entertaining hacks, where to find the best decorating deals and all the beautiful things that are currently inspiring me!