new lantern lighting for my kitchen
This post is a LONG time coming – and not just because it's been forever since I've blogged! It's taken me seven years to make up my mind on a chandelier for my breakfast nook and then find one I won't get tired of as soon as it's installed, but I'm excited to say I've found the perfect, linear, oversize lantern and I'm OBSESSED! If you guys have been reading along here for a while you know I've had my heart set on finding an oversized lantern light for over my breakfast table but the search has been ridiculous because everything I found was either dwarfed by my vaulted ceilings or cost a couple month's worth of mortgage payments. Seriously…it's much harder than you might think to find a ginormous lantern chandelier for less than a down payment on a car!
I had seen the Sheffield 8-light lantern chandelier by Ballard Designs before but it wasn't until a few weeks ago when another catalogue landed in my mailbox that I thought it just might work in my space. It was also on major sale so I bit the bullet and ordered it and you know what? I LOVE IT! It's just what the space needed; it's the perfect size, the finish is beautiful and the guy who installed it said he was amazed at the quality.
The only thing I will say I wasn't crazy about was the fake wax drip candle sleeves (sorry, Ballard), but that was a quick and easy fix. I ordered a pack of plain white plastic sleeves from Amazon and gave them a few light coats of Rustoleum Oil Rubbed Bronze spray paint, which matches the finish so perfectly. This is a great way to modernize a chandelier on the cheap!
I finally feel like this space is finished, which is really saying a lot because I've constantly been changing things up to compensate for the fact that I had the wrong size lighting in here for so long. It adds just the right amount of drama and the prettiest, softest light (I used 15 watt bulbs). I highly, highly recommend this fixture if you're looking for an oversize lantern light. Thank you, Ballard…from the bottom of my oversize lantern loving, indecisive heart, thank you!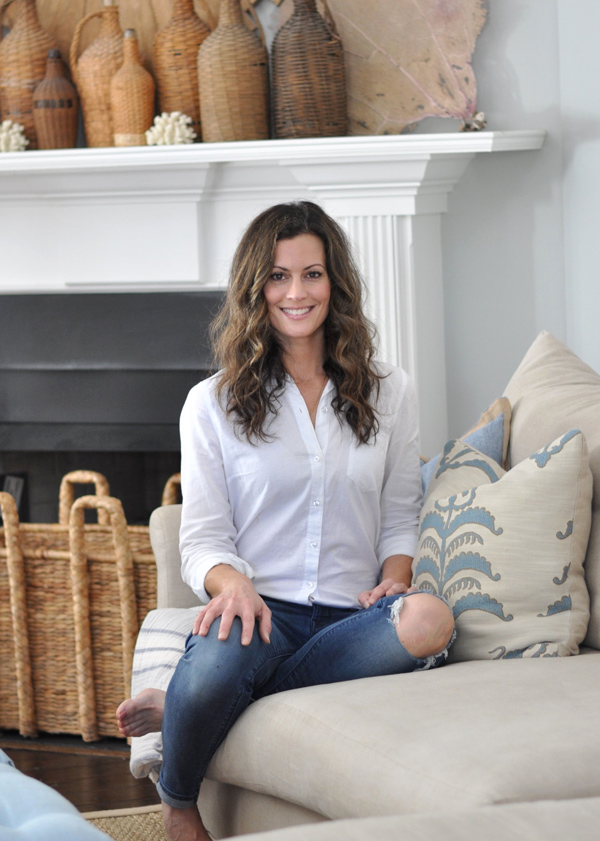 Hello and welcome to Bungalow Blue Interiors!
I'm Kelly, interior designer, stylist, hostess with the mostest and editor of my blog, where I share pics of my work, my own home, décor projects, entertaining hacks, where to find the best decorating deals and all the beautiful things that are currently inspiring me!