my 5 favorite basics for a beautifully set table
Thank you all for entering Tuesday's giveaway!  And thank you once again to Lauren Marttila for offering up one of her gorgeous prints for us!  Marcie Newman is the lucky winner of "Lineup"!  Are giveaways something you guys would like to see more of?  If so, leave a comment below!
Switching gears here for a minute to share some of my favorite basics for setting a beautiful table. My house is completely upended on a daily basis with toys, books, sippy cups, princess dresses and now matchbox cars and various construction vehicles all over the place, so the one thing I try to do as often as possible to offset all the disorganization is to set a beautiful table for dinner.  If you guys follow me on Instagram (@BungalowBlue) you've seen me post pictures of a fully dressed table for sushi and leftovers.  It's just something so simple that makes me so happy and at the end of the day, that's all that matters, right?
Over the years, I've accumulated quite a few entertaining pieces that that make it super easy to not only set a beautiful table for company but to also elevate your every day place setting to something extra special.  When you have beautiful basics to start with, it makes it so much easier to mix it up and swap out beautiful linens and fresh flowers.  Here are five of my must-have basics that I use every day and that can be easily dressed up for special occasions:
1.  Simple white dinner plates.  I think white looks so fresh against rattan or seagrass and the OCD side of me loves how food looks against a blank canvas.  It's also super easy to swap out patterened salad plates when you want to add a little pop of color, too!
2.  Woven placemats and chargers.  Wicker, rattan, water hyacinth….give me all the texture!  I used to think my table didn't look complete without fresh flowers but now I think it just looks like it's missing something without the warmth and interest that texture brings.  I rotate between my Soare placemats from Ikea ($4 a pop!) and my Artesia Honey Rattan Chargers from Crate and Barrel.
3.  Statement flatware.  I ordered some stunning bamboo handled flatware from Australian retailer Harold's Finishing Touches right before Christmas and I'm completely OBSESSED with them.  With the conversion rate, it ended up costing a little more for eight place settings that ONE from Juliska, and that included shipping to get them here in a week! It takes a little more effort at cleanup to hand wash them because you obviously can't stick them in the dishwasher but it makes me so, SO happy to use them so often and they are a killer conversation piece (everyone always comments!)
4.  Versatile glassware.  These French wine glasses are one of my favorite purchases for entertaining.  I use them for wine, water or holding small arrangements of flowers.  I love their shape and they look amazing paired with my woven tumblers for a little more of a casual feel.
5.  Fresh flowers.  You don't need to spend a fortune on arrangements; two hydrangea stems in a woven vessel (I got the one above at HomeGoods!) is so simple and adds a beautiful breath of fresh air, plus they will last for weeks on your table!
What are some of your favorite essentials for setting a beautiful table?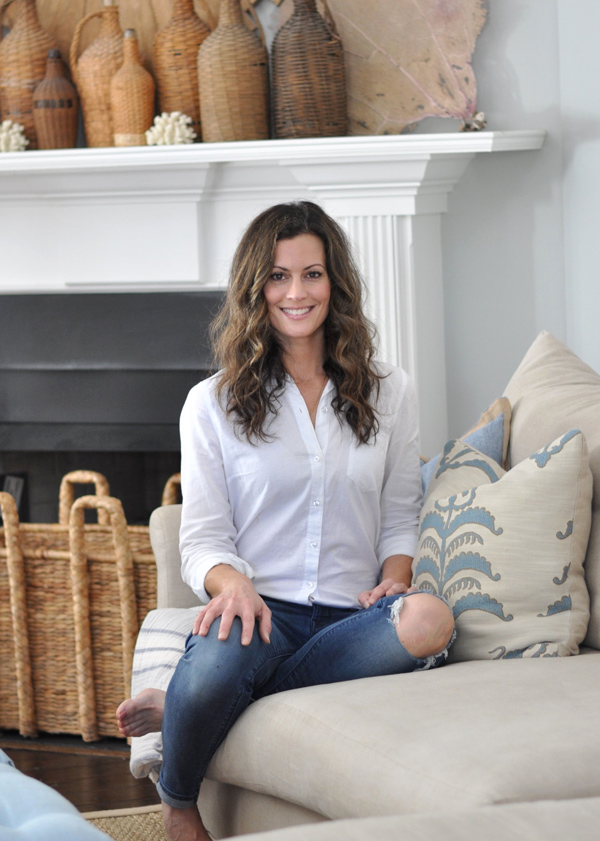 Hello and welcome to Bungalow Blue Interiors!
I'm Kelly, interior designer, stylist, hostess with the mostest and editor of my blog, where I share pics of my work, my own home, décor projects, entertaining hacks, where to find the best decorating deals and all the beautiful things that are currently inspiring me!