MOMENTS IN BETWEEN + SUMMER ENTERTAINING ESSENTIALS
There isn't much I love more this time of year than a house and backyard full of friends for dinner or an evening swim and some cocktails. This year, our social calendar looks quite different than normal but there is one thing that remains the same: setting a beautiful table for my family every single day. We have so much to be grateful for – being able to eat dinner together as a family every night is a simple joy that deserves to be celebrated and it also helps to satisfy a creative need for me while things are still so up in the air.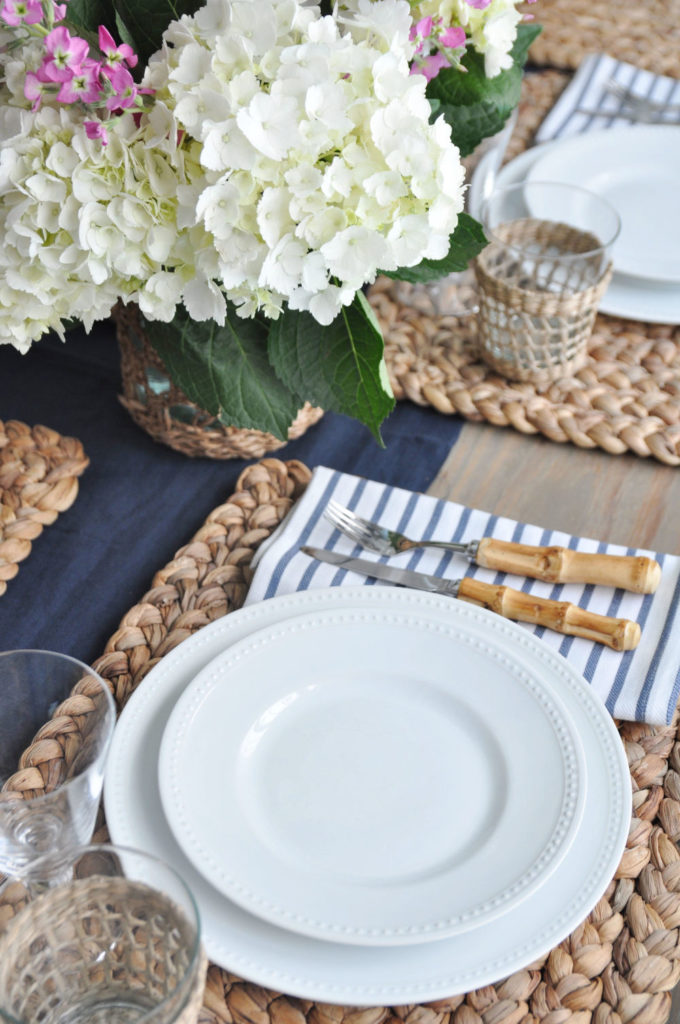 Charlotte Moss once said that one of the most important things you can do for yourself is to take a time out during your day; she calls these "moments in between" when you grab a cup of tea or a glass of wine and take a moment to make the environment around you (or the table) just as beautiful. Over time, something magical happens: you start to set a standard for yourself and want things to look that way always. I couldn't agree more as this is exactly what I've been making a point to do since quarantine first began. I might not have always had fresh blooms for a centerpiece, but I traded paper napkins for linens, always used my favorite water hyacinth placemats and bamboo flatware (even when it was just for leftovers) and just made it a point to make it as beautiful as possible. Lydia got excited to help, too, and would pick what color linen napkins we would use each day and whether we wanted candles or flowers or both, and that made me happier than any table ever could!
Below are a few tried and true favorite basics for setting a beautiful table, as well as a few new items I'm loving lately! When you start with a great base (neutral dishes, classic stemware), you can add texture, color and pattern to change with the seasons so easily!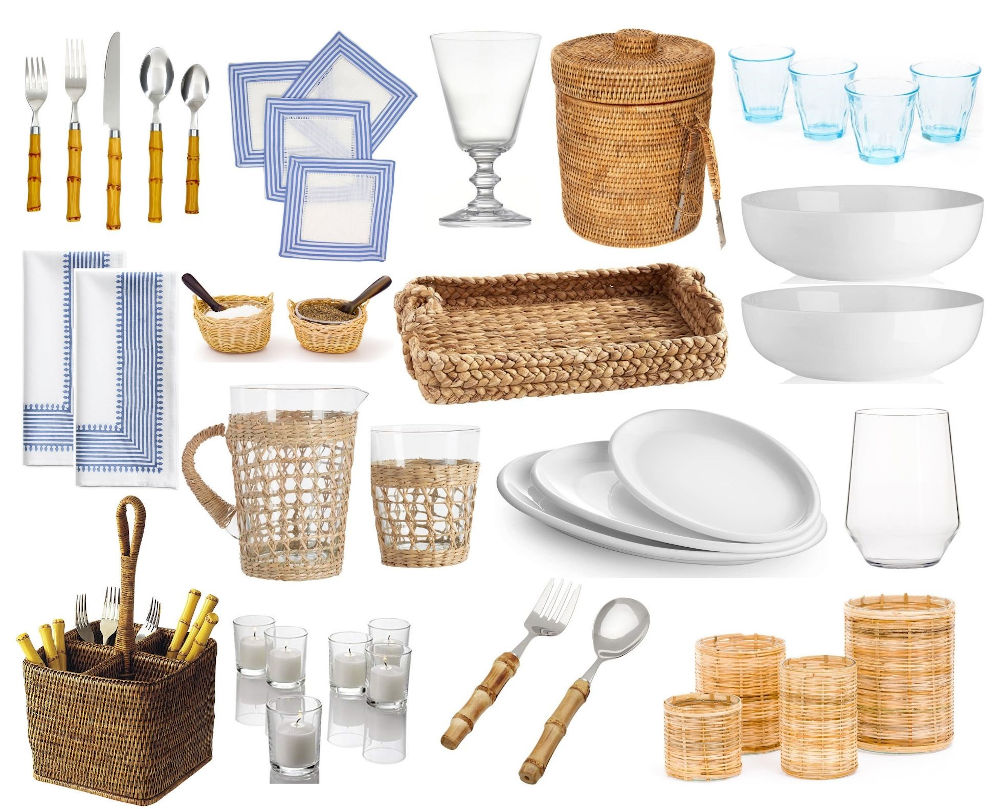 Faux bamboo flatware / Blue and white striped cocktail napkins / French wine glass / Rattan wine cooler / Set of blue juice glasses / 11-inch bowls / Napkins / Wicker salt and pepper cellars / Water hyacinth tray / Cane pitcher / Cane tumbler / Set of white platters / Melamine wine glasses / Rattan flatware caddy / Unscented votive candles / Bamboo serving set / Rattan hurricane/vase
I love this set of faux bamboo flatware; I had these before I bought the real deal and the price is so budget-friendly and they're perfect for outdoor entertaining! And this bamboo serving set is a great way to add a little texture to the table if all new flatware isn't in your budget!
Love a blue and white stripe and these cocktail napkins are so festive for this time of year! Also love these simple blue and white stripe dinner napkins!
My go-to French wine glasses that I use for water or wine (and which look so chic on even the simplest of table settings!)
Still so obsessed with this rattan wine cooler!
These watery blue juice glasses add the perfect pop of color to white dinnerware!
I love a wide bowl for salads, soups, chili…I bought these recently from Amazon, thinking they were individual bowls, but they were actually a set of two salad serving bowls. I absolutely LOVE how low they are! Perfect for serving salads, side veggies, bread…
This tray is my go-to; I love to fix plates and flatware for people to pick from when we serve buffet – style, but since we haven't been entertaining since quarantine, I use it to carry everything out to the deck when we eat alfresco and it's a perfect way to corral some pretties on the dining table when not eating!
You can never go wrong with a rattan salt and pepper cellar set!
A cane pitcher and tumblers are staples year-round for me!
Love this set of simple white oval platters!
These melamine wine glasses have been a lifesaver by the pool this summer; I've used mine for vodka tonics and not wine, but hey, tomato, tomahto, lol!
This rattan flatware caddy is as chic as it is utilitarian!
I love unscented white votives mixed in with my centerpieces (or I'll pile a bunch of them down the middle of the table in lieu of flowers!) This is such a great price for a set of 48!
These rattan wrapped hurricanes do double duty for blooms and are equally as beautiful en mass on a table with votives inside!
Happy weekend, everyone!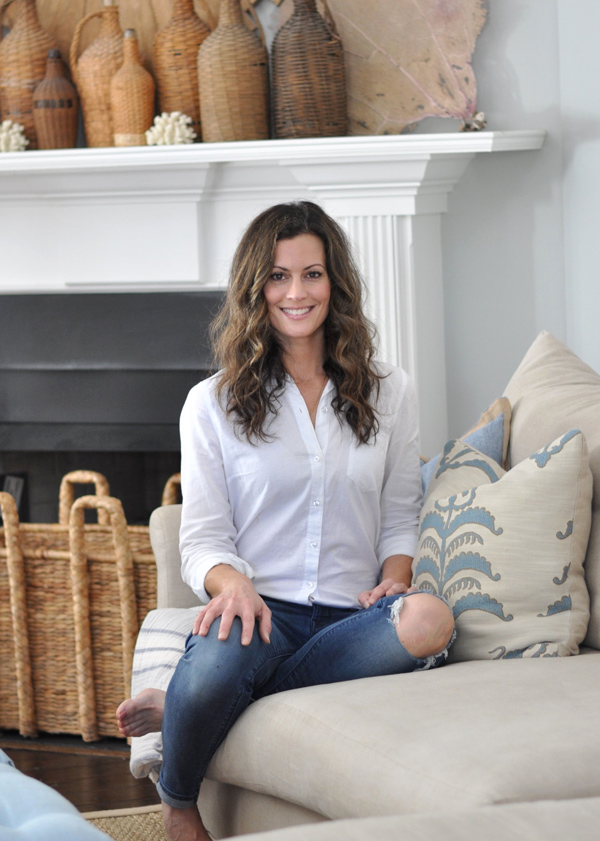 Hello and welcome to Bungalow Blue Interiors!
I'm Kelly, interior designer, stylist, hostess with the mostest and editor of my blog, where I share pics of my work, my own home, décor projects, entertaining hacks, where to find the best decorating deals and all the beautiful things that are currently inspiring me!