Two days after Christmas my baby girl turned FIVE!  Seems like just yesterday I was announcing my pregnancy here on the blog and now she's a whole hand of years old, has her first wiggly tooth and keeps talking about how excited she is for kindergarten next year….this momma's heart just can't handle it all!  As is typical with late December birthdays, we ended up throwing a very belated cake decorating party over this past weekend with a few of her little friends and it really couldn't have gone any better!
The party fans are from Shop Sweet Lulu; I bought them for Lydia's first birthday party and have hung them up every year since! The day after Christmas every year, I yank down the garland from the hutch in the kitchen and hang these for her birthday the next day but this year, I thought I'd switch it up a a little and do a balloon garland in the dining area and hang the fans on the fireplace.  Love the pop of pink!
Lydia and I made a six inch funfetti cake for each one of our special guests the night before and then made some homemade buttercream frosting that I stuffed in pastry bags with different decorating tips.  Snack cups from Hobby Lobby held chocolate chips, sprinkles and Dots to decorate them with! The polka dot paper plates are from the Martha Stewart Line at Michael's, the coral linen runner is from TJMaxx years ago and the woven glass hurricanes are from Home Goods last year!
I found a pack of plain white canvas aprons on Amazon and then added some iron-on cupcake appliques from Walmart.  The kids looked so cute wearing them and they each took them home, along with their cake, as favors!
The pink velvet cake was store bought; the glitter five cake topper was from Amazon and then I added a few puppy figurines from Lydia's stash and almost burned my finger tips off making little party hats for them!  I actually made these for her real birthday and it was so worth it to see her face light up when she saw them on top of her cake!  Here's a little close up:
Hope you're all off to a great start this Monday!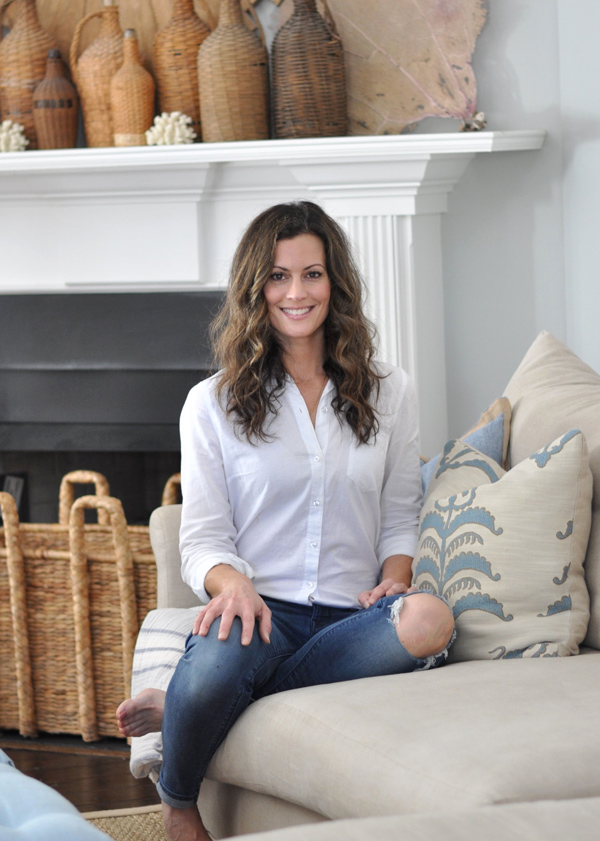 Hello and welcome to Bungalow Blue Interiors!
I'm Kelly, interior designer, stylist, hostess with the mostest and editor of my blog, where I share pics of my work, my own home, décor projects, entertaining hacks, where to find the best decorating deals and all the beautiful things that are currently inspiring me!