In yesterday's post, I mentioned a few of the projects I've been working on around here and today I thought I'd share a few progress pics! I can't talk about what's been going on around here without sharing a pic of my sweet baby girl – I'm absolutely obsessed with her; my heart swells just typing this post! Here she is in all her bows and pink monogrammed glory last week:
While she is napping, momma gets to hoppin'. For someone who wasn't all that great with time management pre-baby, you wouldn't believe the things I can now get done in ten minutes, not to mention an entire naptime! I picked up a set of four Queen Anne-style dining chairs four years ago-they're a little more formal for my taste, but we had just moved into the house, the hubby's family was coming to visit and I needed extra seats, so I scooped them up. Fast forward to a few weeks ago and it was time to give these babies some love. A coat of primer, two coats of paint, whitewashing, drybrushing and a little stain for depth and they are completely transformed:
I still have one more to finish and then have to reupholster the seats, but will show the complete before and after as soon as I'm done:
When my momma gets to spring cleaning, I definitely reap the benefits. When she downsized into a smaller home, she suddenly didn't have room for every single one of her ironstone platters, so she would send me a couple here and there…..about a month ago, she sent the final serving plate that filled the rest of the hutch in my kitchen. I couldn't love it more:
Just added the final touch to the gallery wall in Lydia's nursery. I PROMISE a full reveal, complete with details to every single item, is coming! I'm waiting on pillows from my seamstress and then it's GO TIME! I feel so bad giving sneaky little peeks, but here's another:
While it seems like my green thumb extends soley to outdoor plants and landscaping, I'm proud to say that I've managed to keep an orchid alive on mantle for more than a month. I'm scared to touch it or even look at it sideways in fear that all the petals will fall off!
A few years ago, I blogged about making my own farmhouse table. Well, I made it and then it sat in the garage, unfinished, as I mixed stain after stain, aiming for the perfect weathered gray finish. Let me let you in on a little secret: steel wool and vinegar doesn't work. Not if you're going for the color I was, at least. Finally….I've got the color I want. The table's in the garage getting sealed as we speak, but I'm so excited about how well it's turned out:
More pics to come soon!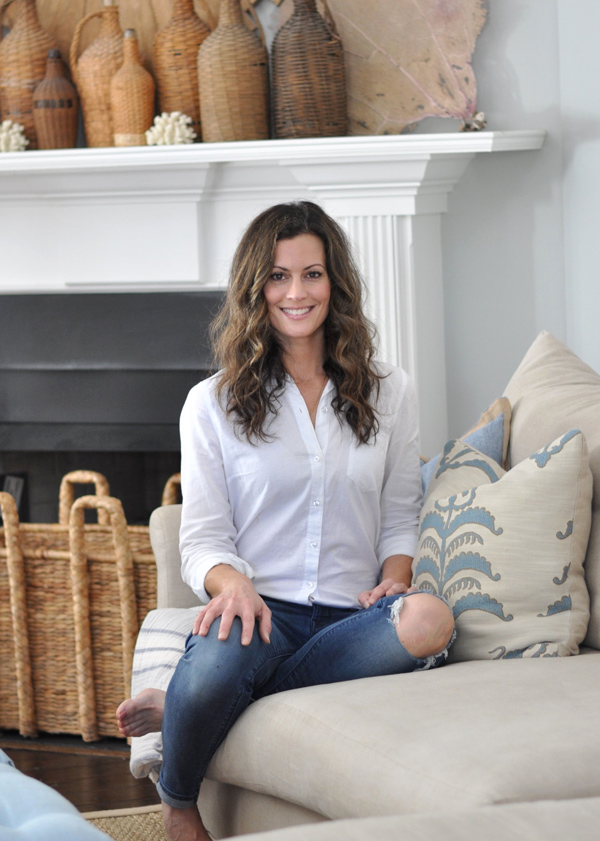 Hello and welcome to Bungalow Blue Interiors!
I'm Kelly, interior designer, stylist, hostess with the mostest and editor of my blog, where I share pics of my work, my own home, décor projects, entertaining hacks, where to find the best decorating deals and all the beautiful things that are currently inspiring me!