instagram inspiration: amy mcgee
The last few nights have been brutal, friends.  I seriously am dumbfounded at how my nine month old has the energy to run baby marathons every day with little nighttime sleep and less than 45-minute naps!  Last night, after another two hour stretch of trying to put the kabosh on her dance party, I took to Instagram after finding myself too wired to sleep and stumbled upon Amy McGee's feed (@amymcgee).  I'm absolutely smitten!  I have always loved having fresh flowers in the house (who doesn't?!) but her gorgeous floral arrangements take my store bought attempts at floral creations and make them look like I pulled weeds from the yard and stuck them in a vase!  Of course, I'm obsessed with the gorgeous arrangements she throws together, but I also couldn't help myself from honing in on her beautiful home in the background.  It's so light and ethereal and from what I could read from her posts, it's a tract home that she and her husband have beautifully decorated to look anything but!  Her three adorable little girls are so lucky to live in a house with such prettiness!  The little snippets have me wishing she will do a full home tour on her blog (pretty please?!).  Here are a few of her amazing floral arrangements with her beautiful home as the perfect backdrop:
How gorgeous is the combination of silvery gray walls, a jawdropping Venetian mirror, a warm wood table and, I'm guessing, white salvia in her bathroom?  Perfection:
An arrangement in a mango wood vase is a warm compliment to that amazing mirror over her fireplace:
Leopard works best in small doses and this throw is the perfect touch for fall (as well as a mini lemon tree!):
One of 14 (!) arrangements Amy created for her friend's baby shower:
Love the sneak peek of black subway tile and antique brass chandelier in her all-white kitchen:
A beautiful vignette:
All-white interiors can be flat, but a seagrass rug, a wicker basket, blue and white ginger jars spiky purple flowers add texture, interest and warmth:
I'm OBSESSED with those silver lamps:
Garden roses and a heavenly eucalyptus garland!
Another lovely creation; clearly, I need to read a few pages from her floral arranging book to up my game!
To see more of Amy's lovely creations, check out her instagram (@amymcgee) and her family blog here.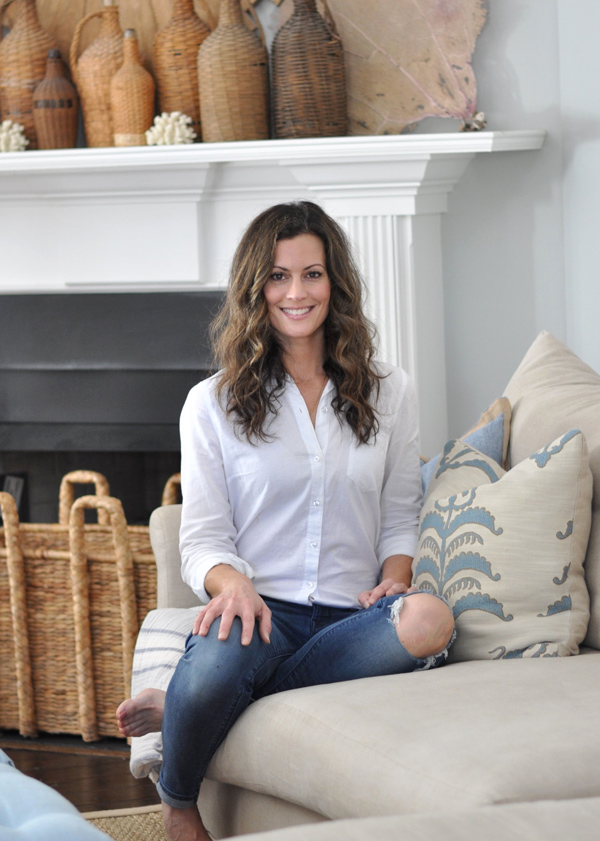 Hello and welcome to Bungalow Blue Interiors!
I'm Kelly, interior designer, stylist, hostess with the mostest and editor of my blog, where I share pics of my work, my own home, décor projects, entertaining hacks, where to find the best decorating deals and all the beautiful things that are currently inspiring me!