ina's napa valley rental + a love of 5-inch cabinet pulls
My love for Ina Garten knows no bounds; I have yet to try a recipe of hers that hasn't turned out amazingly well and I love the peeks of her Hamptons home in each episode as much as I love all of her food! Last year, she filmed a series in a rented home in Napa Valley and I was instantly smitten with the classic black and white kitchen; I especially LOVED the five inch, oil rubbed bronze cabinet pulls. They actually sparked a month-long obsession over whether or not oversize handles would look just as fabulous in my own kitchen (which, I will admit, was heavily influenced by Ina's when we built!)
So, when a couple episodes aired again over Christmas break, I fell in love with the kitchen all over again and thought I'd see if I could find some more pictures of the property. Turns out, I wasn't the only one with an interest; Boxwood Terrace blog tracked down photos of the house from Mint Locations, a company that represents properties in Northern California for movies and TV, and surprisingly, it is also featured in one of the Cottage Style books a few years ago! Here are a few snaps of the gorgeous property:
A classic black and white exterior is simple but stunning and gives a hint at the loveliness that is to come inside:
Peeking into the dining room, with its wall-to-wall glassfront cabinetry, is more like an extension of the kitchen. I love the mini subway tile backsplash and butcher block island countertop:
Anyone who cooks regularly knows that nothing is as important in your kitchen as a good layout, and this one is perfect for cooking and entertaining. I love the double doors that open right onto the patio, soapstone (or maybe honed granite?) countertops and how about those 5 inch cabinet pulls? Heaven…
The cabinetry in the dining room really makes the whole space for me – interest and storage all in one. And I love the rustic table paired with a glamorous crystal chandelier:
All that greenery just steps away from the kitchen is so charming and a great place to usher guests (who always end up in the kitchen, anyway!). It also makes the cook feel like they are part of the party, too:
A view of the other side of the kitchen. The shelving under the stairs is another great use of space and I love what appears to be a chalkboard fronted sub-zero fridge, as well as an antique, marble-topped extension of the island:
The outside is just as lovely; flagstone pavers and a pergola-covered eating area is my idea of a dream patio:
How charming is this seating area in front of a guest (or maybe pool?) house:
A weathered teak dining set and a simple, rustic pendant light in the eating area are beautiful compliments to all the greenery:
Happy Tuesday, everyone!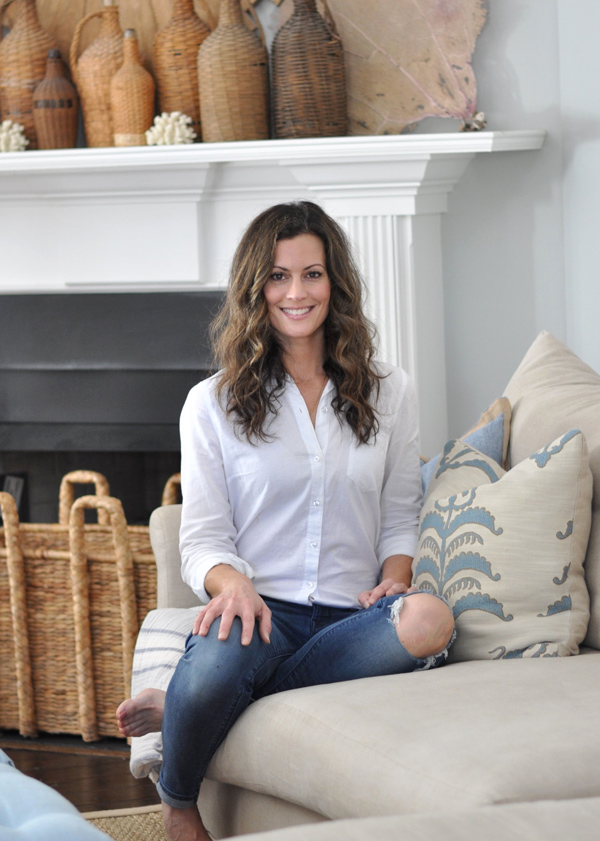 Hello and welcome to Bungalow Blue Interiors!
I'm Kelly, interior designer, stylist, hostess with the mostest and editor of my blog, where I share pics of my work, my own home, décor projects, entertaining hacks, where to find the best decorating deals and all the beautiful things that are currently inspiring me!