how to create a "zinc" finish
There is this little alcove between the tub and shower wall in our master bathroom in which we want to put custom built-ins, but since we are getting ready to finish our second floor, I thought hanging a full-length mirror would be a much better use of funds for a temporary fix. We don't have a full-length mirror in our house and with a 6'4″ hubby and my 5'10" self, we are constantly adjusting the tilting mirrors above our sink and still not able to see our feet!?
I found the perfect-sized mirror at Home Goods, but the dark brown finish had to go. Instead, I gave it a "zinc" finish and since I get a lot of emails about how I did it before, I thought I'd show you the breakdown here! Let me first apologize for the picture quality…in case you've never tried, taking pictures of a mirror with a dslr camera is difficult – the camera zooms in on the mirrored image and not the frame, so I did the best I could! Here is the mirror before:
I don't usually tape mirrors or glass because a straight razor and some Windex removes dried paint beautifully. However, in this case, since the frame was metal, I had to prep it with Adhesion primer, which sticks to EVERYTHING, so I had to tape it this time:
Next, I painted on two coats of Adhesion Primer, letting it dry completely between coats. (I had some left over from a distressed black table I did for a client, which is why it's tinted gray):
Next, I mixed this silver paint with a dollop of latex black paint I had leftover from another project. Two parts silver to one part black, mixed together:
I used a pack of tee shirt cloths from Lowe's to apply, which was a lot easier than using a brush because the paint dried quickly. It also looked a lot more realistic:
I just kept layering the dark paint mixture on without regard to uniformity…after all, real zinc doesn't weather that way naturally. Once I was happy with the dark paint mixture, I pulled out my trusty glaze and got to work making the frame look "weathered":
I mixed equal parts glaze and leftover interior latex white paint I had on hand (Benjamin Moore White Dove in eggshell) and, using the tee shirt cloths again, applied it in random spots on the frame and then rubbed it back, creating a beautiful, chalky finish:
The finish looks so lovely with the pale gray walls and Brazilian black slate floors-a pretty (temporary) fix until we build built-ins: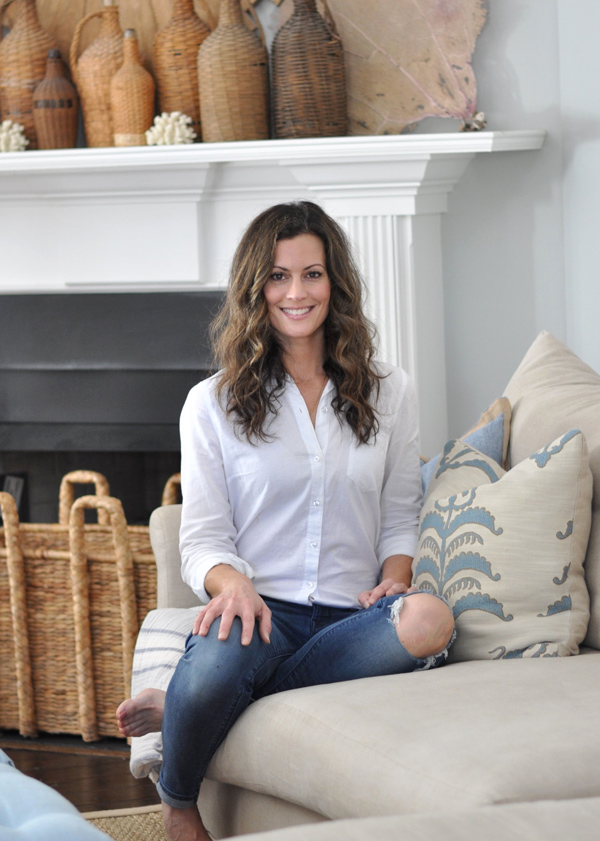 Hello and welcome to Bungalow Blue Interiors!
I'm Kelly, interior designer, stylist, hostess with the mostest and editor of my blog, where I share pics of my work, my own home, décor projects, entertaining hacks, where to find the best decorating deals and all the beautiful things that are currently inspiring me!