how to clean out your candles
I'm such a sucker for a beautifully scented candle and bonus points for one that looks pretty enough to use again after you've burned through it! (After all, isn't that the only incentive to fork over the big bucks for Diptyque – so you can stick Q-tips and fresh blooms in them???)
Park Hill Candles are some of my favorites for this reason; they aren't too pricey, they smell amazing and the wicker and glass they come in make for gorgeous little vases once I've burned through the candles!
I'm probably the last person on the planet to figure out how to get the residual wax out of the bottom of the candle, but I'm going to post it anyway just in case there are still a few of you who, like me, have tried busting it out with a butter knife or freezing it, etc. It's super easy and takes no time at all. Here's how I did it:
-Preheat your oven to 400 degrees.
-Spread aluminum foil over a baking sheet and fold the edges up to prevent wax getting on the sheet.
-Place the candle upside down on the foil and bake for 5-7 minutes. Watch carefully for the wick to fall out and take the whole thing out of the oven as soon as it does so it doesn't burn (trust me, you're kitchen will fill with smoke)
-Let it cool (I took mine outside on the deck) and then wash it out with soap and water and you're good to go!
How amazing are these "mermaid" alstromeria, by the way? They've moved around the house more than I have the last three weeks, but they're the best five bucks I've ever spent on blooms, that's for sure!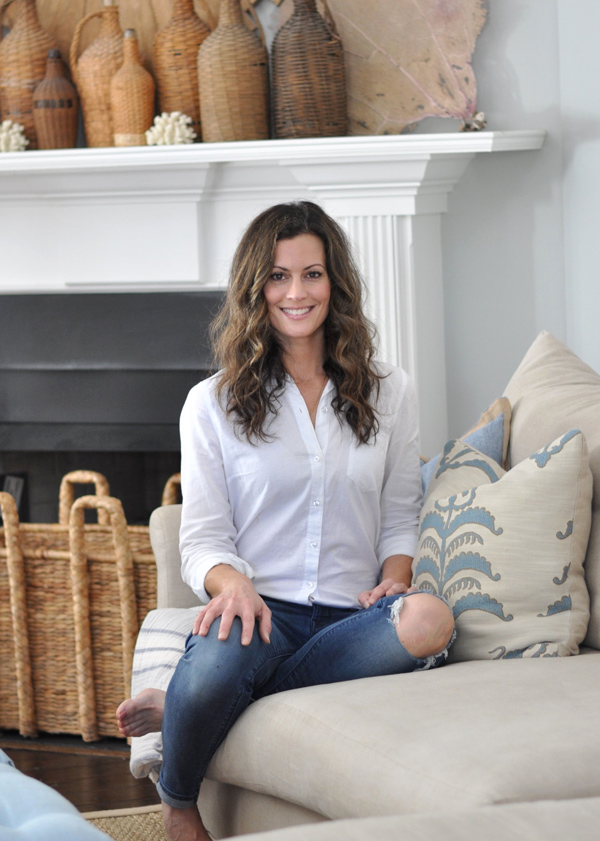 Hello and welcome to Bungalow Blue Interiors!
I'm Kelly, interior designer, stylist, hostess with the mostest and editor of my blog, where I share pics of my work, my own home, décor projects, entertaining hacks, where to find the best decorating deals and all the beautiful things that are currently inspiring me!