holiday wreath roundup: 10 best
Nothing gets me more excited this time of year than decorating for Christmas and second behind a tree, my holiday decor must-have is a bevy of fabulous wreaths! Fresh evergreen wreaths are always the best, but when you live in a part of the country where you never know what the weather is going to be like, it's best to have a mix of faux beauties in there, as well. (Last year, we had a few days of 85-degree weather in December and it dried out all my garland and live wreaths!). Here are my top ten favorite holiday wreaths – from preserved boxwoods to spray painted berry wreaths, each one is gorgeous and won't break the piggy bank!
Preserved boxwood -I've professed my love for these emerald beauties (see my post here); they are just as beautiful in Fall as well as the Christmas season and they look especially lovely on glossy black front doors. Love this one from West Elm:
Olive branch – I haven't been able to stop thinking about this combination of glossy black door, olive branch wreath and wood monogram since I saw it a few weeks ago. A modern twist on traditional holiday wreaths, I love the bright green and fullness of this one:
Willow wreaths are so simple and elegant, making such a beautiful statement on their own or adorned with berries or fresh greenery. Love this statement maker from Shop Terrain:
Magnolia – Nothing compares to the waxy, emerald leaves of a Magnolia tree and when they start to dry out, they turn a beautiful, rusty orange/brown. Love this live one from Pottery Barn:
Gold berry wreath – this gold-painted plastic berry wreath Erika from Urban Grace featured in a Thanksgiving table setting a few years ago is still one of my absolute favorites! Everything's better when covered in bright gold and hung by a black and white ticking stripe ribbon, isn't it? You can find wreaths at TJMaxx, HomeGoods or any craft store really (I found the one below from Hayneedle) and then cover with light, even coats of Rustoleum Metallic Gold spray paint:
Bittersweet is not something you see often around these parts, but the color and texture are such a beautiful, not to mention unique, Autumn accent. I love the deep orange and bright yellow berries in this one, a handmade beauty that is harvested to maintain its berries:
Bay leaf – Add some holiday cheer to your front door, built ins or windows with a bay leaf wreath and then use it to add flavor to soups and sauces! This one from Williams Sonoma is just as pretty as it is practical and is a perfect gift idea for the perpetual hostess or cook in your life:
Book page wreath – this is one of the easiest (though a bit time consuming) DIY's that makes such a dramatic impact in your Christmas decor and it's also a wonderful gift idea for friends and family. Check out how I made this one below here. And for those who aren't so craft-inclined, there are a ton of options for sale on Etsy, including this unique rosette version:
Moss wreath – I'm still in love with the reindeer moss wreath hanging on my front door (see my tutorial here) and think it could easily transition from Fall to the holidays. For those who want a little mossy green loveliness for their home without having to make one themselves, here is a beautiful alternative to homemade:
Pinecone wreath – another super easy DIY that is not only perfect for Fall or Christmas, but can easily keep your front door looking festive long after the holidays when everything is bleak and boring after all Christmas decor comes down! I love this one hung inside an empty frame and posted a tutorial on how to make one last year here, but for those who'd rather buy, here's one already assembled:
What is your favorite holiday wreath?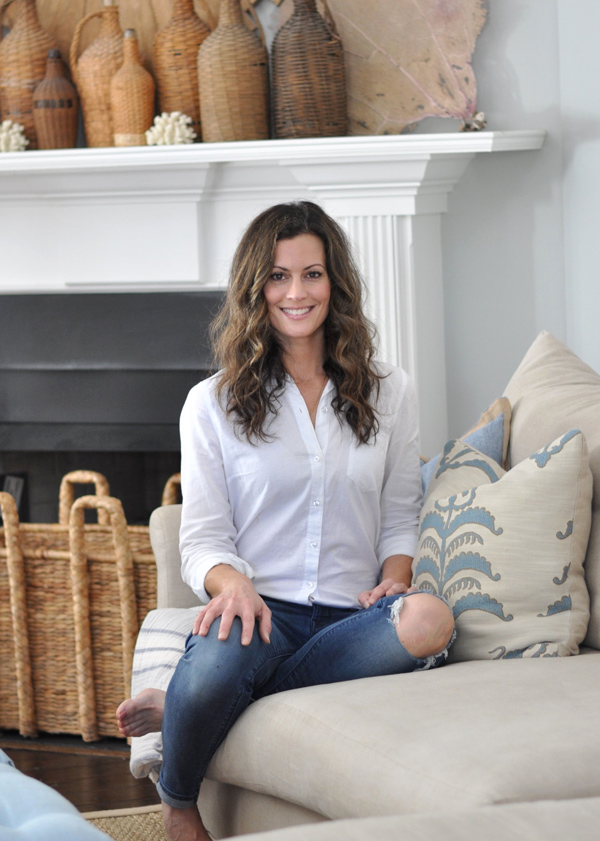 Hello and welcome to Bungalow Blue Interiors!
I'm Kelly, interior designer, stylist, hostess with the mostest and editor of my blog, where I share pics of my work, my own home, décor projects, entertaining hacks, where to find the best decorating deals and all the beautiful things that are currently inspiring me!