Have you guys seen the June issue of Architectural Digest yet? It's good, guys. SO good. I finally got to flip through it last night after baby girl went down and was stopped dead in my tracks as soon as I got to this boat house on Lake Geneva. The hubby and I have always talked about selling our home as soon as we reached retirement, buying a boat and setting sail for a year and the only thing I can think of that would run a close second to that would be this amazing boat house! Built in the 1920's and made to look like an old steamer that had run ashore (complete with a chimney to resemble a smoke stack!), the owner enlisted designer Michael S. Smith to create the feel of a prewar yacht and he did it in spades! Nautical railings, porthole windows, antique brass lighting and mahogany paneling are so stunning…it's seriously hard to look at these pictures and not feel as if you are on an actual boat!
I mean….seriously!
Wrap around windows, coffered ceilings and those amazing mini porthole windows above truly evoke the feeling of being on a ship! I love how the furnishings are simple and neutral and don't distract from that amazing view:
White, brass and blue in the sitting room is so bright and airy:
Mahogany cabinetry, chrome flush mount lighting and gorgeous detailed paneling take center stage in the kitchen….dying over those mermaid ship mast corbels!
Here are my picks for creating a similar look (minus all the magnificent mahogany paneling!):
bar tray / anchor / link trays / nautical light / pillows / fouta towels / flush mount /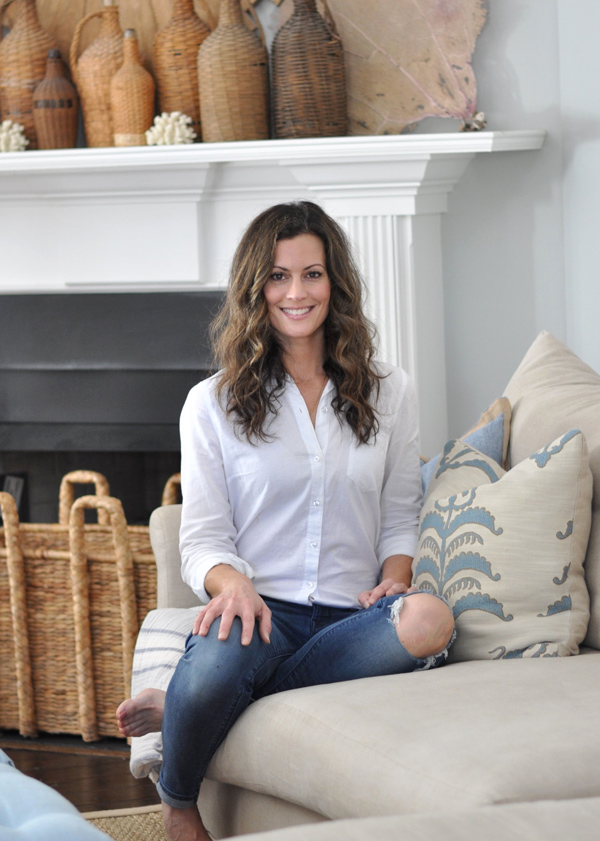 Hello and welcome to Bungalow Blue Interiors!
I'm Kelly, interior designer, stylist, hostess with the mostest and editor of my blog, where I share pics of my work, my own home, décor projects, entertaining hacks, where to find the best decorating deals and all the beautiful things that are currently inspiring me!