entryway before + a mini revamp plan
We are in the midst of a little mini makeover for our foyer and I can't tell you how excited I am to get it underway! I've kept it pretty simple the last four years with a linen slipcovered console table, a pair of lamps and a grid gallery wall of framed book pages; it was simple and perfectly fine but now I'm just ready for a bit of a change. Because there are a few other rooms I'd also like to give a little love to, I've had to get creative with how to make the most dramatic change here on the tiniest of budgets. Remember that oversize round mirror I scored at HomeGoods a few months back? Everything here will be based around that beauty. Here is what the foyer currently looks like:
The framed sea life prints are relocating to my guest bedroom (another room that will be getting a little love next!):
The console table is staying, and, in an attempt to save a little dough, the lamps will, too (and also because the pair I'm coveting for this space cost about as much as a kidney):
Even though this is the first space you see when you walk into the house, you can also see it from the dining room, living room and breakfast nook. So, because I can see it from every angle all day long, I want it to be perfect:
A long and narrow shot from the living room into the foyer:
The plan is to add some floor-to-ceiling wainscoting and paint it crisp white to contrast with the dark floors. I'm also going to paint the ceiling and back of the front door a shade darker than the gray/blue in the rest of the living spaces. A soft, but hardworking jute rug will add some much-needed texture.
After asking you all whether I should give the mirror the weathered wood finish or a "zinc" paint treatment, an overwhelming number of you said weathered wood. But, because the sunburst mirror over my mantel has a similar finish, I'm going to give it a chalky "zinc" treatment, instead. I think the contrast against the white walls will be striking. A few of my blue and white ginger jars for good measure and an oversize seagrass basket I already have will serve for storage, and a few framed family photos will complete the look.
We are doing all the work ourselves, but with a baby and a hubby who is away a lot, I'm hoping that we will be able to get this done as soon as possible so I can show you the afters!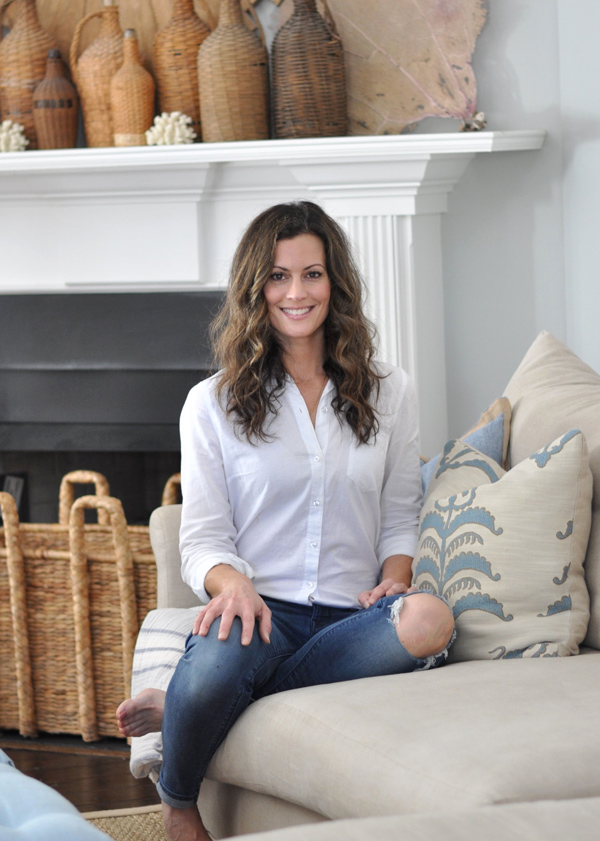 Hello and welcome to Bungalow Blue Interiors!
I'm Kelly, interior designer, stylist, hostess with the mostest and editor of my blog, where I share pics of my work, my own home, décor projects, entertaining hacks, where to find the best decorating deals and all the beautiful things that are currently inspiring me!