I hope you all had a wonderful Easter! I hadn't meant to leave the blog hanging all last week, but things have been hella crazy; any and all free time went to wrapping up a few e-designs for two clients and I felt guilty blogging while trying to finish up their boards, but thankfully I'm all caught up! I was so excited to just relax this weekend and snuggle with my baby girl; the weather was absolutely idyllic and even though it was just me and her for Easter, that didn't stop me from trying to make it super special for her. We had a mini egg hunt in the yard and I even set the table as though we were having our entire family! Oh, and I bought every last hyacinth I could find around town; my house smells absolutely AH-MAZING!!! I thought I'd share a few highlights from our weekend and then it's back to all-things-design related tomorrow (including some GORGEOUS blue and white fabrics for spring pillows tomorrow!):
My little Easter bunny, ready for her morning walk:
Easter loot for my girl included some new (fabulous) books, a pair of chambray shoes, a new piggie, sidewalk chalk:
The morning started with mimosas for momma:
The loveliest navy blue eyelet sundress (and an equally adorable fedora to match) for the special day:
Pink hyacinth were the perfect compliment to the prettiest blue and white striped tablecloth I found at TJMaxx the day before:
My sweet girl:
The weather was so nice, we brought a blanket outside and read our new books. I'm not sure who enjoys these reads more – me or her!
If you follow me on Instagram (@bungalowblue) you might remember I fell in love with the new cookbook, A Boat, A Whale and a Walrus for Christmas (I even included it in one of my gift guides!). I decided to try author and chef Renee's steamed artichokes with lemon mayo and they were incredible. I highly, highly recommend this book if you don't have it already!
The lady at Fresh Market was popping a sign into a bucket that said, "flowering quince" last week and she assured me that, come Easter Sunday, my mantle would be overflowing with a profusion of pink petals. I've changed the water every day, clipped the ends a few times, but nada. I'm starting to think I was the brunt of an April Fool's joke and that she sold me a bunch of sticks from her backyard, instead:
What were some of the highlights from your weekend?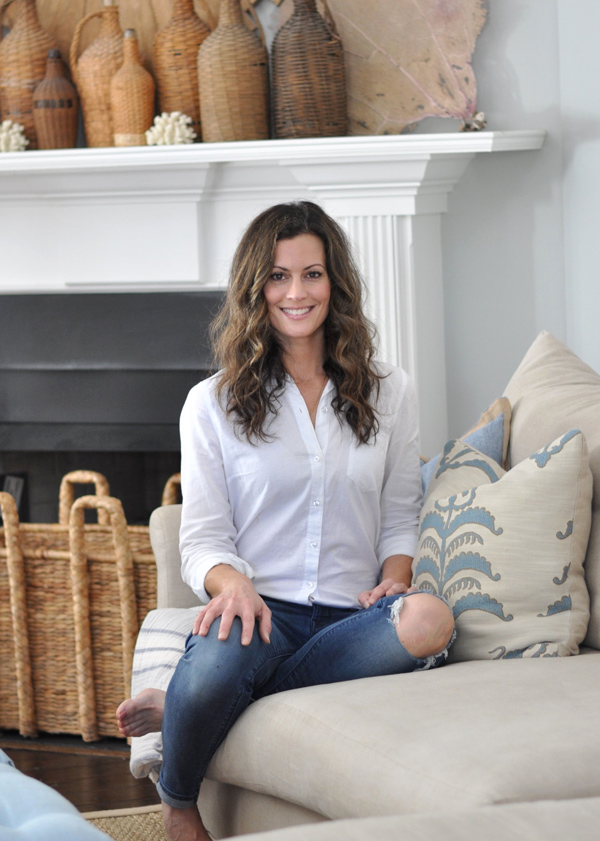 Hello and welcome to Bungalow Blue Interiors!
I'm Kelly, interior designer, stylist, hostess with the mostest and editor of my blog, where I share pics of my work, my own home, décor projects, entertaining hacks, where to find the best decorating deals and all the beautiful things that are currently inspiring me!