dowel rods as curtain rods
Everyone has their weaknesses when it comes to decorating; custom window treatments happen to be one of mine. The only down side, unfortunately, is that they aren't cheap (and even some of the pretty store-bought options from Restoration Hardware and Pottery Barn can end up costing just as much). I love to mix high-end with budget finds for a lived-in, loved look and that means, if your budget allows for some custom window panels in a fabulous fabric, GO FOR IT, because you can save money on the hardware and still make a big impact!
(A ten foot dowel rod, painted black and hung with a support brakcket over triple windows in my breakfast nook)
One of my favorite tricks is to use 1 1/4″ or 1 1/2″ unfinished wooden dowel rods from Lowe's and Home Depot. When painted and paired with finials, you'd never know the difference! You can buy them in 8 or 10 foot pieces and have them cut to the length you need for less than $15. This is especially helpful for double or triple windows when traditional hardware, though gorgeous, can end up costing just as much as the window treatments themselves!
(An eight foot rod, cut in half for my dining room)
I've used them all throughout my own home and recently went through the whole process of priming, painting and putting them up in baby boy's nursery, so I thought I'd share how easy it is to do here on the blog. I couldn't be happier with how they turned out and even better, they're substantial enough to accommodate lined panels (they're heavy!)
(Another eight foot rod cut in half, then painted and primed in Lydia's nursery)
I bought an eight foot rod and had it cut into two four foot pieces at Lowe's. I also purchased two pairs of brackets (one pair for each window) and finials for the ends:
I always use this latext multi purpose primer because it sticks to everything and I didn't have to sand the finials or brackets, saving me an extra step! I applied two coats to everything, even the rod, otherwise, it'll just soak up the paint:
Once the paint is dried and I'm ready to mount the brackets, I use a drill bit to drill holes in the ends and screw the finials in:
Happy Hump Day, everyone!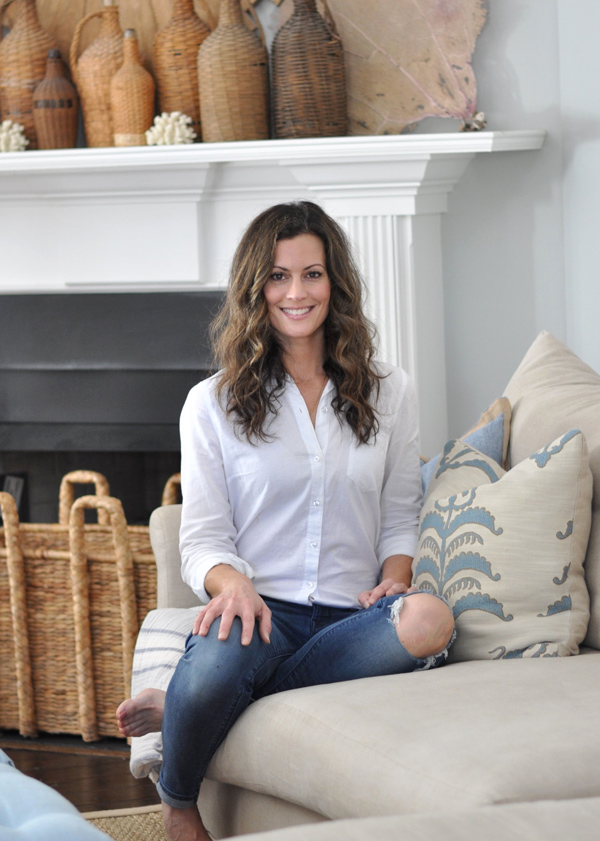 Hello and welcome to Bungalow Blue Interiors!
I'm Kelly, interior designer, stylist, hostess with the mostest and editor of my blog, where I share pics of my work, my own home, décor projects, entertaining hacks, where to find the best decorating deals and all the beautiful things that are currently inspiring me!